Meet the Founders Edition
The GeForce GTX 1080 maintains the elegant look and feel of the reference cards going back as far as the GeForce GTX 780. Now, though, the silver heatsink has more pronounced accents that lend a more industrial bearing to it.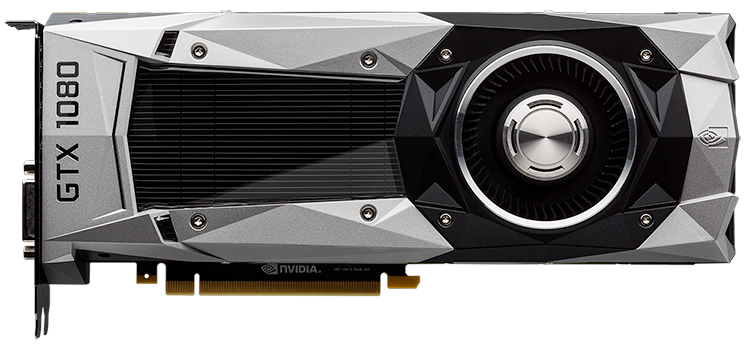 Measuring 10.5in long and fitting into the dual-slot form factor that we've become accustomed to, the reference card is a quality affair. So much so, in fact, that Nvidia has changed parlance and is now referring to it as the Founders Edition (FE), complete with a $100 surcharge over the base $599 price. This extra outlay, the company says, enables it to recoup the cost of producing such a high-quality heatsink and ensure that it's available for the entire length of the GTX 1080 life cycle.
We're not convinced what is a reference card should be attracting such a premium because it puts Nvidia's host of add-in card partners in a tight spot. Whatever you think about it, and plenty have had their say, you'll likely get no change from £600 today. Ouch. We hope Nvidia does stick to the $599 MSRP through at least one AIC card.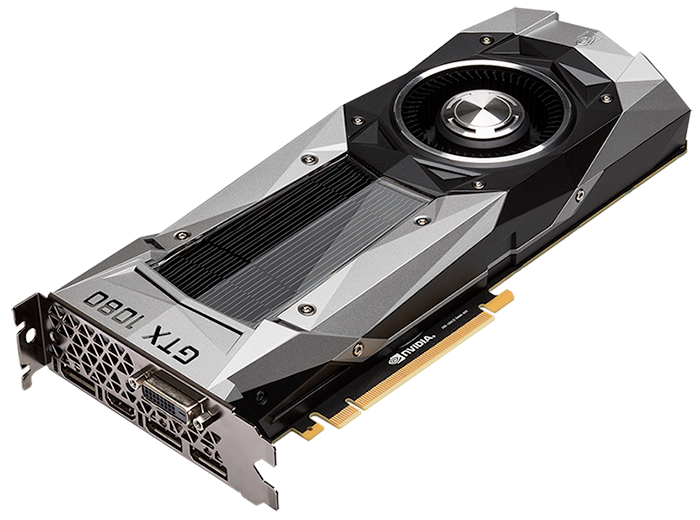 Cooling a 180W TDP is easy work for any proficient heatsink-and-fan unit. Indeed, we believe there to be scope for some enterprising AICs to launch a mini-ITX or, at the very least, a reduced-length version for smaller chassis. Such design decisions may be left for the upcoming GTX 1070 that's launching next month.
And that TDP is also telling insofar as Nvidia outfits its own card with a single 8-pin power connector, moving away from the dual six pins on the similar-wattage GTX 980. Like that card, the GTX 1080 FE has a full-coverage backplate with, now, a larger cutout, ostensibly for improving air flow, for users looking to install two or more cards in a multi-way SLI setup supported on this GPU by the two fingers you see on the left-hand side.
The single fan remains on at all times, though it can barely be heard in an idle state. We'd prefer it if Nvidia would silence it altogether, as happens on most partner cards.

A peek at the back shows that Nvidia hasn't changed the outputs in the move from GTX 980 to GTX 1080. Dual-link DVI, for legacy reasons, sits on top of a trio of DisplayPort and a single HDMI 2.0b.
It's important to mention that the DisplayPort is 1.2 certified and spec 1.3/1.4-ready, which means supporting 4K screens at 120Hz or 5K at 60Hz from a single cable. Looking forwards, 8K at 60Hz is supported by using two cables. Four displays can be driven at once, as well.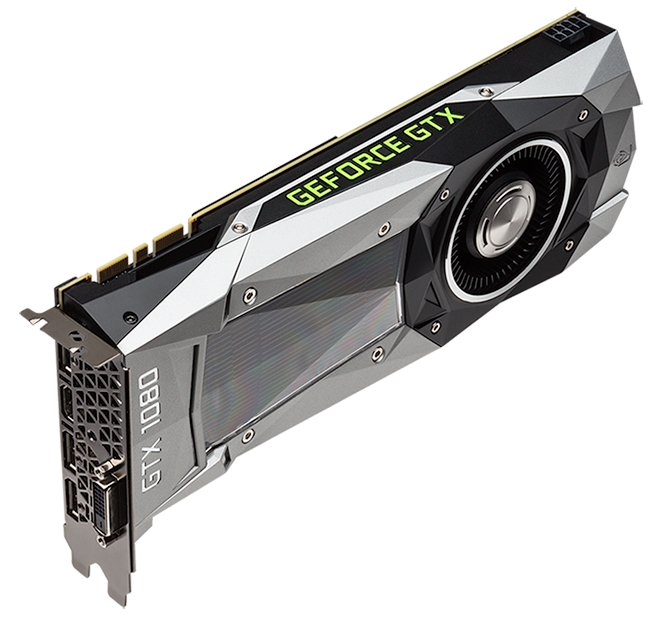 The time between generations has given Nvidia an opportunity to bump up the specifications of the video features. GTX 980, for example, has no hardware capability for HEVC or Google VP9 decode, both of which the GTX 1080 can do at 4K and 120Hz. Keeping it modern, there's also 10-bit HEVC encode and decode, up from 8-bit, as well as 12-bit decode.
An upgraded cooler and improved video features mark out the GTX 1080 over its predecessors, and as a whole we come away feeling as though partner cards may struggle to match the elegance of the Founders Edition board. Robust materials and a high-quality build combine to create an interminably attractive package, and we suspect Nvidia's most fervent fans won't be deterred by the $699 fee.