Introduction
Nvidia's GeForce GTX 980 Ti is coming up to its six-month anniversary and remains largely unperturbed at the top of the consumer graphics card hierarchy. Having initially launched in an array of air-cooled flavours, the GTX 980 Ti range has in recent weeks been expanded to include a selection of liquid-cooled variants.
You might say that this is a natural evolution for a high-end solution, but you could also argue that Nvidia's partners have been encouraged to explore hybrid coolers as a direct response to AMD's potent Radeon R9 Fury X. Either way, we now have an even greater selection of GTX 980 Tis to choose from, and we're following-up our review of Inno3D's iChill GTX 980 Ti Black with an in-depth look at Gigabyte's GTX 980 Ti Xtreme Gaming WaterForce.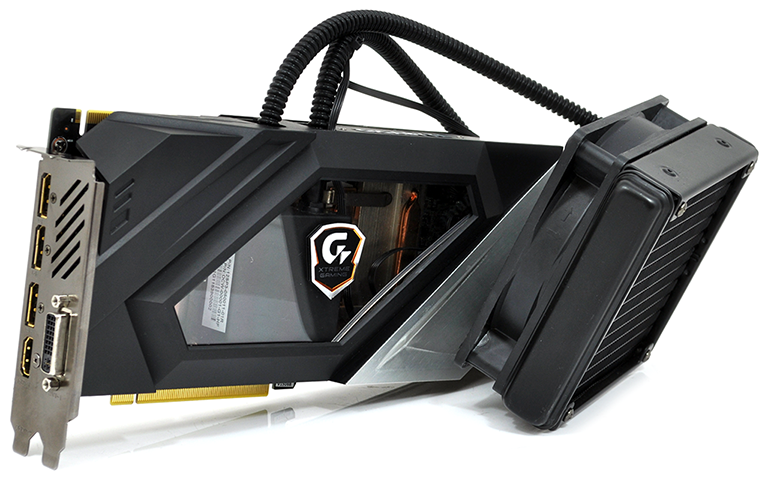 It's an impressive-looking beast, but before we get to the hardware itself, let's talk pricing. Gigabyte's best GTX 980 Ti is currently available for an eye-watering £590, which believe it or not makes this one of the more affordable liquid-cooled GTX 980 Tis available. Then again, £590 is hardly pocket change, and if the thought of liquid in your PC gives you cold feet, it's worth noting that air-cooled cards start at just over £500.
The Xtreme Gaming WaterForce is of course aimed specifically at the enthusiast crowd and if you're willing to put forth the cash, Gigabyte's elaborate board has the makings of one of the most extreme GTX 980 Tis that money can buy.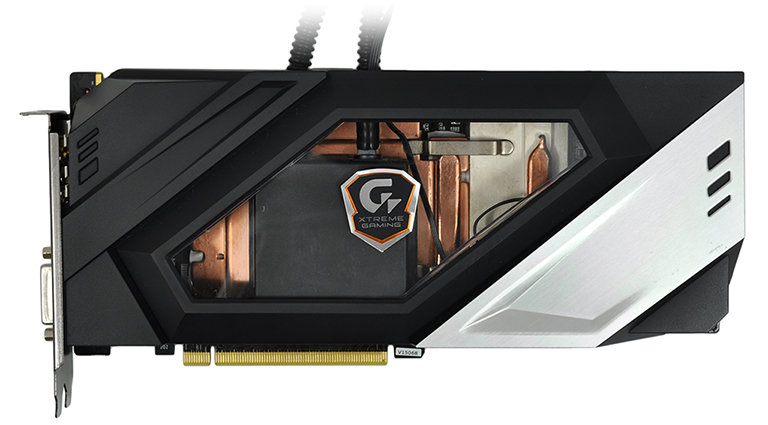 Firstly, there's the dual-slot design, which instead of taking a hybrid approach eschews onboard fans in favour of a large copper contact plate that encompasses GPU, memory and MOSFET. Removing the need for any built-in airflow, the chunk of copper is fed to a low-profile pump that will wick away heat to the 120mm radiator/fan assembly via FEP tubes.
Clearly proud of the outcome, Gigabyte has implemented a transparent front window to show off the underlying construction. It's a nice touch and the LEDs buried within provide a good glow, but the manufacturer could perhaps have taken a more premium approach. The Xtreme Gaming logo would have been much nicer etched into the pump as opposed to being stuck to the window and the 11in shroud feels plasticky in parts.

We like the fact that the pump is powered internally, meaning no extra power cables, however Gigabyte's decision to connect the radiator fan to the PCB may divide the crowd. It's a neat solution - the cable is tied to the FEP tubes and is barely noticeable - however it does make changing the fan a tricky prospect.
Gamers who like to show off their hardware will appreciate the fact that the Gigabyte logo is backlit, and the manufacturer takes it a step further by implementing RGB LEDs that can be controlled through the bundled OC Guru software utility. The optional app offers a choice of colours as well as lighting modes, and can also be used to take advantage of the card's overclocking potential.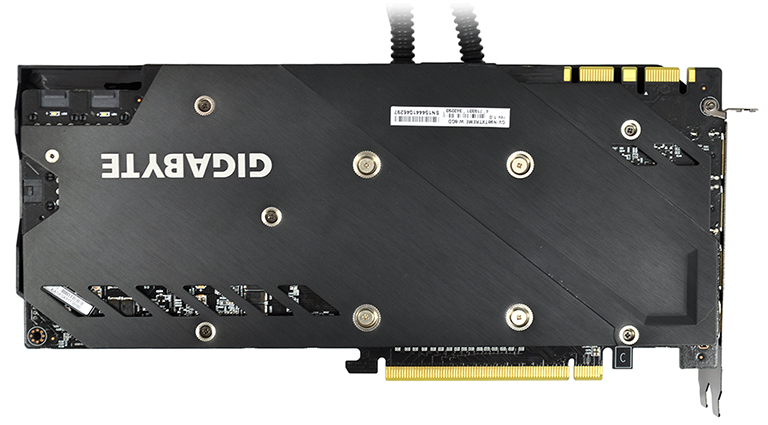 And overclocking really is the Xtreme Gaming WaterForce's forte. You might have noticed the dual eight-pin power connectors up top, but if you look closely you'll also see another six-pin connector on the side. Hit the associated 'Xtreme' button and the card switches to a secondary BIOS that activates the optional six-pin power jack to give overclockers maximum flexibility in what Gigabyte describes as 'LN2 Mode.'
But what about shipping frequencies? Well, they aren't too shabby, either. Right out of the box Gigabyte has boost clock elevated from the reference 1,076MHz to a much tastier 1,317MHz, and memory is overclocked, too, with the 6GB frame buffer dialled-in at an effective 7,200MHz.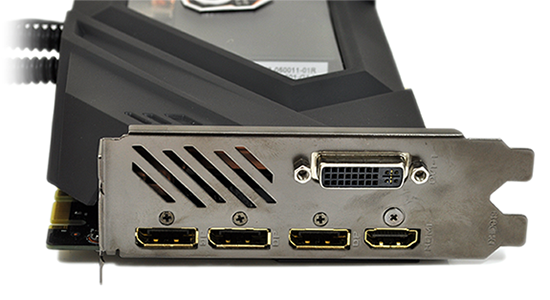 Sticking to a combination that works well, the card's outputs are in line with Nvidia's reference specification, meaning dual-link DVI, HDMI 2.0 and a trio of DisplayPort 1.2. Any four can be used concurrently and 4K60 is supported via either HDMI or DisplayPort.
Gigabyte's all-in-one liquid cooler is the obvious attraction, but there are a couple of other finishing touches that enthusiasts will appreciate. The metal backplate is a welcome addition, as are status LEDs by the PCIe power plugs, and the 12+2 power design adds further fuel to the card's claim of being built for overclocking. Let's put it through its paces, shall we?