Sapphire's Take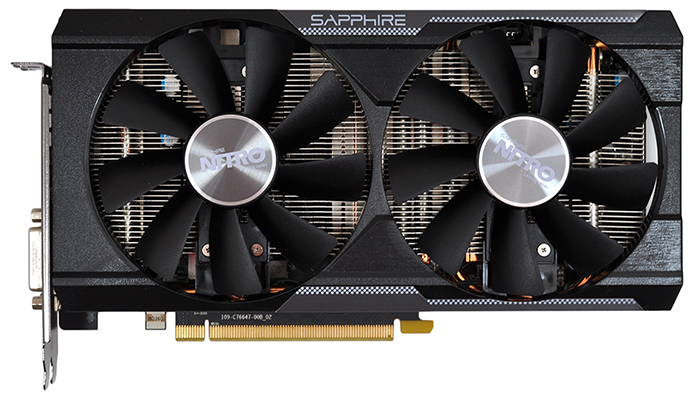 With a name like Nitro you'd expect some flamboyance and Sapphire doesn't mess about. The firm's custom-cooled and factory-overclocked R9 380X is a serious bit of kit, tipping the scales at 890g and measuring 238mm from start to end.
The dual-slot card feels solidly put together throughout - the metal shroud exhibits zero flex - and Sapphire has increased the cooler's overall height to make room for a pair of large 100mm fans. Both are designed to turn off at low load and, from a construction and materials point of view, built quality is top-notch.

A black-and-grey colour scheme coupled with brushed-metal highlights gives the card a stylish and rugged aesthetic. There are no unwanted LEDs and no messy CrossFire connectors - as with most recent AMD graphics cards, multi-GPU connectivity is elegantly taken care of through the PCIe bus.
Power is sourced from a pair of six-pin connectors situated in our preferred position - at the top of the card, near the back - and we can see a small toggle switch allowing users to take advantage of Sapphire's Dual BIOS implementation. Handy, if you like to tinker.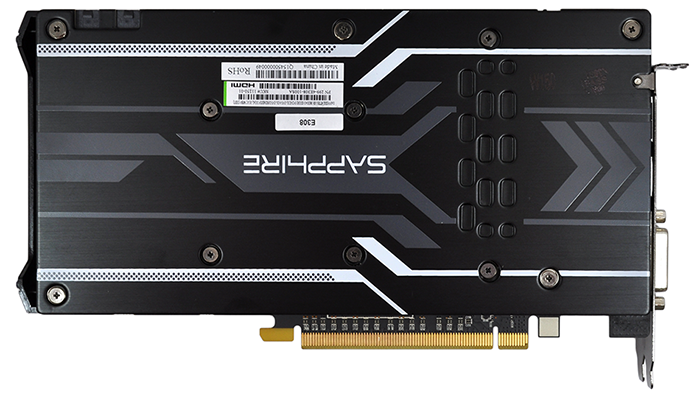 The impression of a tidy-looking card is continued around back, where a PCB-encompassing metal plate aids cooling performance while also providing further rigidity. The backplate gets warm to the touch during use and evidently helps support Sapphire's factory overclock.
Right out of the box, the Radeon R9 380X Nitro's core is bumped from 970MHz to 1,040MHz (a seven per cent hike) and memory is overclocked, too, with the 4GB GDDR5 frame buffer elevated by five per cent, from 5,700MHz to 6,000MHz.

Heightened frequencies on both core and memory are nice to see on a launch-day card, and we don't suppose Sapphire's meaty cooler will have any trouble taming the underlying Antigua XT core. If anything, we wonder if the cooler need be quite so big - a standard-height solution would surely suffice?
Then again, performance is the name of the game and high-end cooling is practically a requisite for the target gaming audience. To that end, an opening on the bottom of the card reveals four thick copper heatpipes running through an aluminium heatsink that extends almost the full width of the underlying PCB.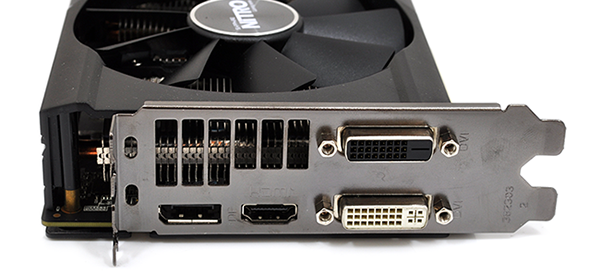 If you need reminding of the R9 380X's heritage, take a look at the selection of outputs. Mirroring R9 285, and indeed R9 280, the quartet is comprised of two dual-link DVI, HDMI 1.4 and DisplayPort 1.2. All four can be used concurrently but the standard selection is perhaps the only blot on Sapphire's specification sheet - we'd much prefer two or more DisplayPort outputs and it's a shame AMD cards aren't rocking the newer 4K60-supporting HDMI 2.0 standard.
All things considered, Sapphire has ticked most of the right boxes with its customised take on the Radeon R9 380X. There's no mention of a street price as yet, though a small premium over reference would be a reasonable assumption. Let's now move on to the more important details: performance.