Introduction
As one of Nvidia's premier partners, Gigabyte has shown full support for the GeForce GTX 960 with an array of custom models available from day one. The range-topping G1 Gaming has already been under the radar, but if said card's £195 price tag is out of your reach, the second-rung GTX 960 WindForce 2X may be a better fit.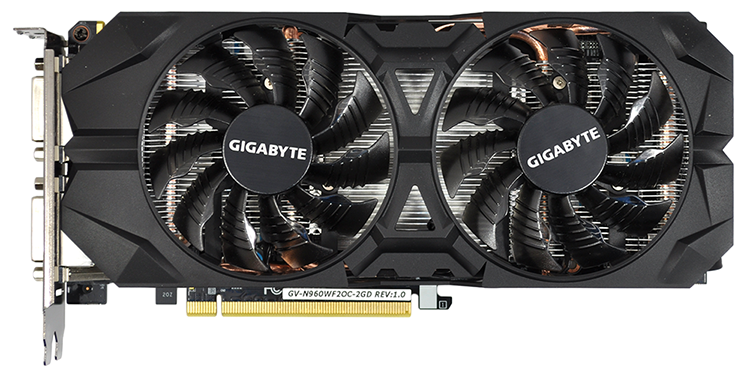 Available for £170 (just £10 more than reference), the WindForce 2X gives Nvidia's mid-range GPU the factory-overclocked and custom-cooled treatment without breaking the bank.
The good news for anyone who considered the G1 Gaming to be too monstrous is that the WindForce 2X model is 51mm shorter, measuring a petite 247mm from front to back. That's not the shortest GTX 960 (Gigabyte actually has a mini-ITX version in its stable), but it's a suitable size for a mid-range card and the 639g weight is equally proportional.

Build quality is good but not spectacular - there's a bit of flex around the edges of the plastic shroud and, sadly, no PCB-covering backplate - however the card does look the part and we suspect there will be no problem in cooling the underlying GM206 GPU.
Gigabyte's large, 90mm fans are helped by a quartet of thick copper heatpipes and a full-length aluminium heatsink. In keeping with most modern Nvidia cards, both fans are able to turn off during light loads, allowing for silent operation when idle.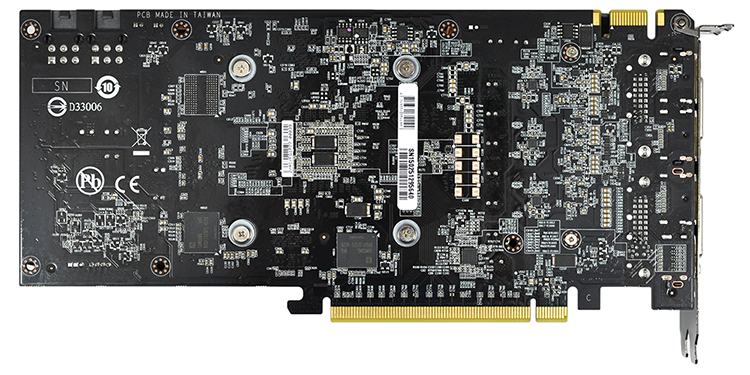 What's interesting about the GTX 960 WindForce 2X is that it shares the same PCB as Gigabyte's premium variant. Peeling off the GV-N960WF2OC-2GD sticker splayed across the front reveals that this is in fact a G1 Gaming board, only with a lesser cooler strapped on top.
That means the WindForce 2X comes equipped with the same upgraded six-phase power design, and there is of course a factory overclock offered as standard. Core and boost frequencies are raised from 1,126/1,178MHz to 1,216/1,279MHz, respectively, and though that's far from being the highest GTX 960 frequency we've seen, we suspect the WindForce 2X will follow in the G1 Gaming's footsteps with a liberal approach to boosting. It's a shame the memory isn't given similar encouragement, as the 2GB frame buffer operates at a reference 7,012MHz.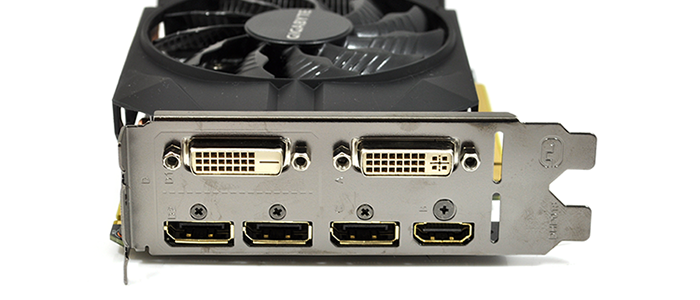 Elsewhere, a single SLI finger is available for users considering a two-way GTX 960 configuration, and power is sourced via two six-pin connectors - this, we feel, is counter intuitive and most rival GTX 960s will offer practically identical performance with only a single six-pin connection.
Continuing the similarities with the G1 Gaming, Gigabyte has again augmented Nvidia's default selection of five I/O ports - DVI, HDMI 2.0 and 3x DisplayPort 1.2 - with the addition of a second DVI port. Doing so prevents the card from exhausting hot air from within the chassis - the second DVI port is where you'd usually find a vent - and do remember that only four of the six outputs can be used concurrently.