Test Methodology
Gigabyte GTX WaterForce specification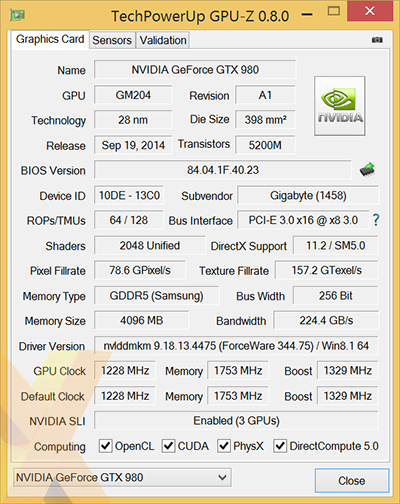 GPU Comparisons

Graphics Card
GPU Cores
Base Clock
(MHz)
Boost Clock
(MHz)
Memory Size
(MB)
Memory Clock
(MHz)
Memory Bus
(bits)
Graphics Driver
Gigabyte GTX WaterForce (3-card SLI)
6,144
1,228
1,329
3x 4,096
7,012
3x 256
344.75
Gigabyte GTX WaterForce (2-card SLI)
4,096
1,228
1,329
2x 4,096
7,012
2x 256
344.75
Gigabyte GTX WaterForce (1-card)
2,048
1,228
1,329
4,096
7,012
256
344.75
MSI GeForce GTX 980 Gaming 4G
2,048
1,216
1,317
4,096
7,012
256
344.07
Asus GeForce GTX 980 Strix
2,048
1,178
1,279
4,096
7,012
256
344.07
Nvidia GeForce GTX 980
2,048
1,127
1,216
4,096
7,012
256
344.07
EVGA GeForce GTX 970 FTW
1,664
1,216
1,367
4,096
7,012
256
344.07
Nvidia GeForce GTX Titan
2,688
837
876
6,144
6,008
384
344.07
Nvidia GeForce GTX 780 Ti
2,880
875
928
3,072
7,012
384
344.07
Nvidia GeForce GTX 780
2,304
863
900
3,072
6,008
384
344.07
Nvidia GeForce GTX 770
1,536
1,046
1,085
2,048
7,012
256
344.07
Nvidia GeForce GTX 680
1,536
1,006
1,058
2,048
6,008
256
344.07
AMD Radeon R9 295X2
5,632
N/A
1,015
2x 4,096
5,000
2x 512
14.12
AMD Radeon R9 290X
2,816
N/A
1,000
4,096
5,000
512
14.7 RC3
AMD Radeon R9 290
2,560
N/A
947
4,096
5,000
512
14.7 RC3
HEXUS Ultra-High-End Benchmark Suite

Synthetic Benchmarks
3DMark
Fire Strike and Fire Strike Extreme
3DMark Vantage
Extreme Feature Tests - Texture Fill and Colour Fill
Gaming Benchmarks
Title
Settings at 3,840x2,160 (4K)
BioShock Infinite
AA Enabled, Ultra Preset inc. Depth of Field
Crysis 3
0xMSAA, Very High Textures, Very High System Spec
Grid Autosport
2xMSAA, Maximum Quality Settings (Soft Ambient Occlusion On, Advanced Lighting On, Rear View Mirror Off, Global Illumination On)
Tomb Raider
FXAA, Ultra Quality Preset, TressFX Disabled
Total War: Rome II
AA Disabled, Ultra Preset
General Benchmarks
Power Consumption
To emulate real-world usage scenarios, we record system-wide mains power draw both when idle and while playing Grid Autosport.
Temperature
To emulate real-world usage scenarios, we record GPU core temperature both when idle and while playing Grid Autosport.
Noise
A PCE-318 meter is used to record noise levels when idle and while playing Grid Autosport.
Overclocking
Maintaining out-the-box voltage, we increase the card's power target and aim for an optimal balance of core and memory overclock. With the heightened frequencies in place, the 3DMark and Total War: Rome II tests are re-run.
Notes
The Gigabyte WaterForce is designed to run on an extreme system, so we've put together a suitable test platform for the purpose of this review. It includes an Intel Core i7-5960X processor overclocked to 4.4GHz, a Zalman liquid cooler, Gigabyte X99 Gaming 5 motherboard and 16GB of Corsair Vengeance LPX DDR4 memory. Factor in a 1,300W Platinum power supply, solid-state storage, a 4K monitor and Gigabyte's three-way graphics, and the total build cost is close to £5,000.
We've retained benchmark results from single cards on our usual Z97 platform as a point of reference, but considering the extreme nature of the hardware, we've limited benchmarking to a high-end 4K (3,840x2,160) resolution. Making things interesting, we've benchmarked the WaterForce package in single-, dual- and triple-GPU modes to see how well the GTX 980 scales, and we've also included results for AMD's dual-GPU Radeon R9 295X2.
Where applicable, any vendor-specific enhancements such as PhysX and TressFX are disabled to help even the playing field. In-game benchmark results are recorded as average frames per second, and to provide further insight into the workings of multi-GPU configurations, we also take our SLI and CrossFire results and report the percentage of frames rendered within a specified time, as well as the time taken to render the slowest one per cent of frames during the benchmark run.