Introduction
For a moment there, we thought Gigabyte was sending us on a trip to some exotic location. No such luck, though if you're a PC gaming enthusiast, what lies inside the company's mysterious suitcase is arguably even better.
This is the Gigabyte WaterForce - a three-way SLI water-cooling system that incorporates a trio of factory-overclocked and liquid-cooled GeForce GTX 980s. It's the ultimate graphics upgrade for performance aficionados, and yeah, as you might have guessed, it won't come cheap.
This is a £2,500 upgrade, folks, but lift your jaw off the floor and keep reading, as the benchmark results are tantalising, to say the least.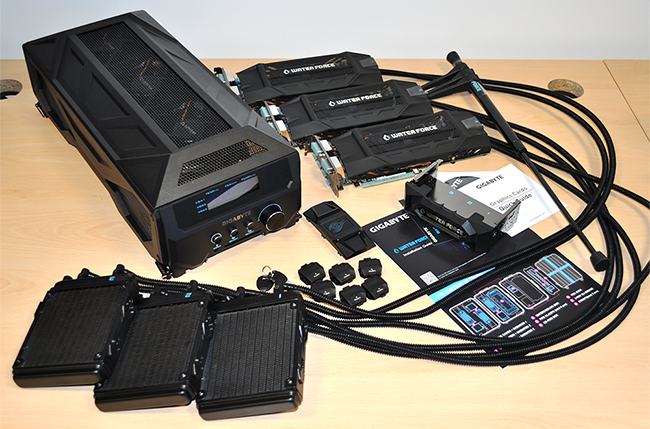 Before we start talking framerates and rendering, here's what's in the suitcase: a watercooling box, three GeForce GTX 980 graphics cards each attached to a 120mm radiator, six pipe clamps, a three-way backlit SLI bridge, a 5.25in drive-bay panel, a hydraulic VGA jack and the requisite instruction manual.
Now hold on a minute, wouldn't it be simpler and far cheaper to just use three air-cooled GTX 980s? Well, yes, but Gigabyte's theory is that heat becomes a concern when multiple cards are installed in close proximity, and rather than building your own liquid-cooled solution at the expense of warranty, this off-the-shelf package ought to deliver all the performance with low heat, little noise and minimal fuss.
Of course, using such high-end hardware does necessitate premium supporting components. Gigabyte recommends a full-tower chassis that's at least 20cm wide and 60cm tall, a power supply with a capacity of 1,200W or above, as well as a motherboard with three-way SLI support. The latter can be achieved on certain Z97 platforms, but really, if you're going to be spending this amount of money, you need to be looking at the enthusiast Intel X99 platform, which is plumbed with enough PCIe lanes to give all three GPUs ample bandwidth.
Once you've planned your build, putting it together is relatively simple, particularly when compared to a self-made liquid cooling setup.
There's a comprehensive build log on Gigabyte's YouTube channel, but here, in a nutshell, is how it works. All three graphics cards are pre-attached to an independent 120mm radiator via two lengthy runs of plastic corrugated tubing. Said tubes are flexible enough to cope with the install, though being picky, we'd really liked to have seen Gigabyte utilise rubber tubing instead.
Once the graphics cards are in their respective PCIe slots, the radiators are fed out the chassis via the provided 5.25in optical tray and into the WaterForce box which sits on top of the case. Three 120mm fans are installed in the roof of the WaterForce, and lifting the lid reveals clip-in slots for each of the three radiators. Cable routes are well highlighted, with numbering for each card, and Gigabyte has erred on the side of caution by ensuring that the tubes are more than long enough for most chassis.
The theory is sound, though the end appearance is an acquired taste. The WaterForce box has adjustable clamps on either side, but they are best suited to a square-edged chassis and don't work well on our Graphite Series 780T.
Setup is generally straightforward and the performance, which we'll get to shortly, is phenomenal; however there is a lingering sense of "could this have been sleeker?" WaterForce does achieve its goal of making liquid-cooled, three-way SLI accessible, but if there's a second revision, we'd really like to see Gigabyte go the extra yard and make it a barebone system for users to build into. A chassis pre-equipped with a Gigabyte motherboard and three liquid-cooled graphics cards would be far more elegant than a box designed to sit on top.
The WaterForce box is powered by a Molex cable and also hooks up to a motherboard USB header for added functionality. An OLED display on the front of the box handily provides per-GPU readouts for core temp, fan speed and pump speed. Using the dials on the front, it's possible to adjust pump and fan speed for each GPU, or you can set a target GPU temperature and have the system adjust cooling performance automatically to suit. Note that for the bulk of the functionality to work, you'll be required to install and run Gigabyte's OC Guru II software utility.
Getting everything configured as you want it is easy enough, but if our time with the WaterForce has told us anything, it's that this is an extremely niche solution. Enthusiasts who can afford to fork out two-and-a-half grand on graphics will, we feel, be inclined to buy a dream PC that's elegantly outfitted with liquid-cooled graphics. Then again, if you're happy with your existing X99 build and are solely seeking a major graphics injection, Gigabyte's WaterForce is more than up to the task. Let's now move on to the performance numbers you've been waiting for.