WindForce meets R9 290X
It's been slow progress as far as custom-cooled Radeon R9 290-series graphics cards are concerned. We were hoping to see a deluge of products before Christmas, yet here we are months after launch, and only now are AMD's partners beginning to roll out the eagerly-anticipated cards in a multitude of flavours.
We've already put Sapphire's impressive Radeon R9 290 Tri-X under the spotlight, and today we can turn our attention to Gigabyte's Radeon R9 290X WindForce OC. As the name suggests, this £480 behemoth takes AMD's finest single GPU and gives it some of the triple-fan WindForce cooling that we know and love.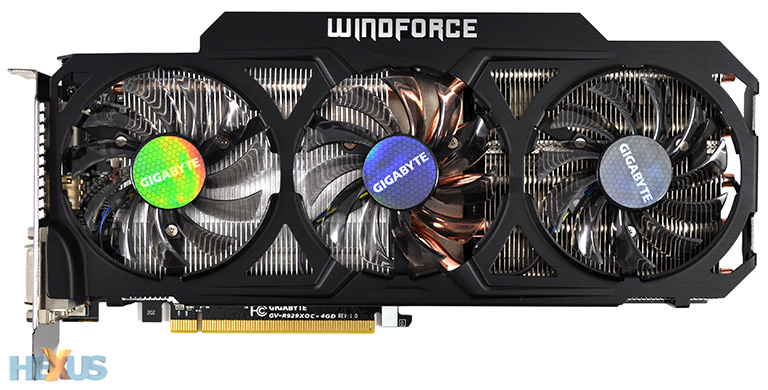 Let's start with that price tag. Early UK retailer listings have the card up for pre-order at a cost of £480, while US shops have it listed for $700, and this particular SKU doesn't appear to be partaking in the Battlefield 4 promotion, so don't expect a free game to help offset the cost.
It's possible pricing will settle in the coming weeks, but right now, Gigabyte's WindForce OC costs £80 more than a reference Radeon R9 290X, and though it's still £50 cheaper than a GeForce GTX 780 Ti, it's worth remembering that the latter is currently bundled with a trio of games.
We reckon Gigabyte realistically needs to target the sub-£450 market, and we suppose that will happen when other custom-cooled R9 290X cards filter through to retail. As we know, there's nothing like a bit of competition to help drive down prices in the graphics market.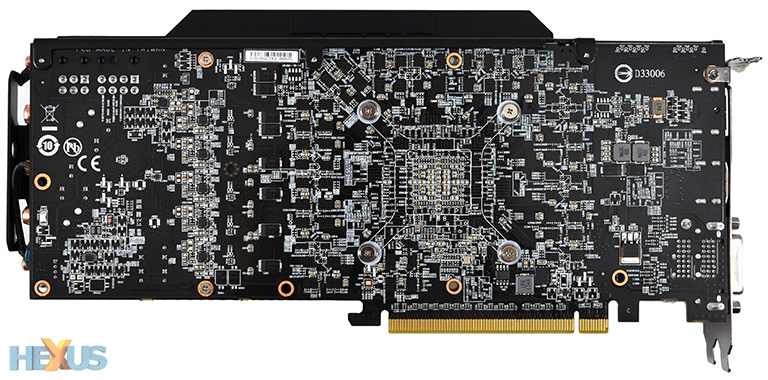 In the meantime, here's what you get for your money: Gigabyte's Radeon R9 290X WindForce OC ships with AMD's 28nm GPU factory overclocked from 1,000MHz to 1,040MHz. A sprightly but not spectacular increase, and there's no out-the-box overclock on memory - the 4GB GDDR5 frame buffer ticks along at a default 5,000MHz.
The overclock isn't massive by any means, and we wonder if Gigabyte will follow up with a GHz Edition model that really pushes the boat out. Still, beggars can't be choosers, and right now we'll take any custom-cooled R9 290X we can get our hands on.

And let's cut to the chase, it's the custom-cooler and not the overclock that's really tickling our fancy. Knowing that AMD's reference design has a tendency to run, shall we say, warm, we're hoping Gigabyte's three fans will help pave the way for a cooler gaming experience.
From an appearance perspective, there's not a lot that's changed. The same metallic WindForce cooler has already been given an outing on the GeForce GTX 780 Ti, and at first glance you'd be hard pushed to tell the two cards apart. Measuring a fraction over 11in long and weighing in at 1,040g, Gigabyte's card conforms to our expectations of an enthusiast product.
Build quality is good, we appreciate the matching black PCB, and the cooler retains all of its meatiness. Underneath those three fans you'll find two 8mm and four 6mm heatpipes passing through a good-sized aluminium heatsink. Put it all together and you have a theoretical 450W cooling capacity.

Aside from the cooler and the core overclock, Gigabyte's card has plenty in common with AMD's reference board. Power is sourced from 8-and-6-pin connectors, CrossFire support is baked into the silicon itself - meaning multiple cards can be paired together without the need for an external bridge - and the four reference display outputs remain unchanged. These include two dual-link DVI, DisplayPort and HDMI, all of which can be used concurrently to drive four panels.
Now let's find out what we really want to know: is Gigabyte's card significantly cooler than reference, and is the mild overclock going to help close the gap on GeForce GTX 780 Ti?