Test methodology
Gigabyte GV-N560448-13I specification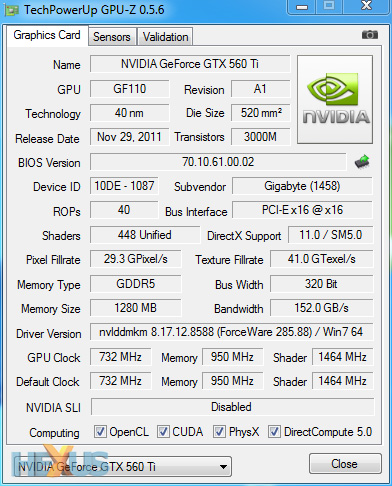 GPU comparisons

Graphics card
Approx.
pricing
GPU clock
(MHz)
Stream
processors
Shader clock
(MHz)
Memory clock
(MHz)
Memory bus
(bits)
Graphics driver
NVIDIA GeForce GTX 570 (1,280MB)
£240
732
480
1,464
3,800
320
ForceWare 285.88
Gigabyte GeForce GTX 560 Ti 448 (1,280MB)
£220
732
448
1,464
3,800
320
ForceWare 285.88
NVIDIA GeForce GTX 560 Ti (1,024MB)
£170
822
384
1,645
4,008
256
ForceWare 285.88
AMD Radeon HD 6970 (2,048MB)
£255
880
1,536
880
5,500
256
Catalyst 11.11a
AMD Radeon HD 6950 (2,048MB)
£185
800
1,408
800
5,000
256
Catalyst 11.11a
AMD Radeon HD 6870 (1,024MB)
£140
900
1,120
900
4,200
256
Catalyst 11.11a
High-end test bench

Processor
Intel Core i5-2500K (3.33GHz, 6MB smart cache, quad-core, LGA1155)
Motherboard
Intel Desktop Board DP67BG
Memory
8GB Corsair Vengeance (9-9-9-24 @ 1,600MHz)
Power Supply
Corsair AX750W
Monitor
Dell 30in 3007WFP
Disk drive(s)
Crucial RealSSD C300 (256GB)
Chassis
Corsair Graphite Series 600T
Operating system
Windows 7 Ultimate (64-bit, SP1)
High-end benchmark suite

3DMark 11
Performance and Extreme presets
Aliens vs. Predator
DX11, 1,920x1,080 and 2,560x1,600 resolutions, 4xAA, 16xAF, very high quality
Battlefield 3
DX11, 1,920x1,080 and 2,560x1,600 resolutions, 4xMSAA, 16xAF, ultra quality
Crysis 2
DX11, 1,920x1,080 and 2,560x1,600 resolutions, 4xAA, ultra quality
Just Cause 2
DX10, 1,920x1,080 and 2,560x1,600 resolutions, 4xAA, 16xAF, very high quality
Total War: Shogun 2
DX11, 1,920x1,080 and 2,560x1,600 resolutions, 4xMSAA, 16xAF, high quality
Folding@home
Using the GPU2 and GPU3 clients, we calculate the the points per day (PPD) performance of each graphics card
Power consumption
To emulate real-world usage scenarios, we record mains power draw both when idle and whilst playing Crysis 2
Temperature
To emulate real-world usage scenarios, we record GPU core temperature both when idle and whilst playing Crysis 2
Noise
A PCE-318 meter is used to record noise levels when idle and whilst playing Crysis 2
Overclocking
Pushing the graphics card as far as it will go, we increase speeds and re-run the Aliens vs. Predator benchmark
HEXUS bang4buck
A custom metric used to evaluate comparative performance with price factored in
Notes
In preparation of a slew of new GPUs in 2012, we're using this opportunity to introduce a refreshed test machine. Our old X58 platform has been put to rest, and a new Intel P67 system has been put in place with a Core i5-2500K processor, 8GB of memory and solid-state storage.
Coinciding with the new high-end platform, we are also refreshing our benchmark suite with a few high-profile additions - including Battlefield 3, Crysis 2 and Total War: Shogun 2. Once the DX11 issues are ironed out, Batman: Arkham City will complete the line up.
And, by popular demand, we are also taking a look at the Folding@home performance of various GPUs. To get our new platform and benchmarks up and running, we've tested six high-end graphics cards from the ground up; three from NVIDIA, three from AMD.