Gigabyte GeForce GTX 560 Ti 448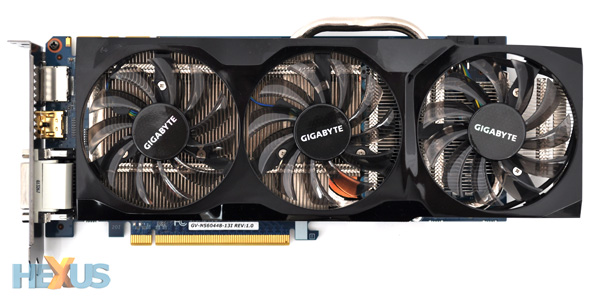 Over the past twelve months, Gigabyte has proven that it knows how to cool a hot-running Fermi GPU. The company's Super Overclock GTX 580 and GTX 570 are among the best cards we've tested, and both were found to be well built, cool under load and quiet in use.
Attaching the same attributes to the GTX 560 Ti 448 shouldn't be a problem, then, and Gigabyte is going about it with a familiar-looking WindForce 3X cooler.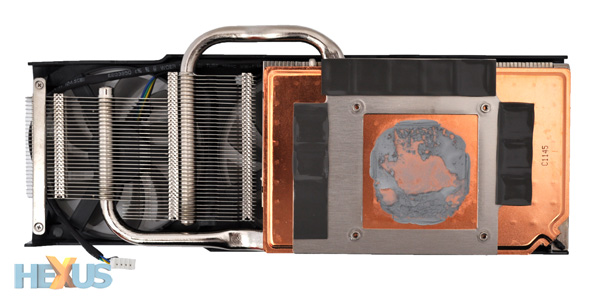 Making use of three 80mm PWM-controlled fans and two chunky heatpipes, the huge cooler should provide more than enough airflow and it's a surprise to see that Gigabyte has opted not to apply a factory overclock.
Despite the high-performance cooler, Gigabyte's GTX 560 Ti 448 (model number GV-N560448-13I) operates at a default 732MHz, with 1,280MB of GDDR5 memory running at a standard 3,800MHz.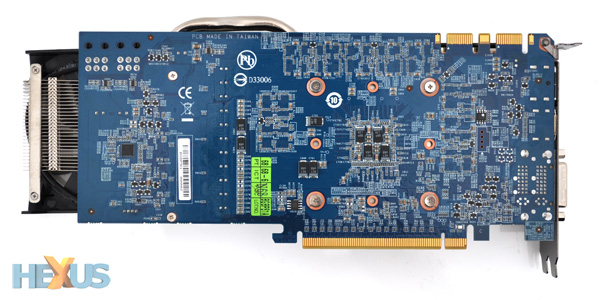 We anticipate a decent amount of overclocking headroom, and you'll need a fair amount of headroom in your chassis, too. With the cooler hanging over the edge of the PCB, Gigabyte's card measures roughly 280mm in length.
We'd have preferred a black PCB, but Gigabyte's using a custom board in signature blue. If it all looks familiar, that's because the PCB is identical to the second-revision GTX 570 Overclock (model number GV-N570OC-13I).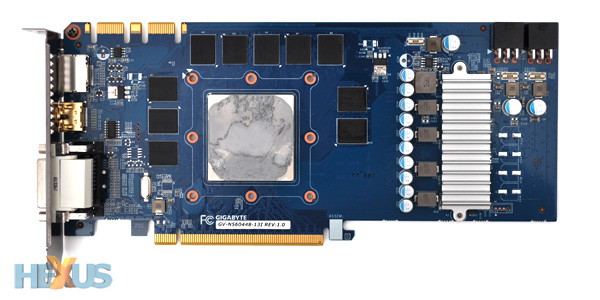 In keeping with GTX 570 specifications, the GTX 560 Ti 448 makes use of two six-pin PCIe power connectors and offers support for three-way SLI.
While the specification is almost an exact match to the GTX 570, it's worth reiterating that the GTX 560 Ti 448 is better equipped than its name suggests. Yes, there are 448 cores, but there's also more memory than a standard GTX 560 Ti (1,280MB, up from 1,024MB), a wider memory bus (320-bits, up from 256-bits) and greater SLI flexibility (three-way support, up from two-way).
Knowing that Gigabyte's GTX 560 Ti 448 PCB is the same as the GTX 570 Overclock, it's no surprise to see the same video outputs; DVI-I, DVI-D, HDMI and DisplayPort.
There's not a lot here to get excited about, this is a card we've seen before, only now with less CUDA cores. That's hardly inspiring, but the price tag should put it bang in the middle of AMD's Radeon HD 6950 and HD 6970. Let's see how they all compare in a brand new benchmark suite.