Bringing about change
A new week and a new graphics card is upon us. It's AMD's turn to give users some mainstream love with the introduction of the Radeon HD 6790.
Why the need for a new card, you may ask? Take a look at AMD's current line-up and it's a hodge-podge of 5-series and 6-series GPUs.
| GPU/spec | Price | Core |
| --- | --- | --- |
| Radeon HD 5670 | £60 | Redwood |
| Radeon HD 5750 | £90 | Juniper |
| Radeon HD 5770 | £100 | Juniper |
| Radeon HD 6850 | £125+ | Barts |
AMD has three GPU architectures in what can very loosely be defined as the mid-range space. There's a fair degree of inter-family commonality, as the trio are all manufactured on a 40nm process at semiconductor partner TSMC, are DX11-compliant, and can use speedy GDDR5 memory.
But as with any release of a new series of graphics cards - and, believe us, the differences in generations is becoming smaller - a high-end card is outed, followed by the arrival of mid-range and, finally, low-end GPUs surface.
AMD has now pushed the 6000-series cards down to the (£125-plus) Radeon HD 6850. This card does a good job at combatting the excellent NVIDIA GeForce GTX 460 GPUs. Looking farther down the stack, the Radeon HD 5770 - an 18-month-old card - is, with new drivers, still potent enough to give the price-comparable GeForce GTX 550 Ti a good run for its money.
It transpires that AMD's thinking is to keep the HD 5770 going for as long as possible, for it's relatively cheap to produce, yields are as good as they'll ever be, and add-in board partners can differentiate and market their cards in a number of ways.
What's needed, therefore, is a new GPU that fits in the obvious price and performance gap which exists between HD 5770 and HD 6850. Drum roll, please. Step forward the Radeon HD 6790 1GB.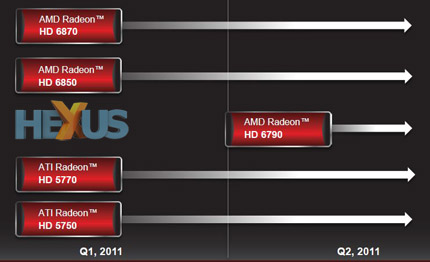 The not-so-subtly located watermark aside, AMD's slide shows all present mid-range GPUs continuing into the next quarter, at the very least. HD 6790 makes itself comfortable as the most cost-effective retail 6000-series card; the company has already released selected HD 6770/50 GPUs for the OEM market.
But just what constitutes a Radeon HD 6790?
HD 5770
(1,024MB)
HD 6790
(1,024MB)
HD 6850
(1,024MB)
GTS 450
(1,024MB)
GTX 550 Ti
(1,024MB)
GTX 460
(768MB)
GTX 460
(1,024MB)
Transistors
1.04bn
1.75bn
1.75bn
1.17bn
1.17bn
1.95bn
1.95bn
Die size
170mm²
255mm²
255mm²
238mm²
238mm²
332mm²
332mm²
General clock
850MHz
840MHz
775MHz
783MHz
900MHz
675MHz
675MHz
Shader clock
850MHz
840MHz
775MHz
1,566MHz
1,800MHz
1,350MHz
1,350MHz
Memory clock
4,800MHz
4,200MHz
4,000MHz
3,608MHz
4,104MHz
3,600MHz
3,600MHz
Memory size
1,024MB GDDR5
1,024MB GDDR5
1,024MB GDDR5
1,024MB GDDR5
1,024MB GDDR5
768MB GDDR5
1,024MB GDDR5
Memory interface
128-bit
256-bit
256-bit
128-bit
192-bit
192-bit
256-bit
Memory bandwidth
76.8GB/s
134.4GB/s
128GB/s
57.7GB/s
98.5GB/s
86.4GB/s
115.2GB/s
Shaders
800
800
960
192
192
336
336
GFLOPS
1,360
1,340
1,488
601
691
907
907
Texturing
40ppc bilinear
20ppc FP16
40ppc bilinear
20ppc FP16
48ppc bilinear
24ppc FP16
32ppc bilinear
32ppc FP16
32ppc bilinear
32ppc FP16
56ppc bilinear
56ppc FP16
56ppc bilinear
56ppc FP16
ROPs
16
16
32
16
24
24
32
ROP rate
13.6
13.4
24.8
12.5
21.6
16.2
21.6
GTexel/s bilinear
34
33.6
37.2
25.1
28.8
37.8
37.8
FP16 rate
17
16.8
18.6
25.1
28.8
37.8
37.8
Power connectors
6-pin
6-pin + 6-pin
6-pin
6-pin
6-pin
6-pin + 6-pin
6-pin + 6-pin
Board power (TDP)
108W
150W
127W
106W
116W
150W
160W
Retail price
£100
£115+
£125
£85
£115
£120
£130
Barts LE
It's clear the new GPU cannot be as powerful as the HD 6850 but needs more oomph than HD 5770. AMD decides that rather than debut a new class of 6K chips with a smaller, more efficient core, HD 6790 will take in the incumbent Barts architecture, albeit necessarily hamstrung in a couple of ways.
This means it has the same basic topology of the HD 6850 and HD 6870 GPUs - 1.75bn transistors and a 255mm² die. Continue down the table and it all makes for surprisingly pleasant reading, for the HD 6790 has higher core, shader and memory clocks than an HD 6850 while matching its 256-bit bus. Prima facie, this doesn't make a lot of sense, but you need to look further down.
AMD's Barts-based GPUs use what's known as a VLIW5 architecture that groups shaders (ALUs) into blocks of 80. These blocks are known as SIMD engines, and each one also incorporate four texture-units.
Now, HD 6790's complement of SIMD engines falls to 10, compared to the 12 in the HD 6850. There's also a commensurate drop in texture units and filtering. In fact, the basic setup is similar to an HD 5770's, though the new GPU benefits from the Barts-only improvement in tessellation. Yup, it gets confusing.
ROP reduction
But a potent upper half of the card is squeezed by a considerable chop in pixel-processing ability. Compared to HD 6850 the back-end ROPs are cleaved in two, down to 16, and this means the card may very well struggle with high degrees of image-quality filtering. But, balancing it out, AMD hopes the nice fat 256-bit bus and 134.4GB/s of potential bandwidth will help ameliorate the disadvantages of fewer ROPs.
AMD's used a rather inelegant method of constructing the HD 6790; this is not a grounds-up design to meet a certain price point. Rather, reading between the lines, it's salvaging all chips that don't quite make the HD 6850/70 grade and then using them, if possible, for this model.
Lending credence to this of thinking is the rather high power-draw figure of 150W, which would make sense if AMD is requesting TSMC to crank up the voltage on these parts in order to meet this specification. As you will see on the following page, the HD 6790 and HD 6870 have more in common than one would initially suspect.
One could rightly question why this card isn't called a Radeon HD 6830; it has a large number of Barts (6800 series) traits, but we suppose this is a question for AMD's marketing men to answer.
Summary - it's kind of confusing
The Radeon HD 6790 is a GPU that looks, architecturally speaking, very much like an HD 6850 on the top end - geometry processing, tessellation, shaders, texturing - but then has an HD 5770-like back-end imposed on it. Confusing matters a little more, the 256-bit memory bus lends a helping hand at keeping performance smooth.
With all these variables to contend with, performance has been engineered to match, or beat, the GeForce GTX 550 Ti from NVIDIA. Pricing of the HD 6790 is likely to match the Ti's £115, too.