The 1GHz-clocked Beast from the East
After taking a look at NVIDIA's GeForce GTX 560 Ti GPU just yesterday and noting that it was primed to be overclocked by partners with special edition models, Gigabyte duly obliged and sent in its GTX 560 Ti Super OverClock (SOC) beast.
Now, Gigabyte knows a thing or two about getting the most out of GeForce cards. The company's GTX 460 SOC was the finest NVIDIA mid-range card to pass through the HEXUS labs, and its combination of high clocks, near-silent cooling and relatively small price premium over bone-stock cards made it a winner.
So why waste what is obviously a winning formula, because Gigabyte takes very much the same grounds-up-design mentality with the GTX 560 Ti SO version.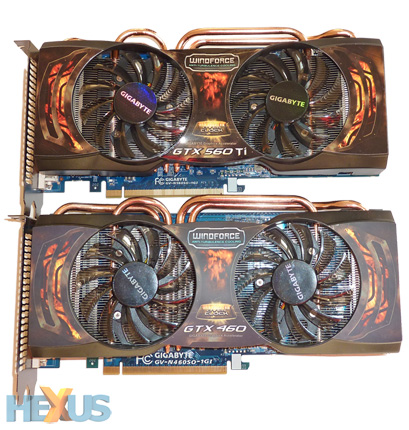 The similarity between the two GPUs is shown by the picture, above, and, save for the model number printed on the PCB and cooler, there's no obvious indication that they're two distinct cards.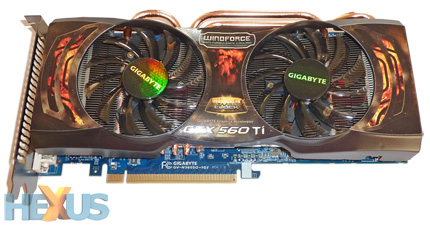 Zooming into the GTX 560 Ti, the PCB is 0.5in longer than the 9in for the reference card. Gigabyte keeps the WindForce 2X cooler found on the original. The card-enveloping heatsink's fans are angled in to reduce turbulence, according to company, and they're sat on top of four heatpipes that, in turn, are in contact with a thick copper base.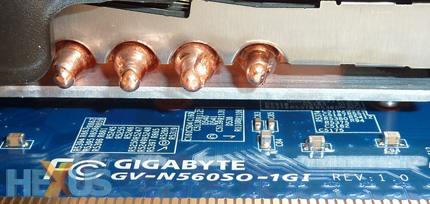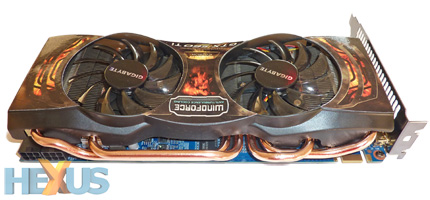 Gigabyte throws in a disarming array of SO-specific technology with the card. How does 2oz copper PCB, tier one Samsung/Hynix memory, Japanese solid capacitors, ferrite-core chokes, an NEC Tokin Proadlizer that lowers electronic noise and increases power efficiency, and a seven-phase PWM design grab you. Phew, technical overload!
A combination of the GTX 560 Ti's inherent frequency headroom - we pushed the reference card to 950MHz core and 4,412MHz memory without problem - and a mass of cooling means that Gigabyte pulls out all the stops and releases this card with default frequencies of 1,000MHz core and 4,580MHz memory, up from the default 822MHz/4,008MHz. Back-of-the-envelope calculations tell us that it should be at least 20 per cent faster than a regular 'Ti, which, if you're au fait with modern graphics cards, means it'll perform much like a GeForce GTX 570.
Interestingly, the latest build of Gigabyte's OC Guru utility provides manipulation for the GPU memory alone - from 1.35V to 1.56V - so no end-user fiddling with the GPU voltage, which is locked to 1.047V in automatic mode and 1.105V in manual mode. Both figures are higher than the 1.025V of the reference card.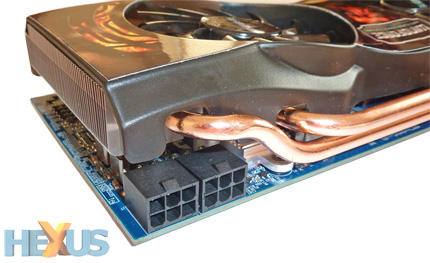 All that extra power means that Gigabyte has no choice to keep two six-pin PCIe connectors, even though it claims that the SO is more power-efficient than the reference design.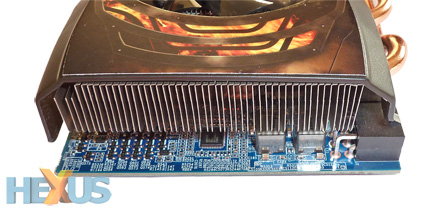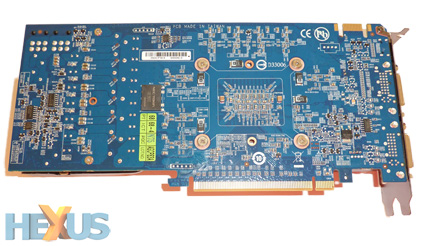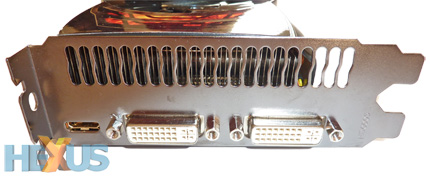 While the overall card is anything but standard, the rear outputs match a reference card's twin (dual-link) DVI and mini-HDMI. Remember, too, that the GTX 560 Ti carries all the bitstreaming goodness found in the GTX 460.
Gigabyte's proven Super OverClock custom cooling makes the leap from GTX 460 to GTX 560 Ti with nary a change, but this is no bad thing in our book, because the cooler has previously proved to be adept at keeping the GTX 460 1GB well below threshold temperatures.
Priced at some £225, thereby attracting a £25 premium over reference cards - the Gigabyte GeForce GTX 560 Ti SO nicely fills the gap that currently exists between the GTX 560 and GTX 570 GPUs. Let's now see if can fill the performance gap, too.