GIGABYTE Radeon HD 4870 1GB
To find out more about AMD's Radeon HD 4870 architecture, please refer to our prior, in-depth analysis. If you're already in the know, let's get stuck right in.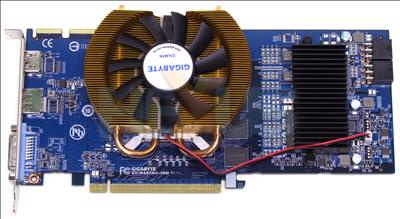 GIGABYTE's Radeon HD 4870 1GB is a blue-PCB'd take on AMD's card. GPU and memory frequencies remain at a stock 750MHz and 3,600MHz, respectively, but AMD's enclosed cooler has been ditched in favour of Zalman's VF830.
It isn't the sleekest-looking card we've ever seen, and though the cooler won't exhaust hot air from the rear of a chassis, GIGABYTE tells us to expect lower temperatures when compared with AMD's reference design.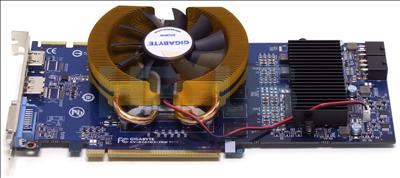 Another look at the Zalman cooler, which unfortunately isn't thermostatically controlled - we found it to be unnecessarily noisy when both idle and under load.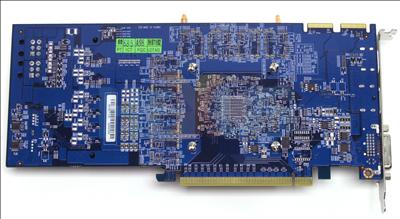 On the rear it resembles most other Radeon HD 4870 cards, and retains two CrossFire links that allow for two-way, three-way, or even four-way CrossFireX setups.
Armed with 1GB of GDDR5 memory and a 256-bit bus width, the card delivers 115GB/s of memory bandwidth.

From the side it's something of a scrapheap challenge, and not one to be displayed proudly in a windowed chassis - unless heatsinks are your thing, of course.
As ever, two side-mounted six-pin power connectors are present and to be used concurrently. Drawing close to 200W under full load, this timid-looking card is something of a bad boy in disguise.

It's all change on the backplate. Moving swiftly away from AMD's reference design - which offers dual-link DVI and TV-out - GIGABYTE has opted for a trio of HDMI, DisplayPort and DVI, effectively covering most modern displays. Very useful indeed, and those worried about current dual-screen setups needn't worry as GIGABYTE bundles an HDMI to DVI adaptor.
Summary
Although clocked at AMD's reference speeds, GIGABYTE's Radeon HD 4870 1GB offers a few notable upgrades - its range of connectivity options are a pleasant surprise, and the Zalman cooling should offer lower temperatures.