The Gigabyte GeForce RTX 3060 Gaming OC
Gigabyte GeForce hierarchy typically runs from Vision, Eagle, Gaming OC to Aorus Elite, with each model offering larger form factors, higher speeds, and more lighting.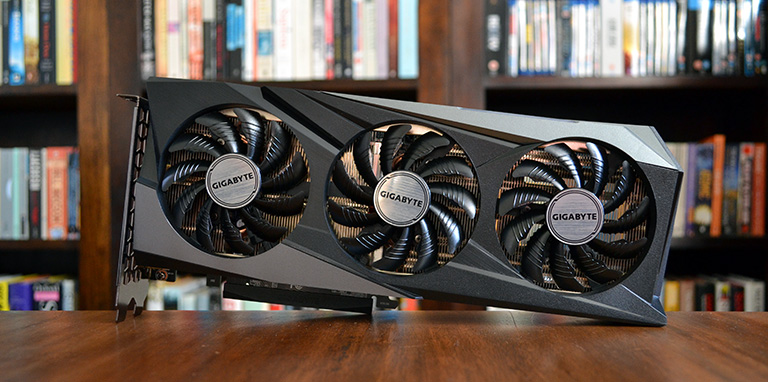 We received the GeForce RTX 3060 Gaming OC in for review perusal. Pricing is mostly pointless for obvious reasons, but should it calm down in the next few months, we expect this model to cost around $369 (£325).
The appearance is instantly familiar as it tows the RTX 3070 line. Measuring a similar 282mm long and 117mm wide, the RTX 3060 is more restrained as it has a dual-slot 41mm height instead of 51mm on the more powerful card.
The metal shroud and inoffensive colour scheme works well enough for most builds. As before, the central fan spins clockwise whilst the outer pair in the opposite direction, ostensibly for lesser turbulence. All three switch off at low loads. The transition to on, at around 60°C, is reasonably smooth, and as you will see later on, the cooling capability is such that the card spends a fair amount of time straddling this on/off point.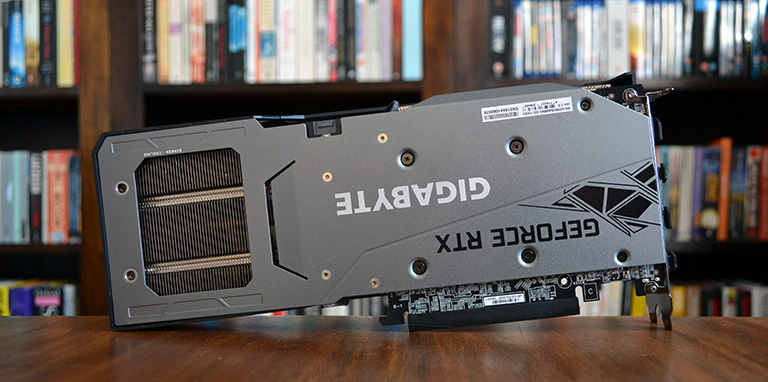 A metal back always plays well with enthusiasts. Gigabyte's PCB actually ends at the single 8-pin connector that's near the middle. The left-hand side is there to extend the card's heatsink across enough to enable through-the-stack 'screen' cooling. We like the squared-off frame that effectively hides the heatsink from frontal view.
Could Gigabyte have made an ITX offering for really small chassis? Probably, but if you have a regular tower, this card poses no installation problems.

Here's a better view of how the card is constructed. The sole concession to RGB is with the Gigabyte logo and small strip just above it. Controlled by RGB Fusion 2.0 software, brightness and impact are both just about right.
Being an OC card, Gigabyte increases the boost clock from 1,777MHz to 1,837MHz. Not much on paper, yet we recorded an average in-game frequency of 1,995MHz during testing. The 12GB framebuffer is left untouched at 15Gbps.
Moving it around reveals Gaming OC uses three-block cooling that takes care of the GPU, VRMs and memory. The larger heatsink to the right doesn't directly cool any components on its own as it hovers over the section without a PCB. Simply present to extend the capability of the cooling in general, the trio of heatpipes converge at the GPU base and ought to be sufficiently capable for a 170-190W board.
There's no second BIOS available and we'd prefer the fan cabling to be tidier and out of view. Other than that, there's little to criticise.

Outputs are common for Gaming OC cards. That entails two DisplayPort 1.4a and two HDMI 2.1.
You want to see benchmarks now, don't you?