Introduction
2019 has turned into a memorable year for AMD. The chip giant's 3rd Gen Ryzen CPUs have been received to widespread acclaim, a new generation of Threadripper has raised the bar for high-end desktop, and even in the graphics space, which has traditionally proven a harder nut to crack, AMD can look back at the summer arrival of Radeon RX 5700 XT and RX 5700 with modest satisfaction.
Neither GPU could be deemed as disruptive as the firm's Ryzen CPUs, yet having floundered in the graphics space for quite some time, the new 7nm parts were at the very least competitive, and a sign that AMD Radeon was returning to form. Today, the California-based outfit is hoping to build on that momentum with a follow-up dubbed the Radeon RX 5500 XT.
Navi goes mainstream

Radeon RX 5700 XT

Radeon RX 5700

Radeon RX 5500 XT

Radeon RX Vega 64

Radeon RX Vega 56

Radeon RX 580

Launch date

Jul 2019

Jul 2019

Dec 2019

Aug 2017

Aug 2017

Apr 2017

Codename

Navi 10

Navi 10

Navi 14

Vega 10

Vega 10

Polaris 20

Architecture

RDNA

RDNA

RDNA

GCN

GCN

GCN

Process (nm)

7

7

7

14

14

14

Transistors (bn)

10.3

10.3

6.4

12.5

12.5

5.7

Approx Die Size (mm²)

251

251

158

486

486

232

Shaders

2,560

2,304

1,408

4,096

3,584

2,304

Texture Units

160

144

88

256

224

144

ROP Units

64

64

32

64

64

32

Boost Clock (MHz)

1,905

1,725

1,845

1,546

1,471

1,340

Game Clock (MHz)

1,755

1,625

1,717

-

-

-

Peak SP TFLOPS

9.75

7.95

5.20

12.66

10.54

6.17

Memory Type

GDDR6

GDDR6

GDDR6

HBM2

HBM2

GDDR5

Memory Size (GB)

8

8

4 / 8

8

8

4 / 8

Memory Clock (MHz)

14,000

14,000

14,000

945

800

8,000

Memory Bus (bits)

256

256

128

2,048

2,048

256

Max Bandwidth (GB/s)

448

448

224

484

410

256

PCIe Support

Gen 4

Gen 4

Gen 4

Gen 3

Gen 3

Gen 3

Power Connectors

6+8

6+8

8

8+8

8+8

6

TDP (watts)

225

180

130

295

210

185

Launch MSRP

$399

$349

$169 / $199

$499

$399

$199 / $229
Priced from $169 and tasked with bringing the RDNA architecture to a wider audience, this 7nm successor is the first Navi GPU designed to target a mainstream market that accounts for the bulk of GPU shipments. How competitive will Radeon RX 5500 XT be? The benchmarks will shortly reveal all, but the fact that Nvidia felt the need to launch a pre-emptive strike in the form of the $159 GeForce GTX 1650 Super suggests that team Radeon might be onto something.
On paper, the specification table highlights a logical massaging of the Navi blueprint. AMD's smaller 158mm² die is home to 22 CUs (Compute Units), enabling 1,408 shaders, 88 texture units and 32 ROPs. The cuts extend to the backend, where either a 4GB ($169) or 8GB ($199) GDDR6 frame buffer is attached via a narrow 128-bit bus, and the streamlined approach results in a 130W TDP that's better suited to affordable 1080p gaming PCs.
Sapphire's Pulse
AMD is expecting plenty of support from key partners, with custom cards from the likes of ASRock, Asus, Gigabyte, MSI, PowerColor, Sapphire and XFX all expected to become available at launch. First up on the HEXUS test platform is the Sapphire Radeon RX 5500 XT Pulse, which even at this early stage sets a high standard for other manufacturers to try and match.
Mirroring the look and feel of 5700 Series Pulse cards, it is good to see that the entry-level sibling hasn't been severely hamstrung when it comes to cooling and acoustic performance. We often see cards at this end of the market shipped with noisy coolers or poorly optimised fan profiles; that isn't the case with Sapphire's Radeon RX 5500 XT Pulse, which as the benchmarks will demonstrate is wonderfully quiet even when gaming.
Dimensions of 233mm x 122mm x 39.6mm are overkill considering the underlying PCB measures a mere 177mm in length, yet there's no harm in elevated cooling and the card does conform to a dual-slot format while keeping weight down to 655g. Helping shift heat are dual 95mm fans (each of which is easily removable for cleaning), a full-length aluminium heatsink interspersed with a trio of heatpipes, and a dedicated cooling plate for VRMs and memory.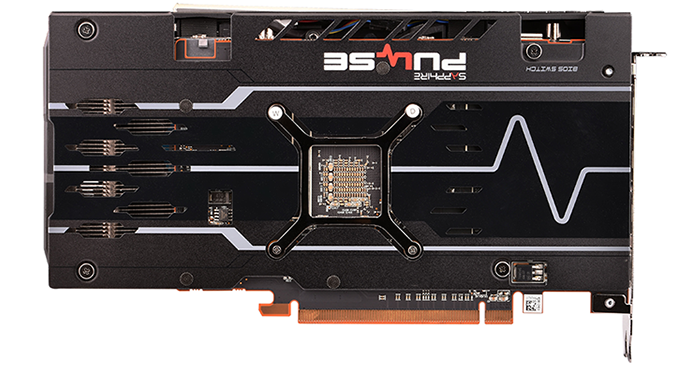 Everything feels solid and well knitted together, both fans turn off at low load, and the inclusion of an aluminium backplate is a welcome surprise on a GPU of this ilk. There's also no gaudy RGB lighting to contend with, and with fewer red accents than the RX 5700 Pulse, you might argue that the RX 5500 model is a visibly sleeker choice. For those wondering whether to pay the extra 30 bucks for an 8GB model, note that the two are virtually identical in terms of cooling and appearance.
What is surprising considering the 7+2-phase power design is that there's little in the way of a factory overclock. Boost frequency remains at 1,845MHz - as is seemingly the case for every launch-day card - though Sapphire's default BIOS does nudge game clock up fractionally from 1,717MHz to 1,737MHz. The GDDR6 frame buffer remains untouched at 14Gbps, and a dual BIOS switch offers the ability to alternate between performance and silent modes; the latter simply drops game clock back down to reference levels.

A single HDMI and three DisplayPort make up the choice of outputs, and in terms of implementation there's ultimately very little to fault with Sapphire's first interpretation of an RX 5500 XT board. The big question mark is pricing. AMD's UK starting price of £160 for a 4GB is slightly higher than the rival GeForce GTX 1650 Super, which can be found close to the £140 mark if you shop around, and 8GB 5500 XT models, starting at £180, find themselves landing in GTX 1660 territory.
We'd like to have seen the 4GB 5500 XT go toe-to-toe with GTX 1650 Super with a $159 SEP, though AMD is keen to point out that the Radeon is eligible for its 'Raise the Game' promotion, entitling buyers to a free copy of Monster Hunter World Iceborne Master Edition as well as a three-month Xbox Game Pass for PC.