AMD Radeon Software Adrenalin 2020 Edition
Adding a little extra spice to the 5500 XT launch, AMD is taking this opportunity to release its latest Radeon Software utility, dubbed the Radeon Software Adrenalin 2020 Edition. The name might not roll off the tongue, yet this is one of AMD's most polished offerings to date, and it's an app we suspect many gamers are going to be more inclined to use.
Right off the bat, the installer has been brought up to date with a new interface and the promise of a 34 per cent faster install time. There's also an improved factory reset option, and it's immediately clear that AMD has made an effort to provide a worthwhile alternative to Nvidia's GeForce Experience.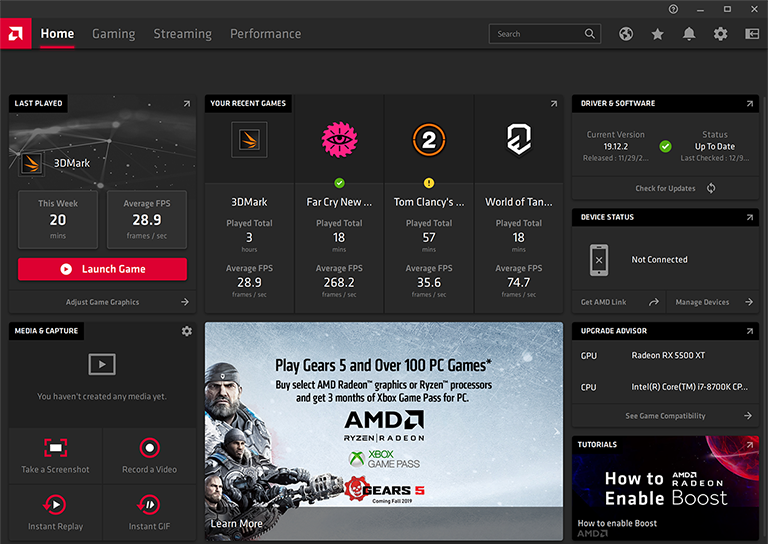 The new home screen is far more inviting than Radeon Settings and the app handily centralises games from multiple third-party launchers. Building on the industry-wide trend to improve performance through software, the settings tab provides access to a bevy of options designed to help deliver a smoother gaming experience.
Radeon Anti-Lag, which dynamically adjusts the pacing of CPU work to better align with GPU output, now supports DX9 on a range of pre-RDNA graphics cards, while Radeon Boost promises up to a 23 per cent increase in framerate by dynamically reducing rendering resolution during fast-motion scenes. The latter is an interesting addition that responds quickly to mouse movement with only minimal degradation of image quality, however just eight games (Borderlands 3, Call of Duty: WWII, Destiny 2, GTA 5, Overwatch, PUBG, Rise of the Tomb Raider and Shadow of the Tomb Raider) are supported at launch, and only via the DX11 API.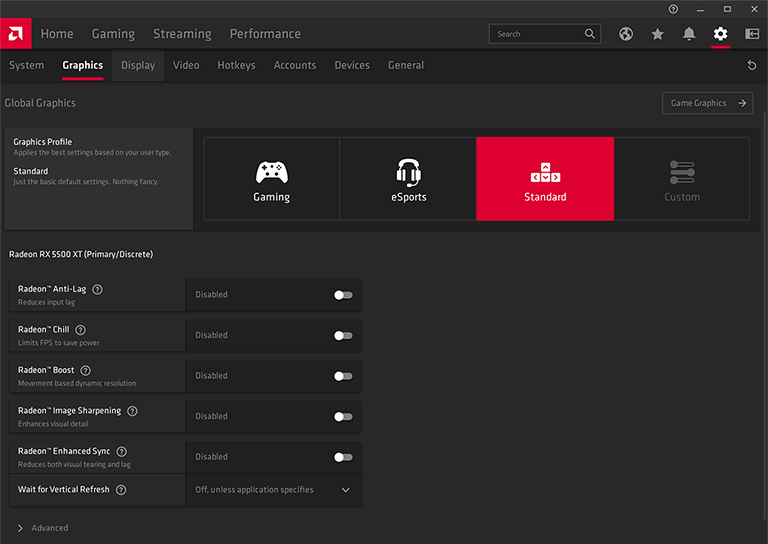 Elsewhere, Integer Display Scaling is a welcome addition for retro gaming where you want to maintain a pixel-art style, there are a wealth of capture options for the streaming crowd, and for tweakers WattMan has been replaced by a new Tuning tab that's easier to navigate and stocked with a couple of automated options. These include the ability to undervolt or overclock the GPU with the click of a button.
Plenty to explore, though do be wary of the Gaming and eSports profiles that are proffered during the setup process; Gaming will automatically enable Image Sharpening, Anti-Lag and Virtual Super Resolution; eSports will turn on Image Sharpening, Anti-Lag and 8x Tessellation. We recommend choosing the Standard profile, which enables only FreeSync as standard, and manually toggling any additional features to see which options work best for your particular setup.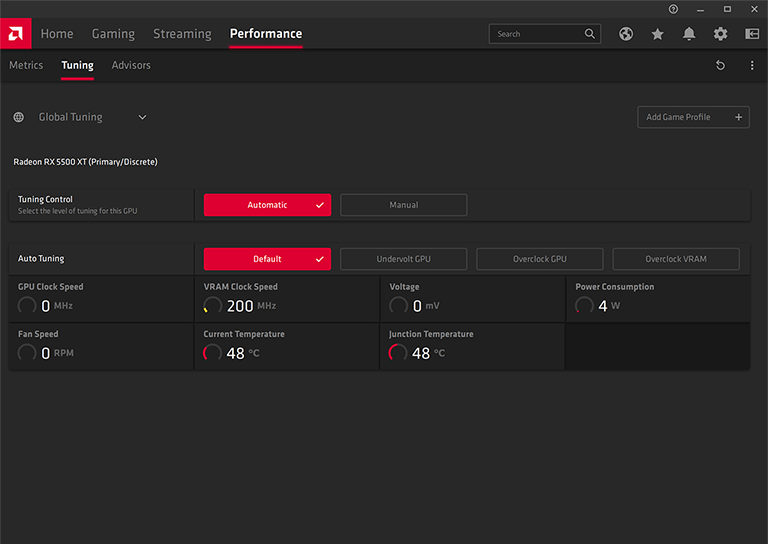 Manual fan tuning controls have been given a visual overhaul, allowing users to easily plot points on a PWM/temperature graph, and if in-game performance is lacking, the built-in upgrade advisor uses developer recommendations to compare your current system with the preferred specifications for any installed games. As you might have guessed, an AMD Ryzen processor is recommended in every case.
AMD Link, for remote streaming of PC games to iOS or Android devices outside of the home, has also been updated with a refreshed UI, improved bit-rate support at up to 50Mbps and reduced-bandwidth streaming via the x265 codec. Want to give the new features a go? Head over to amd.com/support to download the latest driver. That's it for the preamble, time for some benchmarks.