ATI All-In-Wonder Radeon X800 XL for PCI Express Feature Preview


Our recent trip to Canada wasn't all fun and Grand Prix watching. David and I had business to do, and products to be briefed on. Following ATI's release of the All-In-Wonder XT for AGP systems, the big questions then surrounded the release date of a PCI Express version for users of that new interconnect. With R420 powering the AGP version, most users that asked me about a PCI Express version were expecting an R481-based version with exactly the same features and clocks.

ATI instead decided to take their first X800 All-In-Wonder on PCI Express in a slightly different direction. Using R430 in X800 XL configuration, the new All-In-Wonder has features over and above those of the AGP version.

I've long been pressing ATI on the introduction of an All-In-Wonder or TV Wonder product that supports DVB-T tuning, so that consumers with a free-to-air digital terrestrial signal could tune it in a single device. The power of the All-In-Wonder, where it pairs a fast 3D accelerator with the TV and radio tuning features usually the realm of a separate product, diminishes if it doesn't keep up with the advances in TV broadcast technology, given that the TV tuning hardware is its biggest draw.

When I spoke with ATI last year and asked them about the possibility of the first PCI Express All-In-Wonder being an R481-based product with DVB-T and a Theater 550 PRO ASIC, I was on the right lines. But All-In-Wonders with 550 PRO are some way off, if indeed in the pipeline at all. My guess was otherwise spot on, ATI bundling the same IO connector feature set as the AGP X800 XT version with R430, Theater 200 and a new Microtune tuner that is happy doing DVB-T.

In steps the new ATI All-In-Wonder Radeon X800 XL for PCI Express. Click the image for a bigger 1000px wide version.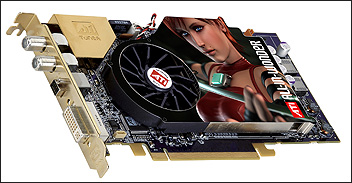 The ATI All-In-Wonder Radeon X800 XL for PCI Express differs from the AGP version in only a couple of areas physically. Firstly, a Microtune MT2121 silicon tuner sits under the gold-coloured cover. The MT21xx series is a pin-compatible evolution of the MT20xx series, with the biggest difference being the ability to tune DVB-T digital television broadcasts. Its other capabilities remain intact, able to pass a variety of relevant signals to the Theater 200 for processing, before it hands off data to the GPU for display, via the VIP. Check out this page if you wish to learn a bit more about the video pipeline in a recent All-In-Wonder.

The MT2121 contains minor quality tweaks to futher enhance the video and audio fed to the Theater, so quality should be slightly increased all round. Whether it's extremely noticable is another matter. The PCI Express slot is able to give the board all the power it needs, the hardware foregoing the needs of an auxiliary supply from a PSU connector of some kind.

The single-slot cooler and small-ish PCB size means it'll fit in a variety of PCI Express-based small-form-factor systems. Coupled with the feature set and you can see why it's potentially rather compelling for all kinds of users, no matter how big or small their system may be.


Software Changes
There are changes in the software too, for the new All-In-Wonder. MMC gets a fiddle with tweaks to Easylook and the ability to burn captured video to CD and/or DVD, for playing in other decks and players. North American users get speedier channel selection and higher quality FM tuning. Euro users get DVB-T tuning from MMC and the ability to configure SCART output, as the AGP XT variant can.

The domino style connectors are all supported by the ATI All-In-Wonder Radeon X800 XL for PCI Express, too.


3rd Generation Remote Wonder
ATI don't have pictures yet of their latest 3rd gen. Remote Wonder product, although expect its range and ergonomics to get attention. There'll also be a coupon to get a Microsoft MCE remote for a reduced price, although I'm unsure if that applies worldwide or just to North America.


Overall
The change to the Microtune 2121 does the ATI All-In-Wonder Radeon X800 XL for PCI Express a lot of favours in Europe, technically, with a knock-on effect of increased feature set. The 400MHz X800 XL and AIW features, on PCI Express, should make it a massive seller in the UK and Europe when it appears later in the summer. I'll have a full review for you as soon as the review sample arrives, stay tuned! I'll be hopefully pairing it with a PAL PCI Express Theater 550 PRO board for dual-tuner action and Windows MCE testing.