Introduction
People always tend to look back at times gone by with fond memories. The good ol' days, they call it, when food was cheap, music was great and schools still served pink custard. Heck, back then, AMD and Nvidia used to compete for the title of world's fastest GPU.
Times have changed - food's expensive, music's dull, and Nvidia has it all its own way in the high-end graphics space. Such is the firm's dominance that it has developed a habit of releasing world's fastest GPUs on a whim. The GeForce GTX 1080 nabbed the crown in May 2016, only to be usurped by the Titan X in August, which in turn was overthrown by the GTX 1080 Ti in March of this year. We had assumed the 1080 Ti would remain at the top until a next-generation successor arrived on the scene, but nope, just last month the full-fat Titan Xp took its place as king of the hill.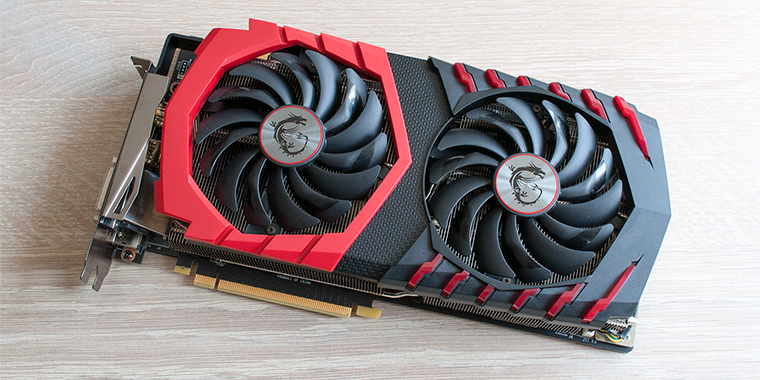 Good luck to anyone trying to keep ahead of the curve, and even if funds are unlimited, you could argue that there's no clear-cut choice. Titan Xp has the most muscle, there's no doubt about that, yet it is only available in Founders Edition livery. With that in mind, we reckon a custom-cooled GeForce GTX 1080 Ti remains the best bet for many enthusiast gamers.
Impressive offerings from Inno3D, Asus and Aorus have already been put through the wringer, and today we turn our attention to MSI, who is outfitting the GTX 1080 Ti GPU with its highly rated Gaming X cooler. Beautifully presented and priced at a jaw-dropping £760, MSI's hard-hitter is a serious proposition, though, if you were leaning toward the £1,159 Titan Xp, it could also be viewed as a relative bargain.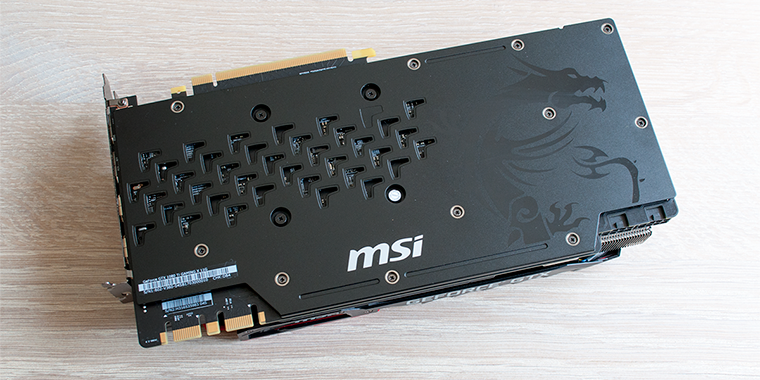 Build quality, as you'd expect, is solid throughout and we continue to be fond of the Gaming X aesthetic. MSI's blend of red on black works well for a similarly themed build, and the lighting, reserved for the top and second fan, is subtle and well implemented, while the PCB is neatly sandwiched between a cooling plate on one side and a metal backplate on the other.
It's a good-looking thing, though, given the cooling demands of the underlying GPU, the GTX 1080 Ti Gaming X isn't quite as sleek as its GTX 1080 counterpart. Dimensions have ballooned to 290mm x 140mm x 51mm, resulting in a three-slot occupancy, and a weight of 1,257g is such that you may feel the need to employ a GPU brace to help prevent any unwanted sag.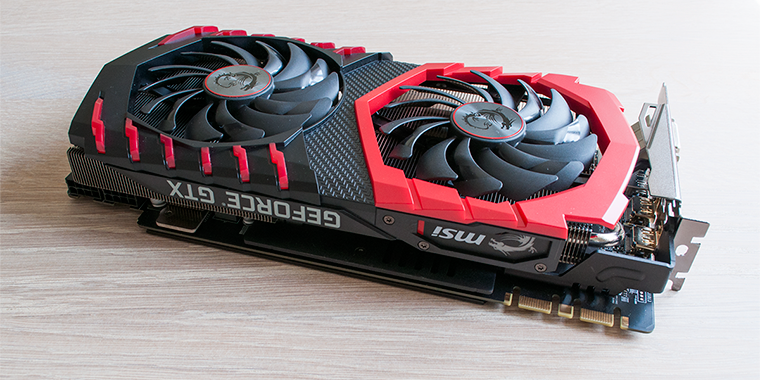 A design as eye-catching as this ought to be backed-up by a lofty factory overclock, yet MSI is somewhat conservative when it comes to shipping frequencies. Core base and boost clocks are set to 1,544MHz and 1,658MHz, respectively, while the huge 11GB GDDR5X frame buffer operates at a reference 11Gbps. Going strictly by the numbers would intimate that this is the slowest custom-cooled GTX 1080 Ti we've tested to date, but the small gap in peak frequencies is unlikely to make a big difference during gameplay, and as we know, what's written on the box rarely aligns with real-world boost clock.
Should the out-the-box speeds be out of alignment with your everyday requirements, MSI offers a choice of alternate profiles via its bundled software utility. Switching to 'Silent Mode' will reduce boost clock to 1,480MHz, while 'OC Mode' will increase boost clock to 1,569MHz and memory to an effective 11.1Gbps. The software can also be used to customise the RGB lighting (or indeed turn it off), but if you're inclined not to install any superfluous apps, you'll be pleased to hear that the GTX 1080 Ti Gaming X works just fine as a plug-and-play solution.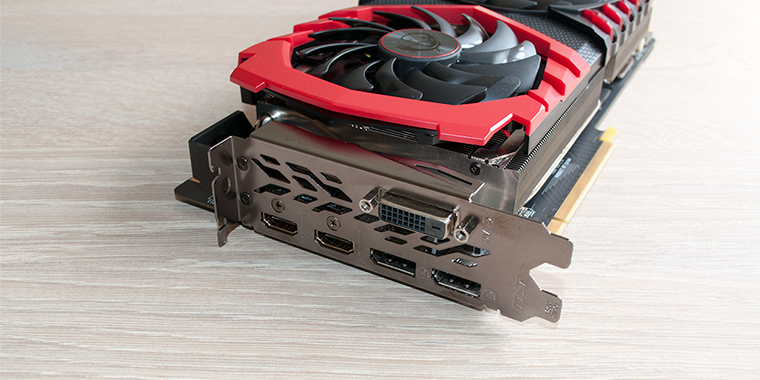 Power is sourced via dual eight-pin connectors, and a pair of SLI connectors are available for multi-GPU setups. Taking a leaf out of Asus's playbook, the display outputs are comprise dual-link DVI, two DisplayPort 1.4 and a pair of HDMI 2.0. The latter duo are intended for VR purposes, and up to four displays can be used simultaneously.
A mighty fine interpretation of the GeForce GTX 1080 Ti? Let's run through the benchmarks before we pass judgement.