Introduction
Nvidia supercharged graphics performance by launching the GeForce GTX 1080 Ti GPU a month ago. Though undeniably fast and a chip off the Titan X Pascal block, we knew that it would only really show true colours when in the hands of partners who would improve upon the Founders Edition cooling.
Such thinking has lead to truly monstrous cooling on top of the GP102 GPU. Inno3D and Asus have shown that by going big, really big, partner GTX 1080 Tis can outmuscle the Founds Edition yet still be relatively cool and certainly quieter.
One company that isn't scared of going monstrous is Gigabyte spin-off Aorus and it showcased the biggest, best cooler on the GeForce GTX 1080 Xtreme card a short while ago.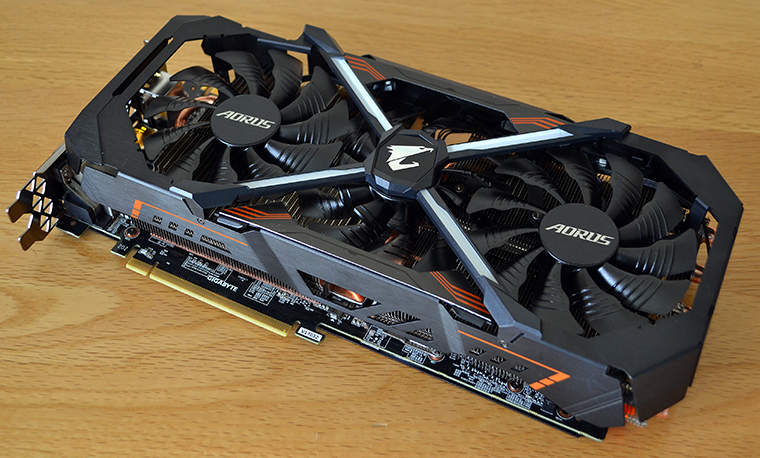 Here is that beast back on cooling duties for the Ti GPU, which makes more sense because there is more to cool here. This GPU scales the 1080 by adding 40 per cent more shaders and, at 11GB, almost double the memory. A direct consequence is a TDP of 250W, compared to the 1080's 180W, though partners such as Aorus increase that farther for overclocked models such as this one. It is likely this card pulls far closer to 300W under load.
Such talk presents a good time to discuss frequencies. The Founders Edition lays down the GTX 1080 Ti specification by running at 1,481MHz core and 1,582MHz boost. Aorus believes that just isn't enough and clocks in this Xtreme version at 1,607/1,721MHz out of the box with the option to raise frequencies to 1,632/1,746MHz through an OC mode availed by software. Of course, the stated boost clock is usually easily bested by what the card actually runs at. Our sample hummed along at an average 1,887MHz core. Memory, meanwhile, is also overclocked, which is what we like to see. There is a choice of 11,232MHz - up by 232MHz on the FE - or 11,448MHz in OC mode
A standard, cheaper, non-Xtreme model featuring the same cooling is also available. The speeds are down a notch and memory isn't overclocked. Both share the large 293mm x 142mm x 52mm (LxWxH) dimensions.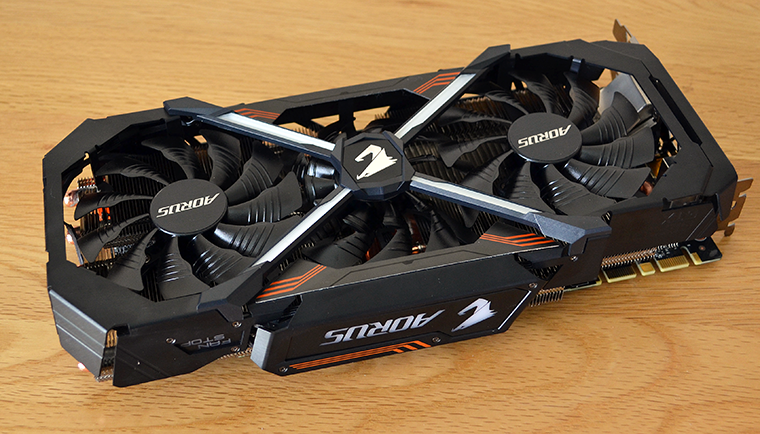 Partner-built cards often go to great lengths to describe how they are better than reference - Aorus is no different. This behemoth uses a trio of 100mm fans that, if you look closely, overlap each other, thus helping explain the taller-than-normal height. Such closeness is, according Aorus, there 'to concentrate and enlarge the airflow on the whole heatsink for the most efficient heat dissipation.' This stacking is made possible by having a steeper inside part of the fan and a shallower outer angle. Interestingly, the middle fan spins in the opposite (anti-clockwise) direction to the other two. Again, according to the company, this increases airflow by up to 23 per cent. Bracing the lot is a centralised section whose four strips light up in the RGB colour of your choice.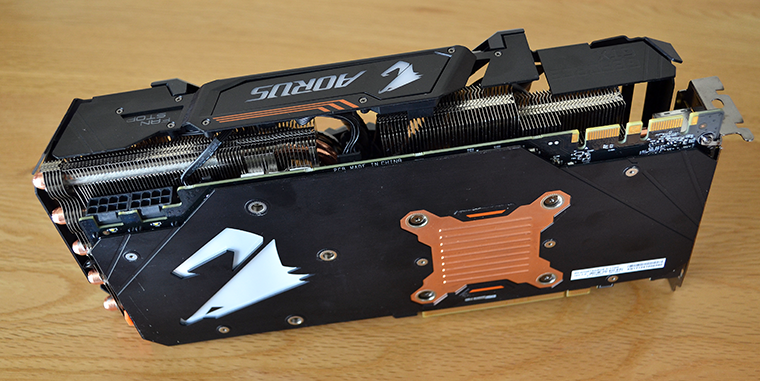 Aorus has also been keen to point out the extra engineering efforts to make this cooler as efficient as possible. A massive copper block and custom backplate hold temperatures in check. Power is upgraded by having two 8-pin connectors providing juice to a custom 12+2-phase design. RGB is widely in evidence on top of the light strips we have spoke about previously, with the Xtreme also featuring a colour-customisable logo on the back, side and fan-stop section that lights up when the trio of fans switch off at below 55°C or so. All sections share the same single colour, mind, and note that the RGB Fusion utility only works properly on Intel 200-series chipsets. Switching gears, underneath the gigantic heatsink is thermal tape sitting between it and 11GB of memory and, separately, the MOSFETs.
Interestingly, Aorus keeps the TDP of this card to a reference 250W, rather than go to 275/280W as many of the competition do. The reason rests with wanting to keep the card as quiet and composed as possible, and it's no surprise to see that the available Power Target, at 150 per cent (375W) is a much higher percentage uplift than others.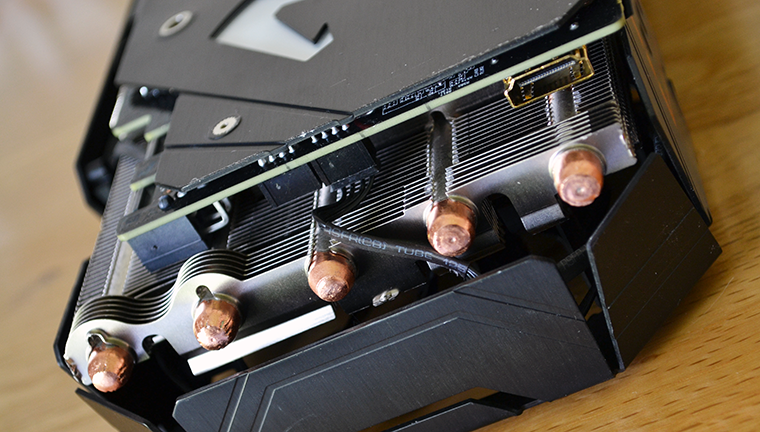 No modern premium card is complete without installing the biggest heatpipes possible. Aorus uses five 8mm ones and a sixth, 6mm-thick 'pipe you cannot see. So with all this cooling present, taking up the best part of three slots, this 1,451g beastie is a poster child for having strengthened PCIe slots and screwing the card properly to the chassis. Notice the HDMI port at the opposite end of the traditional I/O ports? It's there to make hooking up a VR headset easier, and we imagine that it would be connected to a breakout box installed in a spare chassis bay.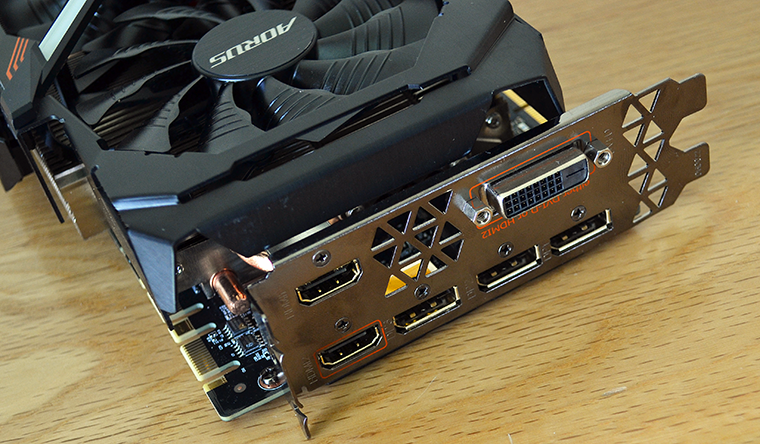 The arrangement of ports is also different from what we have seen thus far. What you're viewing is dual-link DVI, two HDMI and three DisplayPort. When using the internal VR-centric HDMI port the DVI is disabled, letting you choose up to four outputs split between HDMI and DisplayPort. The bottom-left HDMI, meanwhile, is disabled if choosing DVI - this is why both are highlighted in orange - so there's excellent flexibility on this front. Aorus also does well with the warranty, offering four years after registration.
Comparing the vital specs of the Aorus GTX 1080 Ti Xtreme shows it to reside in the upper echelons of performance. So does the price because this model comes in at £800, matching the Asus Strix in the financial stakes. We know that basic GTX 1080 Tis are available from £700; this card therefore needs some pulverizing benchmark performance to offset its premium pricing. Let's find out if it succeeds.