Benchmarks: Gaming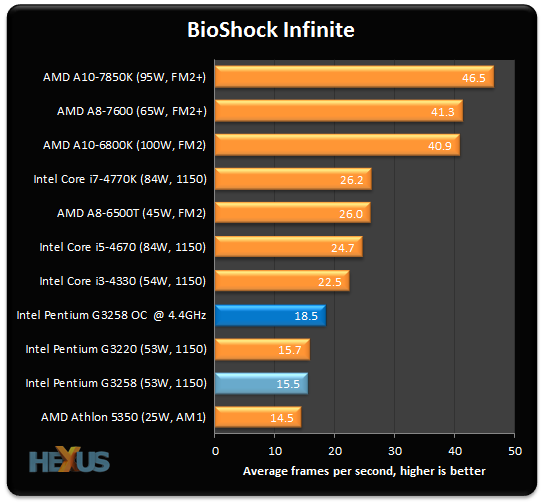 We've run the numbers at a low 1,280x720 resolution, which is still too difficult for the onboard graphics to deal with. One would need a high-end AMD APU to play the game at medium settings, or better yet, a discrete graphics card.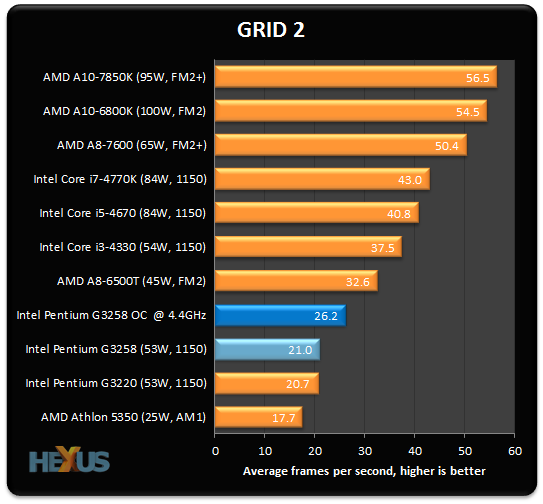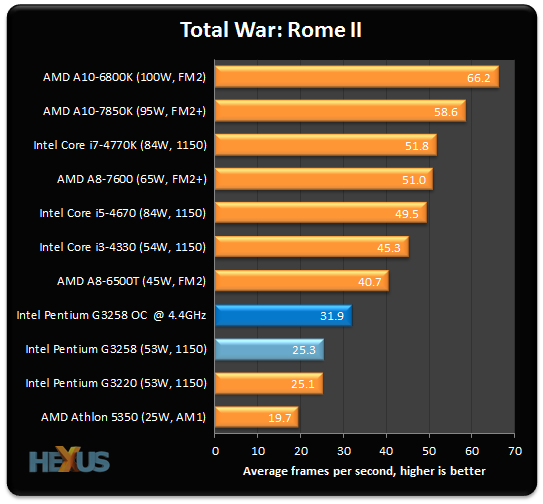 Two further games, tested at medium- and high-quality settings, underscore the fact that the HD Graphics built into the G3258 are some way off being what we'd term gaming grade. Anyone looking for serious gaming needs to invest in a reasonable discrete graphics card.
But what sort of performance can you expect in such a scenario? To find out, we paired the Pentium G3220 with a mid-range Gigabyte GeForce GTX 750 Ti WindForce graphics card that is readily available for around £100. We've listed the 1080p performance of the G3220, G3258 (both stock and overclocked) and compared them against the enthusiasts' favourite, the Core i7-4770K.
Image Preset

Intel Pentium G3220

Intel Pentium G3258 (3.2GHz)

Intel Pentium G3258 (4.4GHz)

Intel Core i7-4770K

3DMark (score)
Fire Strike

3,611

3,637

3,779

4,122

BioShock Infinite (avg fps)
Maximum Quality

47.8

48.6

48.7

48.3

GRID 2 (avg fps)
4xMSAA, Ultra Quality

51.3

52.3

53.9

53.9

Total War: Rome II (avg fps)
Very High Quality

47.0

51.1

51.7

52.8
The overclocked chip does a very good impression of a Core i7-4770K - there's very little difference in real-world games run at 1080p. Sometimes numbers can be misleading, but the game(s) felt smooth and fluid to play. We'd challenge anyone to tell the difference between the overclocked Pentium G3258 and the 5x dearer Core i7-4770K in these games. Really, the standard chip is good enough for 1080p gaming.