Test Methodology
Intel Core i7-4790K Specification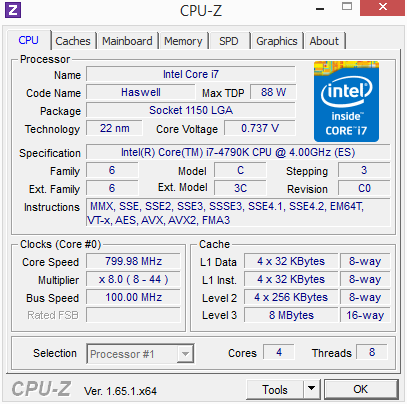 Comparison Processor Configurations

CPU

AMD

Intel

A10-7850K

A8-7600K

A10-6800K

A8-6500T

Core i7-4790K

Core i7-4770K

Core i5-4670

Core i5-4440

Core i3-4330

Core i7-4770R

Chip TDP

95W

65W/45W

100W

65W

88W

84W

84W

84W

54W

65W

Current price

£130

£90

£105

£80

£240

£240

£160

£130

£95

NA

Motherboard

ASRock FM2A88X-ITX+

Asus Z97-A

Gigabyte Z87-D3HP

Gigabyte M4HM87P

BIOS

1.90

0902

F5

NA

Chipset Driver

AMD Catalyst 13.12

Intel Inf 9.4.0.1027 and IMEI 9

DDR3 Memory

AMD Gamer Series 16GB (2x8GB)

G.Skill 8GB (2x4GB)

Memory Timings

10-11-11-28-2T @ 2,133MHz

9-10-9-27-2T @ 1,600MHz

9-10-9-27-2T @ 1,866MHz

11-11-11-28-2T @ 1,600Hz

Integrated Graphics

Radeon R7

Radeon R7

HD 8670D

HD 8550D

HD 4600

HD 4600

HD 4600

HD 4600

HD 4600

Iris Pro 5200

IGP driver

AMD Catalyst 13.30 RC3

Intel 15.33.8.64.3379

Disk Drive

Samsung 840 Pro 250GB

Intel mSATA 180GB

Chassis

Corsair Graphite 600T

Gigabyte Brix

Power Supply

Corsair AX760i

Gigabyte external

Operating System

Windows 8.1 Pro 64-bit

CPU and Memory Benchmarks

HEXUS PiFast
Our number-crunching benchmark stresses a single core by calculating Pi to 10m places
CineBench R15
Using Cinebench's multi-CPU render, this cross-platform benchmark stresses all cores
wPrime 2.1.0
Another number-crunching benchmark that stresses all available CPU cores/threads
AIDA64 v4.00.2805

Benchmark that analyses memory bandwidth and latency

Multimedia Benchmarks

LuxMark 2.0
An OpenCL rendering benchmark
MuseMage 1.9.6
An OpenCL image-manipulation benchmark (64-bit)
HandBrake 0.9.9.1
Free-to-use video encoder that stresses all CPU cores (64-bit)

System Benchmarks

PCMark 8 v2.0
System-wide examination that uses the Home preset, run with OpenCL acceleration
3DMark
DX11, run at the Firestrike default test
SiSoft Sandra 2014
Aggregate score that takes a composite of 12 system-wide benchmarks

Gaming Benchmarks

BioShock Infinite
DX9, 1,280x720 and 1,920x1,080 medium quality
GRID 2
DX9, 1,280x720 and 1,920x1,080 high quality
Total War: Rome II
DX9, 1,280x720 and 1,920x1,080 medium quality

Miscellaneous Benchmarks

Power Consumption
While idling and when running wPrime and GRID 2
Notes
Intel did not provide the chip for review today. It was obtained via a third party and its performance may not be wholly indicative of retail Devil's Canyon processors.
It makes obvious sense to compare against the Core i7-4770K, the chip it replaces as the Haswell head honcho. To keep comparisons fair, we're testing both processors on an Asus Z97-A motherboard equipped with the latest BIOS at the time of writing, version 0902.
It is reasonable to assume that overclocking plays a big part in considering this processor. However, our engineering sample exhibited unexpectedly poor overclocking potential, barely stable at an all-core 4.4GHz. We're awaiting retail samples before doling out advice on just how high the average Core i7-4790K is likely to go: stay tuned for that.