Introduction
There's a cogent argument to be made for Intel having the enthusiast end of the desktop PC CPU market sewn up to such an extent that it has little reason to innovate until AMD catches up in the distant future. The lack of competitive pressure has caused technological stagnation at the £150-plus price point, as the Core i7-4770K - primarily a CPU with a basic GPU baked in - isn't going to face renewed competition from AMD's FX processors anytime soon.
So what's Intel to do? The simplest method of partially reinvigorating this desktop space, which we're told is expanding year on year, is to offer desktop-builders a little more speed at the same price. Intel, therefore, has taken the year-old fourth generation Core (Haswell) architecture and selected three processors that could do with a sprinkling of extra performance. Core i7-4770K, Core i5-4670K and Pentium G32xx, your time is up. How and why, you might ask? Let's take the trio turn by turn by looking at their vital statistics.
Desktop Intel 'Haswell' Feature Comparison

Intel Core i7-4790K

Intel Core i7-4770K

Intel Core i5-4690K

Intel Core i5-4670K

Intel Pentium G3258

Intel Pentium G3220

Launch Date

Q2 2014

Q2 2013

Q2 2014

Q2 2013

Q2 2014

Q3 2013

Cores

4

4

4

4

2

2

Threads

8

8

4

4

2

2

Unlocked multiplier

Yes

Yes

Yes

Yes

Yes

No

CPU Clock Speed

4.0GHz

3.5GHz

3.5GHz

3.4GHz

3.2GHz

3.0GHz

CPU Turbo Speed

4.4GHz

3.9GHz

3.9GHz

3.8GHz

-

-

Smart Cache

8 MB

8MB

6MB

6MB

3MB

3MB

TDP

88W

84W

88W

84W

53W

53W

DDR3 Memory Support

1,600

1,600

1,600

1,600

1,333

1,333

Integrated Graphics

HD 4600

HD 4600

HD 4600

HD 4600

HD

HD

IGP Execution Units

20

20

20

20

10

10

IGP Base Clock

350MHz

350MHz

350MHz

350MHz

350MHz

350MHz

IGP Max Clock

1.25GHz

1.25GHz

1.20GHz

1.20GHz

1.10GHz

1.10GHz

QuickSync Video

Yes

Yes

Yes

Yes

Yes

Yes

Wireless Display

Yes

Yes

Yes

Yes

No

No

ClearVideo HD

Yes

Yes

Yes

Yes

No

No

InTru 3D

Yes

Yes

Yes

Yes

No

No

Displays Supported

3

3

3

3

3

3

PCI Express Revision

3.0

3.0

3.0

3.0

3.0

3.0

PCI Express Configurations

Up to 1x16, 2x8, 1x8/2x4

Up to 1x16, 2x8, 1x8/2x4

Up to 1x16, 2x8, 1x8/2x4

Up to 1x16, 2x8, 1x8/2x4

Up to 1x16, 2x8, 1x8/2x4

Up to 1x16, 2x8, 1x8/2x4

Max PCI Express Lanes

16

16

16

16

16

16

Turbo Boost

Yes

Yes

Yes

Yes

No

No

Hyper Threading

Yes

Yes

No

No

No

No

vPro

Yes

Yes

Yes

Yes

No

No

AES New Instructions

Yes

Yes

Yes

Yes

No

No

Socket

LGA1150

LGA1150

LGA1150

LGA1150

LGA1150

LGA1150

US Box RRP

$340

$340

$242

$242

$72

$64
The Devil's Canyon
Usurping the Core i7-4770K is the Core i7-4790K. Known by the codename of Devil's Canyon and due at retailers in a couple of weeks, this new processor weighs in at the same $340 (£240) as the incumbent. This model is all about frequency, increasing the potential of the Haswell architecture by raising the base, all-core speed to 4GHz - a first for Intel. This seminal clock is 14 per cent faster than the Core i7-4770K, while the peak single-core speed, at 4.4GHz, is 10 per cent higher.
The pertinent question is how has Intel achieved this significant uptick in frequency when 100MHz jumps are the norm? There are two reasons for this. It's no secret that Haswell processors run hot; the concentration of heat on a 22nm process, that's further fuelled by power burned by improved graphics, means that, with air cooling, temperatures are higher than Sandy Bridge processors of two years ago. Intel exacerbates this problem by using a non-optimal amount of thermal interface material (TIM) between actual die and heatspreader. Devil's Canyon, or Core i7-4790K, uses what Intel terms a 'next generation polymer thermal interface material (NGPTIM) that enables cooler and higher-performing processors,' ostensibly to lower temps and improve frequency headroom.
We're surprised Intel hasn't gone back to solder, which was the mainstay TIM for years, but the chip giant claims this NGPTIM is just as effective at transferring heat to the spreader. Really, this is a manufacturing issue that should not have surfaced in the first instance. The Core i7-4790K chip has been redesigned to accommodate a number of extra power-smoothing capacitors on the rear, with stabler operation once the processor runs past 4GHz. It is expected that these two measures - new TIM and improved circuitry - increase frequency and minimise the huge overclocking headroom variability present on today's high-end Haswell chips.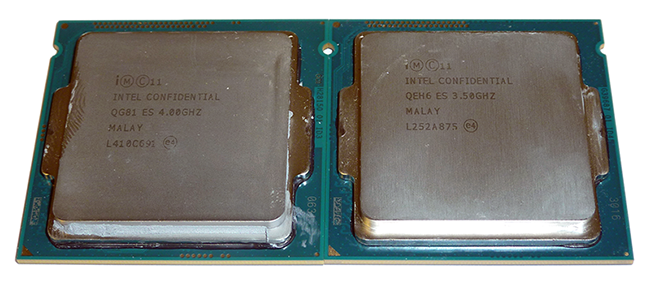 We managed to snag an engineering sample chip, left, for evaluation. Using the same LGA1150 form factor as the Core i7-4770K, right, it slots easily into any modern Intel motherboard. The chip giant has previously stated that Core i7-4790K will only work with the 9-series chipsets released last month but has since backtracked by saying that 8-series boards - Z87 primarily - should support it just fine. It is likely that a BIOS update is required, since the new processor uses a new ID and, for what it's worth, requires an extra 4W TDP - 88W vs. 84W - when running at full chat.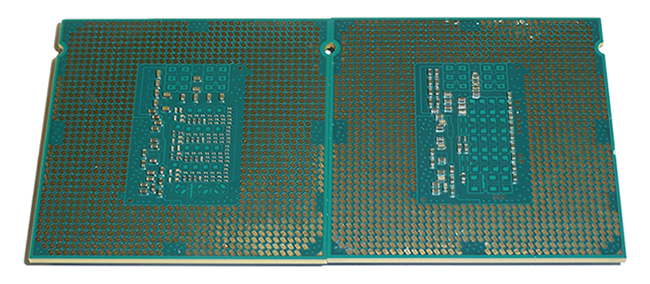 Notice the extra capacitors on the left-hand chip? They're present to aid power delivery, according to Intel.
Faster, potentially cooler, and with more frequency headroom to boot, Core i7-4790K becomes the obvious choice for the enthusiast investing in the Intel LGA1150 platform, though do bear in mind that the integrated HD 4600 Graphics is just the same as the 4770K's. More CPU oomph, the same GPU speed.
Core i5-4690K
The second-rung Haswell-refresh processor is even simpler to explain. It's merely a Core i5-4670K chip that runs 100MHz quicker for both base (all-core) and Turbo speeds. Now, 100MHz isn't much of an increase, barely perceptible in benchmarks, so it only makes sense for users coming to the LGA1150 platform from an older PC. It wouldn't surprise us in the least if the Core i5-4690K is nothing more than a speed- and voltage-bumped Core i5-4670K - the extra 4W TDP would justify such thinking.
Pentium G3258 (Anniversary Edition)
Devil's Canyon is sure to grab the majority of headlines today, but our favourite new chip is the Pentium G3258. It's based on the same dual-core, dual-threaded architecture as other Haswell-based Pentium chips readily available in the channel, which translates to excellent bang-for-your-buck, but this model ups the enthusiast ante by shipping with a fully-unlocked, K-like multiplier. A very helpful feature considering the constrained overclocking potential available to mainstream processors, there's every chance that it will run at close to 4GHz (40x100MHz) with a bit of tweaking in the BIOS.
We've already shown that an inferior chip, Pentium G3220, is a good match for the vastly more expensive Core i7-4770K once a reasonable discrete graphics card is in place, so this has all the signs of being the must-have processor for the enthusiast with a budget of around £50.