Platform and Processors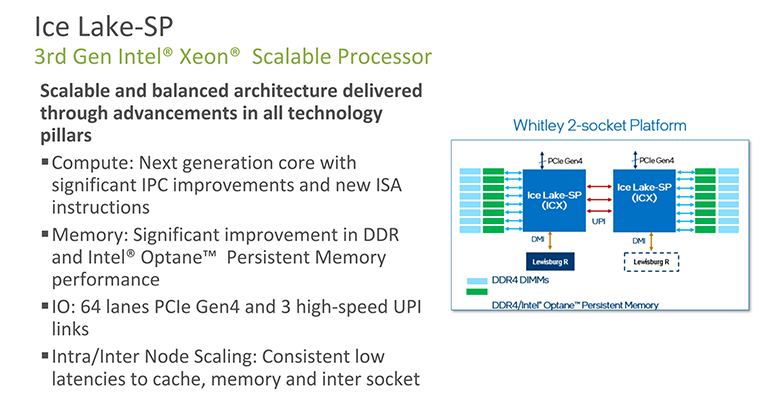 Key callouts on the new Whitley platform are that eight-channel DDR4-3200 memory support for up to 4TB of regular capacity, matching AMD, but also offering up to 6TB through the latest iteration of Optane Memory. Intel says it has the ability to run regular DDR4 at two DIMMs per channel at the 3,200MHz frequency.
Unlike its rival, Intel doesn't use PCIe 4.0 to bind processors together in a multi-socket platform; these lanes are implemented for expansion alone. Noting the previous platform was deficient, the total number is boosted to 64, up from 48. Rather, 3rd Gen Xeons carry over the Ultra Path Interconnect (UPI) technology from their predecessors. Speed is increased from 10.4GT/s to 11.2GT/s but we wonder if this is enough when one appreciates the extra compute capability of the new chips? Could inter-core performance be compromised by a shortage in bandwidth?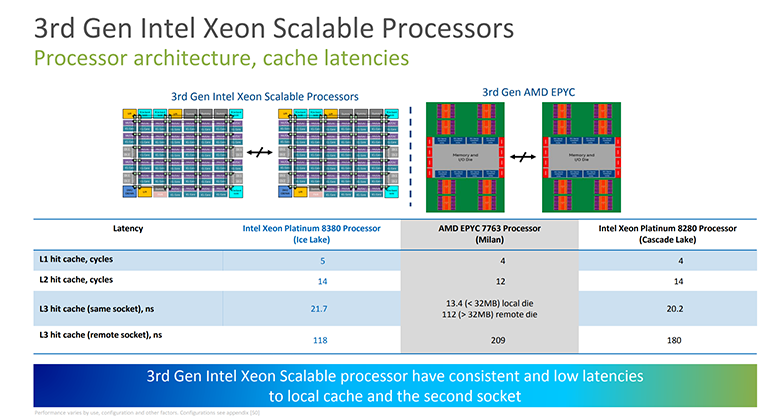 In a dig at its multi-chip-module competitor, Intel thinks not. This in-house latency test looks at the time taken to recover from a cache miss when the data required resides in the L3 cache of a processor in a remote socket, meaning the active core has to pull it over the QPI link. In fact, if true, 3rd Gen Xeon improved markedly compared to its predecessor. How? A few reasons come to mind: that faster QPI link and efficiencies built into the new chip.
As Intel uses a monolithic die with a baked-in memory controller, the company also believes it has a lead in DRAM access latency, citing it as an important win for applications and customers who want a base level of performance within a prescribed service-level agreement.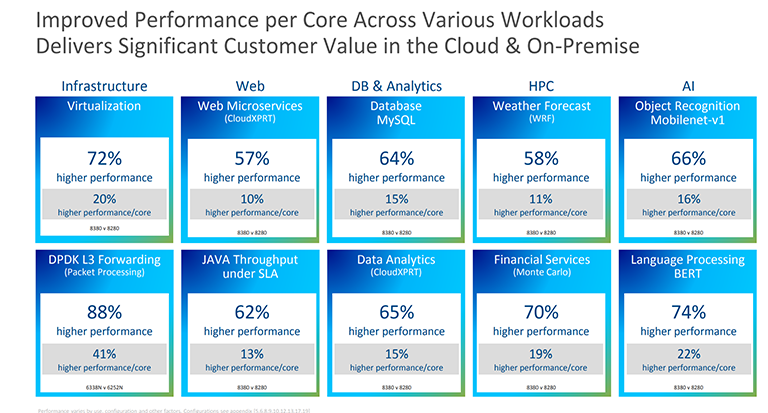 Comparing the performance of the 40C80T Xeon Platinum 8380 to the last-gen 28C56T Xeon Platinum 8280, one would expect a healthy lead for the newer platform by virtue of more cores and higher IPC. Intel's own benchmarks highlight relative performance across a number of segments and diverse use-cases.
The key metric, in our book, is whether the per-core performance increases in the assumed fashion. The majority of the increases - nine out of 10 - are no more than 22 per cent, and a handy slide explains which part of the new platform is most responsible for the uptick.
Though the move from age-old 14nm to 10nm is most welcome, Intel needs to increase the overall TDP wick to achieve higher core density. Remember that the 28-core Xeon 8280 is equipped with a 205W TDP. 40-core Xeon 8380, meanwhile, goes all the way up to 270W - a 32 per cent increase - while limiting the maximum Turbo frequency from 4.0GHz to 3.4GHz. Point is, while we know this generation offers more performance, absolute frequencies help explain why we don't see a massive hike in performance-per core.
A 270W is also problematic from a power-to-performance metric when comparing the best of each breed, especially in racks where getting enough juice to cabinets can become the limiting factor. Even comparing like-for-like on a core-and-thread basis, this generation uses at least the same amount of power as the old. Being even handed, AMD's best Epyc chips also consume close to 300W each when running full chat.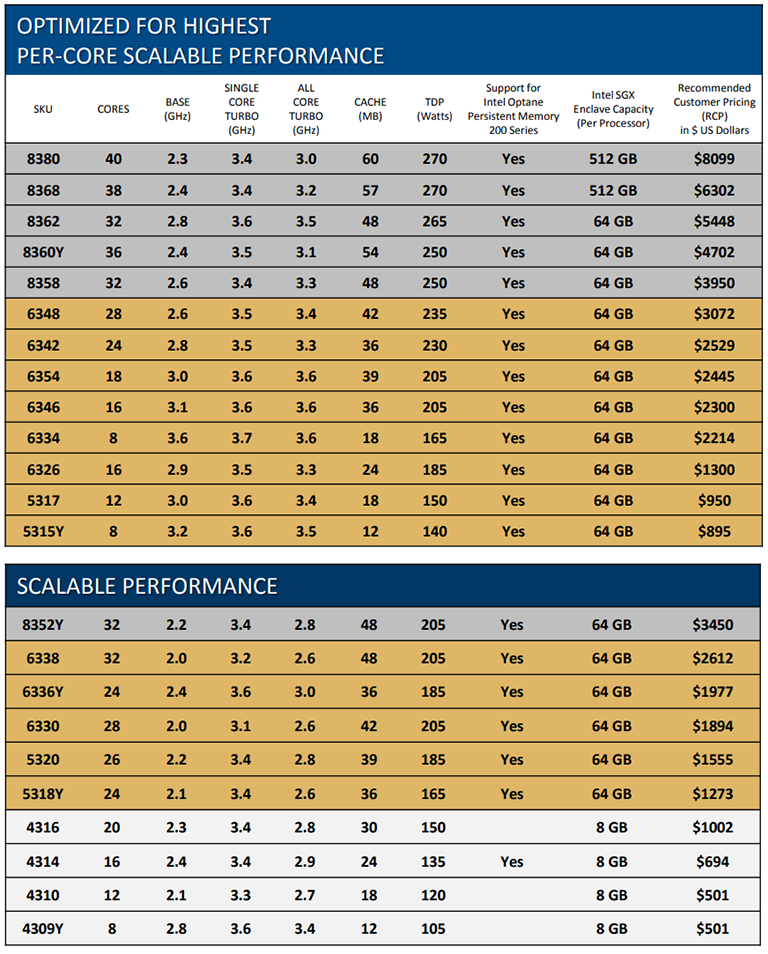 This rather lengthy slide is actually incomplete as it only lists 22 out of the 57 available. The full jamboree can be viewed by clicking here. A fair bit to take in here. Every chip listed runs in either single- and dual-socket motherboards.
All support 64 PCIe 4.0 lanes and eight-channel memory but Xeon Gold 5300 and Xeon Silver 4300 limits memory frequency to 2,933MHz and 2,666MHz, respectively. AMD makes no exception between families.
Intel reduces the overall cost by a good whack between generations, as well. The last-gen Xeon 8280 housed 28 cores and 56 threads and cost a whopping $10,009 at retail, though volume customers paid much less than this. Compare that with the 40-core, 80-thread Xeon 8380 at $8,099. More cores for less money: sounds like a page from the AMD playbook.
It's a shame there's no 'budget' offering mirroring the top-bin chip, as there was for Xeon Gold last time out. The vast majority of these chips work with the latest Optane Memory, too, expanding RAM footprint.
TDPs are mostly moderate for all but the top-bin processors. AMD is able to fit 64 cores into the same thermal envelope as Intel crams in 40. The brute-force win still goes to AMD as its more numerous Zen 3 cores offer greater compute than 40 Sunny Cove.
Even with Intel's more attractive pricing, the cost-per-core is still more favourable for AMD, but at least for the small-volume customer it is closer now.
Want to see what a fully-loaded 2U server housing a couple of Xeon Platinum 8380 chips looks and performs like? Read on.