What do you get?
How does it all connect up, then?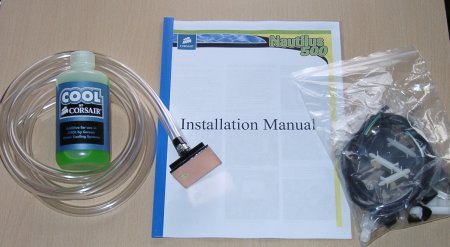 The accompanying bundle includes a brief installation manual that makes good use of colour photographs in illustrating installation. There's also the necessary low-profile copper block with pre-attached tubing that's 4 feet in length on both intake and exhaust sides. You can, of course, cut it down to fit the requirements of your system.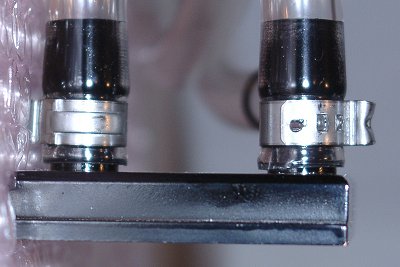 The tubing fits over 3/8-inch barbs and is secured in place by a couple of clamps. The very flat block is the culmination of work between Delphi Automotive and Corsair, and, whilst small, the all-copper design features Delphi's micro-channel technology that provides decent heat absorption from block to coolant. Put very simply, the Nautilus500 unit pumps out coolant to the intake barb on the block. The coolant then carries away the absorbed heat to the radiator section of the unit, where it is further cooled by the 120mm fan. The process then begins again.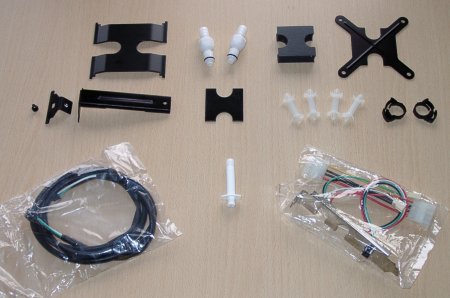 Right out of the box, the Corsair Nautilus500 supports AMD Athlon 64 (S754, 939, 940), Intel's LGA775 and S478 CPUs via various attachments that hold the waterblock in place. The beauty of each attachment, and why Corsair can offer an installation time of just 15 minutes, is in the direct manner in which the block is positioned; there's no need to remove the motherboard from its tray/case.

Once the block is attached to the CPU of your choice, the tubing, sans the nozzles, is routed through a PCI plate and out to the rear of the Nautilus500 unit.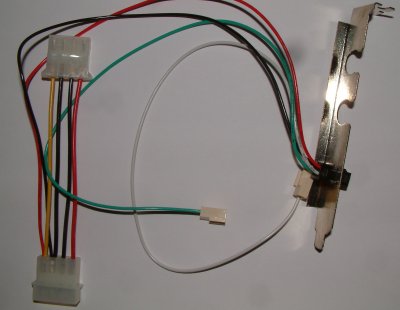 The plate carries a similar power port as found on the main unit and a single cable connects the two together. The PCI (passthrough) plate's inlet attaches on to a molex plug that is connected to the PC's power supply, thereby providing the cooling unit with power. A couple of cables attach to board fan headers and report unit fan and pump speeds, respectively.

Want to see how it all pans out with Athlon 64 S939 and Intel LGA775 setups? Click on to the next page.