Contender #2 - Corsair Hydro Series H50
Specifications - Corsair Hydro Series H50

Composition
Copper base, closed-loop pre-filled water-cooling system with single 120mm wide aluminium radiator
Weight
698g
Dimensions
Radiator = 120mm (W) x 152mm (H) x 27mm (D)
Fans included
1 x 120mm
Fan Control
PWM from motherboard 4-pin header
Fan speed
1,700RPM
Maximum air flow
50cfm
Thermal paste?
Yes, pre-applied
Intel support
LGA775 / LGA1156 / LGA1366
AMD support
AM3 / AM2
Price
£56.89 (Scan)
Although weighing in at just shy of 700g, the bulk of the Corsair Hydro Series H50's weight is mounted away from the CPU - unlike its heatsink-based competitors - in the shape of the 120mm-wide aluminium radiator. Therefore, Intel's 500g maximum heatsink mass for the LGA1156 socket and ILM aren't exceeded.
Even though it has an overall surface area that's smaller than that of its air-cooled competitors, and is one of the most expensive on test, the greater efficiency of water cooling should ensure that the H50 still puts in a decent performance.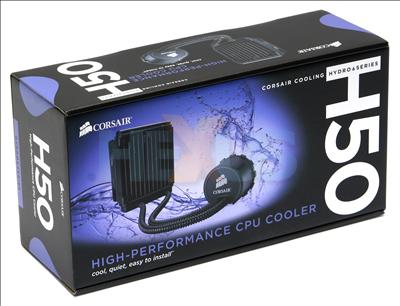 Despite being housed in a considerably large box, with the exception of the back of the packaging, the design is quite simple and uncluttered.