Test Methodology and Performance
HEXUS 2020 Test Platform

Component
Product Page
Processor
AMD Ryzen 9 3950X
amd.com
Motherboard
Asus ROG Crosshair VIII Formula
asus.com
CPU Cooler
Corsair Hydro Series H150i Pro RGB
corsair.com
Graphics Card
Sapphire Nitro+ RX 5700 XT 8G GDDR6 SE
sapphiretech.com
Memory
G.Skill Trident Z Neo DDR4-3200 (2x16GB)
gskill.com
Storage
2TB Corsair MP600
corsair.com
Power Supply
be quiet! Straight Power 11 Platinum 1,000W
bequiet.com
Network Card
Asus XG-C100C 10GBase-T PCIe Adapter
asus.com
Chassis
Fractal Design Define 7 Clear Tempered Glass
fractal-design.com
Monitor
Philips Momentum 436M6VBPAB
philips.co.uk
Keyboard
Corsair K70 RGB MK.2 Low Profile Rapidfire
corsair.com
Mouse
Corsair Ironclaw RGB
corsair.com
Operating System
Microsoft Windows 10 Pro
microsoft.com
Notes
The introduction of our 2020 Test Platform allowed us to start afresh with CPU cooler testing. The new PC features a 16-core, 32-thread AMD Ryzen 9 3950X processor and 32GB of dual-channel G.Skill Trident Z Neo DDR4 memory set to run at 3,200 using the built-in profile.
A Fractal Design Define 7 chassis is configured with its three stock Dynamic X2 140mm fans connected to the integrated hub and attached to a single motherboard header. Coolers are tested using default out-the-box settings, and to intensify the challenge while minimising noise, all fan headers are set to the 'Silent' profile within the Asus BIOS.
When testing liquid coolers, the pump is connected to the motherboard's dedicated AIO header, and the radiator is installed in the roof of the chassis with fans configured to push air up through the radiator and out of the enclosure. Fractal Design's vented top panel is used with liquid coolers, and the sound-dampened solid panel is in place when testing traditional air coolers.
Actual CPU temperature is recorded and we also graph the delta temperature (CPU temperature minus ambient temperature). Last but not least, to give you an idea of cooler acoustics, we use a PCE-318 noise meter to measure overall system noise in both idle and load states.
Performance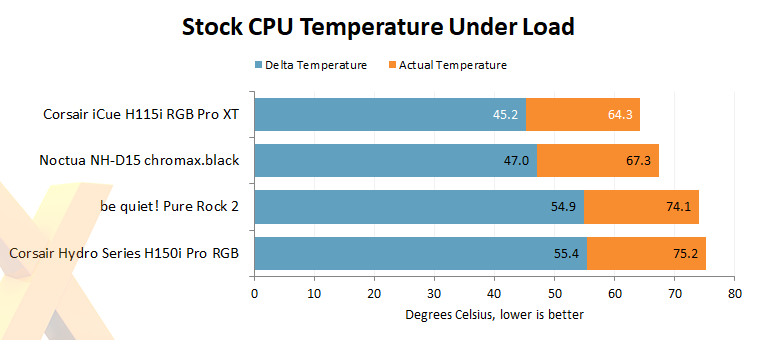 Our benchmarks begin with the 105W AMD Ryzen 3950X CPU running at stock speeds. We use the popular and open source Blender creation suite to render the taxing Victor scene and record the average CPU temperature from the last five minutes of 100 percent load.
What a difference a few tweaks can make. The switch from Asetek to CoolIT, coupled with superior fans and a balanced out-the-box performance profile propel Corsair's iCue H115i RGB Pro XT to the top of the chart. A vast improvement over the previous-generation H150i Pro RGB, and a fitting challenger to a top-end air cooler.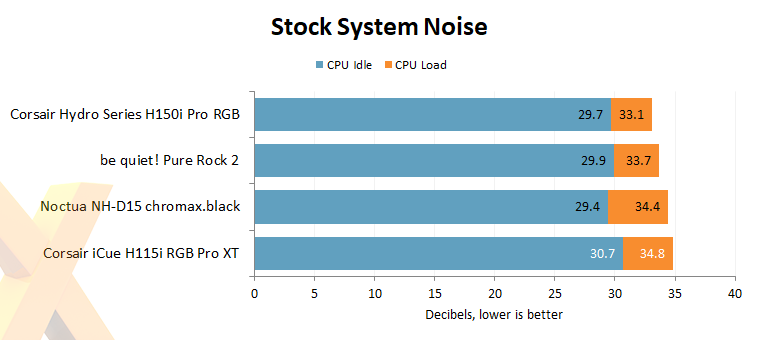 Corsair's decision to switch the default performance profile from quiet to balanced is ultimately a good one. Noise levels are still reasonable and core temperature is greatly reduced.
We know some of you were eager to see what the H150i Pro RGB might do when manually switched from quiet to balanced. We were curious ourselves, and when re-testing with the latter profile, we found the previous-generation cooler capable of delivering actual and delta temperatures of 63.0ºC and 43.6ºC, respectively. That would put the 360mm unit slightly ahead of the pack, but there is a caveat in that peak noise climbed to a more bothersome 39dB. Corsair's Pro XT is ultimately a better-balanced package.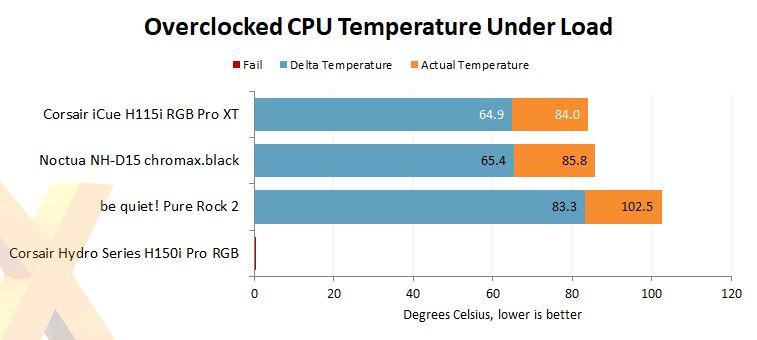 Upping the ante in a simple manner, we raise the multiplier to 43x on all cores, while increasing voltage to 1.3V. We know the chip can do it, and the bump in juice is enough to push the coolers closer to their limit.
There's no doubt it, put the iCue H115i RGB Pro XT in a modern PC and without any tweaking it'll deliver excellent cooling performance. For the record, the H150i Pro RGB, which failed the test in its out-the-box state, returned an average all-core temperature of 82ºC when manually set to the balanced profile. A 360 rad has a slight edge over a 280 in our test platform, but there isn't a great deal in it when it comes to performance.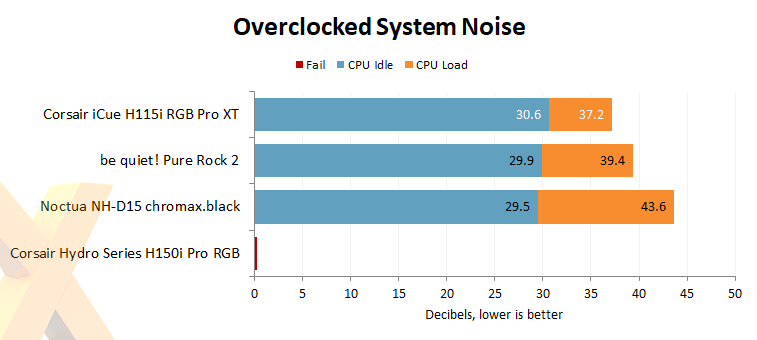 Owners of existing Corsair AIO solutions shouldn't be in a rush to hurry out and upgrade, but the iCue H115i RGB Pro XT is noticeably more refined than its predecessors. Keeping noise levels below 40dB when overclocked is an admirable feat; for comparison's sake, we can confirm the H150i Pro RGB on the balanced profile registered just over 45dB in this scenario.