Test Methodology and Performance
HEXUS CPU Cooler Test Bench

Hardware Components
Product Page
Processor
Intel Core i7-8700K (overclocked to 4.8GHz)
intel.com
Motherboard
Asus ROG Maximus X Hero
asus.com
Graphics Card
MSI GeForce GTX 1080 Ti Gaming X Trio
msi.com
Memory
G.Skill Trident Z 32GB (2x16GB) DDR4-3200
gskill.com
Power Supply
be quiet! Dark Power Pro 11 1,000W
bequiet.com
Primary Storage
256GB WD Black PCIe SSD
wdc.com
Secondary Storage
1TB Crucial MX300 SATA SSD
crucial.com
Chassis
be quiet! Dark Base 700
bequiet.com
Monitor
iiyama ProLite X4071UHSU-B1
iiyama.com
Operating system
Windows 10 Pro
microsoft.com
Benchmark Process
Our test platform was last refreshed in 2018 and includes a hexa-core Intel Core i7-8700K processor overclocked using 1.225v to 4.8GHz across all cores. The 12-thread chip is paired to 32GB of dual-channel G.Skill Trident Z DDR4 memory set to run at 3,200MHz using the built-in XMP profile.
To get a feel for how the coolers compare, CPU temperature is logged while a large 4K video clip is encoded in multiple passes using the freeware HandBrake utility. The workload tasks all available threads for a prolonged period and, in order to provide a stabilised reading, we then calculate the average temperature across all cores from the last five minutes of encoding.
Actual CPU temperature is recorded and we also graph the delta temperature - that's CPU temperature minus ambient temperature. Last but not least, to give you an idea of cooler acoustics, we use a PCE-318 noise meter to measure overall system noise in both idle and load states.
Notes
Our be quiet! Dark Base 700 chassis is set to run with its two stock SilentWings 3 PWM fans - a 140mm front intake and a 140mm rear exhaust - both of which are set to low speed (setting 1) via the integrated fan hub. All CPU cooler fans are set to a 'silent' profile from within the Asus BIOS, and when testing liquid coolers the pump is connected to the motherboard's dedicated water-pump header.
When a radiator is used, it is installed in the roof or rear of the chassis and any bundled fans are configured to push air through the radiator and out of the enclosure.
Performance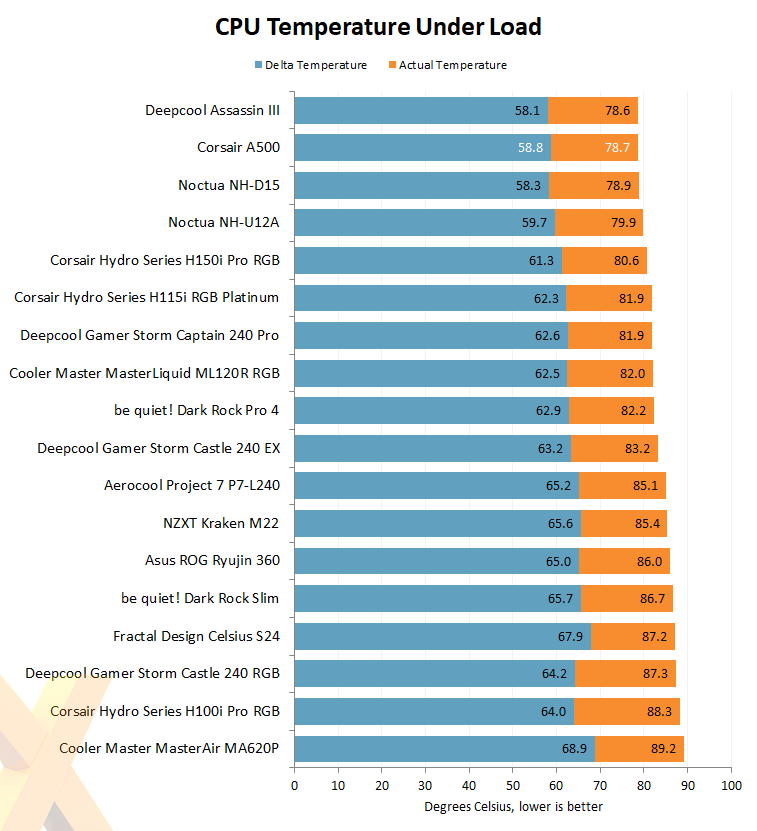 Can the A500 mix it up with the likes of the Assassin III and NH-D15? Absolutely. Our test platform employs a be quiet! Dark Base 700 chassis that favours air coolers, and the aforementioned trio occupies the top three slots. There's little to separate them when it comes to cooling performance on our overclocked Core i7 chip, but temperatures are just one part of the puzzle.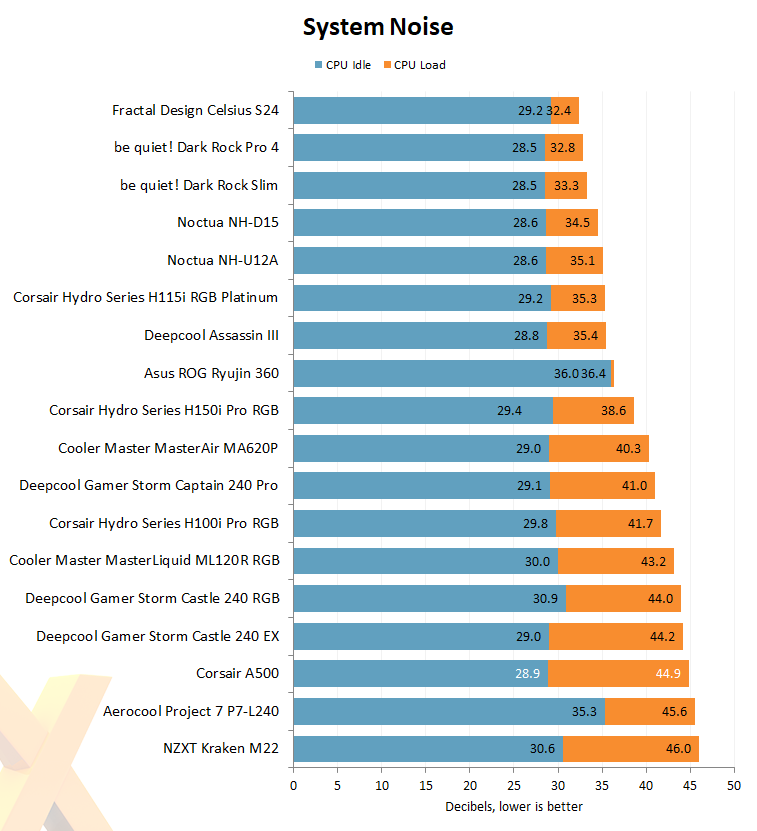 Achieving low temps while keeping noise levels down to an absolute minimum is the real trick, and it is here that the Corsair A500 falls off the pace. Whereas the Assassin III and NH-D15 manage to keep satisfyingly quiet when working flat out, the A500 is noticeably more vocal, with its 120mm fans proving over eager to ramp-up speed in search of cooling performance. This characteristic alone makes the A500 a tough sell; competitors offer similar performance and less noise at a lower price point.