Introduction
Having become synonymous with all-in-one liquid coolers, Corsair has periodically updated its Hydro Series portfolio with newer models touting incremental improvements. 2018 saw the introduction of the 360mm H150i Pro RGB and 280mm H115i Pro RGB, and Corsair is today extending the reach of its refreshed range with the launch of the 240mm H100i Pro RGB.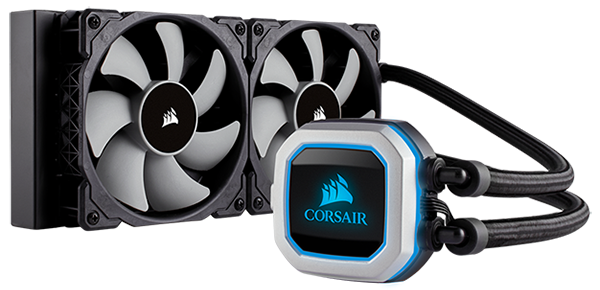 The addition of a 240mm offering should come as no surprise - this is one of the most popular sizes for all-in-one coolers - and Corsair's construction isn't a revelation, either. Maintaining consistency throughout the range, the H100i Pro RGB is aesthetically identical to its larger siblings, meaning a black aluminium radiator, a pair of ML-Series fans, sleeved tubing and a familiar RGB pump-head containing four LEDs. It's a nice-enough design, but with the likes of Cooler Master, Deepcool and NZXT pushing out the boat out on pump appearance, the Hydro Series comes across as relatively staid.
On the other hand, perhaps Corsair's understated appearance is more your thing. The low-profile nature of the pump keeps the area around the CPU socket neat and tidy, the lighting isn't in any way ostentatious, and though we'd prefer it all in black, the silver trim on the lid shouldn't clash with most builds. A £110 price tag is in line with expectations, making it £10 cheaper than the H115i Pro and £40 cheaper than the top-sized H150i Pro, while smaller dimensions are better suited to mainstream customers.

Corsair's 276mm x 120mm x 27mm radiator should fit into any modern mid-tower chassis with minimal fuss, and of course all of the improvements made available to earlier Pro Series coolers are present here. These include an improved coldplate and quieter pump, more flexible tubing, improved RGB lighting effects and magnetic levitation fans that, unlike earlier Hydro Series solutions, won't create a racket by briefly ramping-up to maximum at boot.
It's a quieter, sleeker all-round package, and the mounting mechanism is recognisable to anyone who has used a Corsair cooler in recent years. It's simply a case of securing the backplate to the rear of the motherboard using the relevant standoffs and then fixing the pump with four thumb screws. Power is sourced via SATA, while a three-pin header connects pump to motherboard, and a four-pin splitter cable is at hand for the fans. The process could hardly be any easier, though it's a shame Corsair doesn't include any spare thermal paste - all you get is what's pre-applied to the copper contact plate. Socket support, meanwhile, includes all the recent AMD and Intel platforms except for Threadripper. We had been told to expect an optional TR4 bracket in 2018, but we're approaching August and there's no sign of it in the Corsair store as yet.
Installing the cooler in our Core i7-8700K test platform took next to no time, yet there are pros and cons to the finished build. The tubing is a little too long for our liking and the pattern on the side of the fans is overly busy. Lighting enthusiasts should also note that Corsair's 120mm PWM fans aren't illuminated, but on the flip side we quite like the silver Corsair logo on the side of the radiator, as well as the backlit branding on the pump.
RGB has become a key differentiator for all-in-one coolers and manufacturers have a few ways to go about it. Some focus on synchronisation support with major motherboard brands, while others prefer to keep things in-house. Corsair takes the latter path, with Hydro Series Pro shunning RGB headers in favour of a USB connection that ties-in with the firm's own iCUE software utility. Having a USB cable jutting out the left side of the pump isn't the most elegant solution, yet the software makes easy work of lighting customisation and can be used to quickly synchronise effects across multiple Corsair components.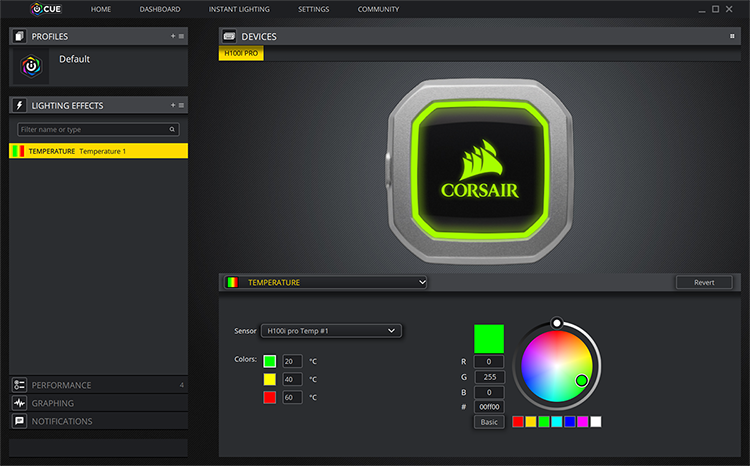 Another reason to consider installing the optional software package is that it provides access to a choice of four performance modes, including 'Zero Fan,' which, as the name suggests, turns the fans off at low temperatures. The duo spins back up at speeds of between 400rpm and 2,400rpm when coolant temperature exceeds 40ºC, so you needn't worry about frying your chip, and it's a worthwhile feature for those striving for an ultra-quiet PC experience. Last but not least, Corsair continues to back its Hydro Series coolers with a comprehensive five-year warranty.