Inside the Carbide Series 600C
In order for the 600C to work, it needs to have an interior that's easy to build into and able to showcase the benefits of the inverted layout. Corsair gets off to a good start by providing straightforward access - the right side panel is removed by a pair of thumb screws and the left door is easily lifted off its hinges.
Getting into the roomy interior is simple however it's a shame the front and top panels aren't as easy to remove. Each is held in place by a series of clips that are tricky to release and it's an important point as the front fascia must be removed in order to access the dust filter housed within.
We've built into our fair share of chassis but this is an unusual beast. Let's start at the top, where a dedicated chamber is set aside for the two, tool-free 5.25in drive bays and an ATX power supply measuring up to 210mm in length. The PSU slides in from the back before being fastened by a securing bracket, and note that the PSU fan should be facing down as there's no ventilation in the roof of the case.
Just below the top chamber are two pull-out 2.5/3.5in storage bays. It's nice to see each plastic tray lined with vibration-dampening material, however we're surprised to see just the two hard-disk mounts in a chassis of this size. Going by the assumption that end users won't want to show off their HDDs, PSU or optical drives, the entire top section is covered by a plastic shroud that can be removed if necessary.
Further down is where the fun begins. Standoffs are pre-installed for an ATX motherboard, which would slot in upside down - CPU and memory near the bottom, PCIe slots nearer the top. Eight thumb-screwed expansion slots are available to the 600C and there's a massive cutout in the tray for CPU cooler installation. We like the fact that the up-and-over cable routing holes you'd expect in an enthusiast case are present and accounted for, only here they're a down-and-under solution.
SSDs are encouraged via a trio of removable, tool-free trays attached to the back of the motherboard tray. Installing said drives is a cinch, and despite the inverted layout, the core components go in without too much fuss. There are however a couple of pros and cons. The graphics cards, for example, look better when you can see the fans as opposed to the backplate/PCB, but on the other hand there's a good chance product names and labels will now be upside down.
Cooling, too, takes a slightly different path. Whereas most towers are equipped with low front intakes and a high rear exhaust, the 600C draws in cool air from two 140mm front fans and expels hot air from a rear 140mm fan positioned near the bottom of the case. This doesn't seem entirely intuitive and we wonder if the graphics cards will end up in a hot-spot of sorts.
Liquid-cooling opportunities are somewhat unusual, too. There's no room for any radiators up top, though Corsair has provisioned for a 240/280mm unit up front or a large 280/360mm solution on the floor of the chassis. Cable management shouldn't be a problem as there are plenty of rubber-grommeted holes and the gap between motherboard tray and side panel is very generous.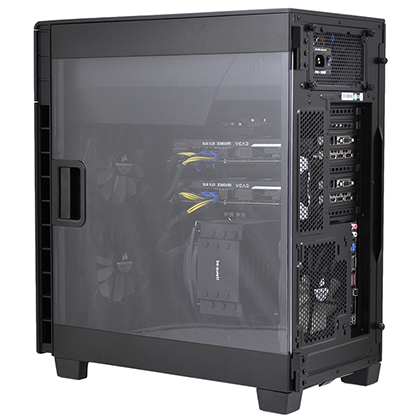 The end result certainly looks impressive and there's plenty of space to work with. Graphics cards can measure up to 370mm in length, the CPU cooler can stand up to 200mm tall, and there are some nice touches throughout. The dust filter attached to the bottom of the case runs the full length and pulls out easily, a three-step fan controller supports the trio of pre-installed fans and is SATA-powered, and the fan mounts are all height adjustable, allowing for maximum radiator compatibility.
User friendliness hasn't been compromised, and Corsair has succeeded in creating an enclosure for those who want to try something different. But how does it perform?