Introduction
In the enthusiast community few things are as intriguing as PC chassis that attempt to do something a little different to the norm. We've become so accustomed to our staid black towers that anything remotely unusual catches our attention, and manufacturers have played on that fact with enclosures small, modular or entirely unique.
Corsair has traditionally stuck to proven shapes and sizes, but the company is mixing things up with the launch of its first inverted ATX chassis, the Carbide Series 600C.
Priced at £120, the 600C is unlike any other Corsair enclosure in that it houses your hardware upside down. We've seen other manufacturers attempt rotated layouts in the past, but why would you actually want to? According to Corsair, the inverted orientation "allows for direct airflow across the hottest components, and prevents noise from escaping the top of the case."
There's always a worry that some things are changed solely for the sake of being different, but we're willing to give the 600C the benefit of the doubt as the promise of cooler and quieter operation is ambitious and the chassis looks appealing.
Measuring 454mm (H) x 260mm (W) x 535mm (D) in size, the latest addition to the Carbide Series is taller than your average mid-tower solution and the aesthetic is surprisingly sleek for an enclosure attempting to stand out from the crowd.
Plastic accents cover the front and top of the steel central frame, and the unit as a whole feels well put together. Sleek lines and a curved top edge help streamline the design to a certain extant and there's nothing overly fussy about the exterior.
Two 5.25in optical bays are tucked neatly behind a small, hinged (but not reversible) front door that opens to the left, while the I/O panel lines the top-left edge and includes a backlit power button, HDD LED, three-step fan controller, audio jacks, dual USB 3.0, dual USB 2.0 and reset. We reckon it's time to drop the slower USB standard, but other than that Corsair's selection is as expected and implementation is tidy.
There is something a little unusual, though. Can you see what it is? Yep, the see-through panel isn't on the side you'd normally expect. Owing to the inverted interior layout, the windowed side panel is on the right of the chassis as you look at it. No real problem, yet it can be a small inconvenience as there's a good chance your current PC is situated with a left-sided opening in mind. Switching to the Carbide Series 600C isn't just about inverted hardware - you may also need to rearrange your desk.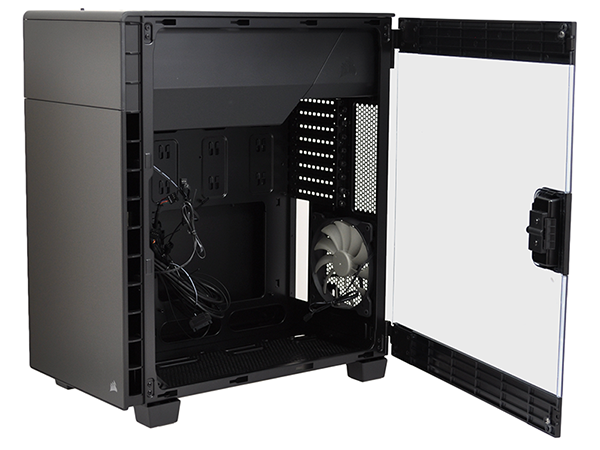 You have to expect a few nuances with a layout as unorthodox as this, however Corsair has done well to make the 600C seem inviting. Giving users quick access to internal hardware, the see-through side panel functions as a hinged door that swings open beyond 180 degrees, and though we'd have preferred more rigidity in the panel itself, the hinge and release handle feel suitably robust.
Handy if you need to dive into your PC on a frequent basis, or if you merely want to show off your rig. What's interesting is that Corsair realises that these scenarios aren't applicable to all users and has made available an alternative model dubbed the Carbide Series 600Q. Using the same layout but focussing on quiet operation, the Q variant eschews the see-through door in favour or solid panels that are lined with noise-dampening materials.