Introduction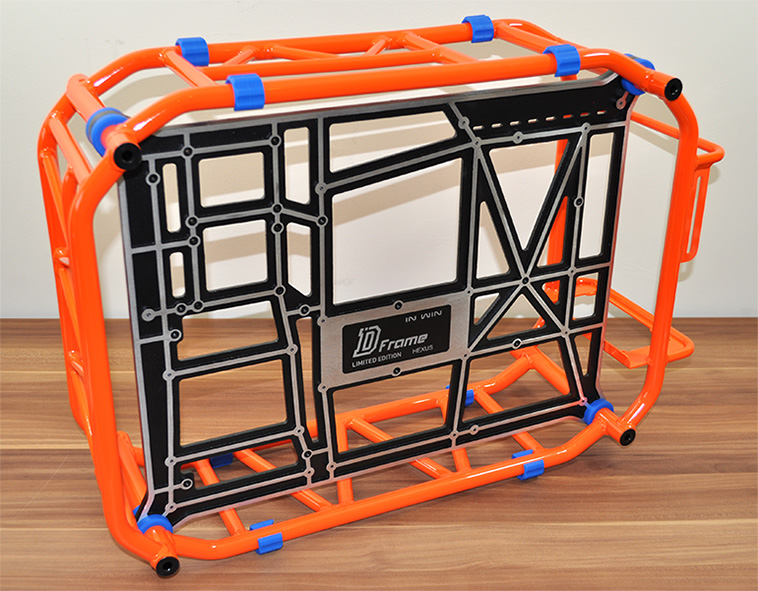 Meet the D-Frame. Soon to be shipping from Taiwanese shores, this is the latest unorthodox PC chassis from In Win, a manufacturer who in recent months has developed a taste for the weird and wonderful.
It started back in mid-2012 with the arrival of the unusual open-air X-Frame, and the follow-up arrived soon after in the form of an eye-catching H-Frame constructed from eleven diamond-cut aluminium plates.
Truth be told, each model offered a limited feature-set, but what they lacked in functionality they made up for in geeky appeal. These limited-run chassis looks unique, and with a price tag of around £300, they're designed exclusively for those who are willing to spend a pretty penny in order to stand out from the crowd.
The D-Frame continues that trend. 1,000 of these chassis will be made available worldwide, with each carrying a manufacturer's recommend retail price of $399 (roughly £300, including VAT). That's heck of a price to pay - more than a Corsair 900D, even - but what you get with the D-Frame isn't just a chassis, it's an experience.
Right from the off, you slide the massive polystyrene tray out of the box and know that this PC build is going to be different to all the others before it. Presented as a puzzle, the D-Frame arrives in maybe a hundred different little components that the customer needs to put together during assembly.
It sounds daunting - and aren't PC builds supposed to be as easy as possible? Well, don't be put off by all the fixtures and fittings as the D-Frame is simple enough to put together.
Each component is clearly labelled and if you follow the 22-page instruction manual, you could work quickly and make your way from start to finish in roughly an hour. But you won't want to rush. Putting the D-Frame together is good fun, and anyone who enjoys playing with Lego will want to take their time and savour the process.
Laying out all of the components, we have a sand-casted aluminium motherboard tray, two tempered glass side panels, four 120mm fan mounts, a 5.25in optical drive mount, a metal cage that supports three 3.5in hard drives, an I/O panel, an eight-bay expansion slot cover, an adjustable PSU holder, numerous screws and fittings, a toolkit consisting of a screwdriver and a pair of spanners, and four tubular aluminium sections that come together to form an exterior shell.
Four long rods interspersed with rubber standoffs and metal bolts are used to fix together the aluminium tubes and the motherboard tray, and each other component bay then screws into a predefined position.
Constructing the D-Frame is a lot of fun when you know where all the pieces go, and In Win hasn't skimped on quality. The handmade motherboard tray is crafted from a single piece of aluminium, and the equally rigid exterior pipes are constructed from an aluminium alloy to help make the case both strong and light.
The laser-carved "Limited Edition" branding on the hard-disk cage and motherboard tray is a nice touch - ours says HEXUS but others will presumably have a number ranging from 1 to 500 - and the overall finish is excellent. Each component fits together perfectly, though we did come across one oddity - the bundled motherboard stand-off socket isn't big enough to fit onto the heads of the standoffs themselves, so we resorted to a pair of pliers. That's something In Win will no doubt rectify prior to shipping. [Update] In Win has confirmed that the right-size standoffs will be included in all retail shipments.
Put it all together, attach the glass side panels, and you have a 482mm x 305mm x 668mm chassis that looks seriously cool. The orange-and-blue colour scheme might not be to everyone's liking (though we feel right at home with it!), so you'll be happy to know that In Win will also be offering a red-and-black variant - exactly 500 of each will be brought to retail.