Technical Details
This case is supposed to be the rolls royce of computer cases, top of the Coolermaster tower range. Its one of the few Coolermasters with a door covering the drive bays, this means that your horrible beige drives can be hidden from view. Lets have a look at what its like and how it compares to the competition.

What are the specs of the case?
5.25" Bays (Exposed) x 4
3.5" Bays (Exposed) x 2
3.5" Bays (Shadow) x 5
Form Factor: - ATX Mid-Tower,
Material: - Aluminium
Case :7.8 Kg
Dimensions 535 mm(L) x196 mm(W) x 484 mm(H)
Dual 80 mm x 8 mm x 25 mm Fan attached front panel.(in)
One 80 mm x 80 mm x 25 mm Fan attached back panel.(out)
One 80 mm x 80 mm x 25 mm Fan attached top panel.(out)
Removable Motherboard tray
Blue LED's


Lets have a look at the case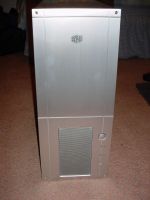 Looking at the pictures of this case don't do it justice in the flesh it is ten times better. Personally its the best looking of all the Coolermasters. The front is very similar to both the ATCS 200 and 201 with the dual fan grill and the switch gear layout. The quality of the front panel is far better. In sections it is 1cm thick aluminium , this is very very solid chunks of aluminum make no mistake. The case aims to be discrete, it has a simple door with a small Coolermaster logo on. There are very few other things on the front to spoil the clean lines of the front.