Sexy yet sophisticated
On paper, it's tough to tell Corsair's two 600T chassis apart. Both offer the same mid-tower dimensions (265mm x 507mm x 592mm), both weigh 12.7kg, and both ship with three pre-installed fans.
And that's just the tip of the iceberg when it comes to similarities. Like the original 600T, the new Special Edition White model features an integrated four-channel fan controller with an analogue dial placed front and centre alongside four USB 2.0 ports, a single USB 3.0 port, a FireWire connector and a pair of audio jacks.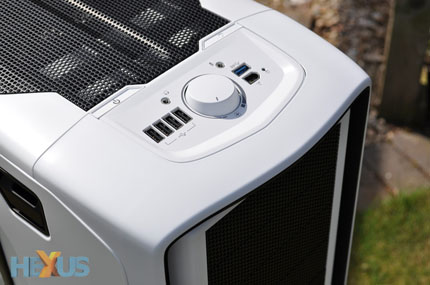 But the standard graphite grey model is roughly £10 cheaper, so if the exclusive white aesthetics aren't winning you over, why else should you opt for the Special Edition? The answer is beefed up airflow.
While the original 600T is an undoubtedly fine enclosure, its cooling potential didn't quite live up to the expectations of the target enthusiast market and Corsair's hoping to correct that criticism with a couple of key upgrades. To begin with, all three of the Special Edition White chassis' fans are rated to run at a higher maximum speed of 1,000RPM.
That's a 25 per cent bump in speed, and the three-fan configuration - consisting of a 200mm white-LED intake, a 200mm white-LED top exhaust and a 120mm rear exhaust - now mirrors what's available from Corsair's other mid-tower solution, the Obsidian Series 650D.
With the same steel frame forming the basis of all three mid-tower Corsair chassis, the 650D, 600T and Special Edition 600T are closely matched and for the most part separated by three key differentiators; style, fan speed and side panel options. The white 600T has the first two bases covered with a new look and quicker fans, and it's completing the hat-trick with a windowed side panel that comes bundled with a user-swappable mesh insert.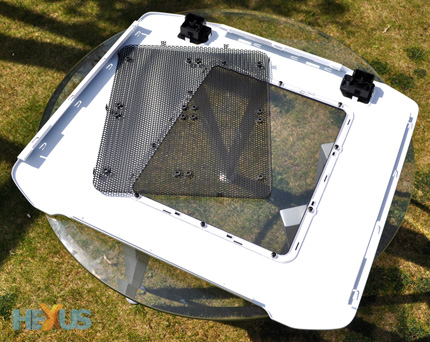 Aimed squarely at the performance-seeking enthusiast, the mesh insert can be used in place of the windowed panel and provides mounting holes for a further four 120mm fans.
It's a good use of space, but it's worth noting that this seemingly-new functionality isn't specific to the Special Edition enclosure. A side panel with both windowed and mesh inserts is already available as an optional £20 extra for users of the standard Graphite 600T, and a similar panel is expected to be made available for the Obsidian 650D, too.
Elsewhere, it's very much the Graphite 600T you're accustomed to - meaning plenty of good and a few small criticisms.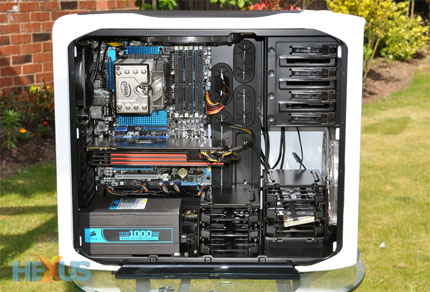 Starting with the good; the chassis feels roomy throughout. Tall CPU coolers and long graphics cards aren't a problem, and the amount of space makes the 600T particularly easy to work with.
Building our high-end test rig into the chassis felt like child's play, and all of Corsair's usual niceties are on hand to help ease the process. These include a cutout in the motherboard tray for CPU cooler installation, eight well-placed cable-routing holes, tool-free expansion slots - of which there are four 5.25in and six 3.5/2.5in - and pop-out dust filters beneath the bottom-mounted PSU, top-mounted 200mm exhaust fan and front-mounted 200mm intake.
Corsair's quick-release side panels provide easy access to the cavernous interior, and there's a good amount of room between the motherboard tray and rear side panel for keeping excess cabling out of view.
In keeping with all of Corsair's mid-tower solutions, the six 3.5/2.5in drive bays are spread across two independent cages - both of which can be stacked horizontally, vertically or removed completely, leaving a direct path for airflow from the front intake to any installed GPUs.
There's little to fault if you're working with an air-cooled system, but users who dabble in liquid cooling might start to feel the constraints of the 600T's 507mm-tall frame. Though the chassis officially supports a 240mm radiator in place of the top 200mm fan, it'd have to be thin and its supporting 120mm fans would have to be attached to the cavity on top of the chassis - there's simply not enough room between the motherboard and internal ceiling: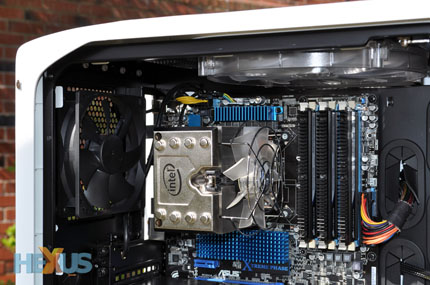 The heightened roof of the Obsidian 650D is certainly better suited to water cooling, but the Special Edition White 600T should offer better air-cooled performance than its Graphite predecessor. Are temperatures actually any lower, and if so, what effect will that have on noise?