Introduction
Corsair has shaken up the chassis landscape in recent years with the launch of its award-winning Obsidian and Graphite Series product lines.
But while the 800D, 700D, 650D and 600T all scored high on functionality and simple, sleek looks, none have delivered the head-turning aesthetics that some of us crave. That's all about to change with the launch of the new Special Edition White Graphite Series 600T.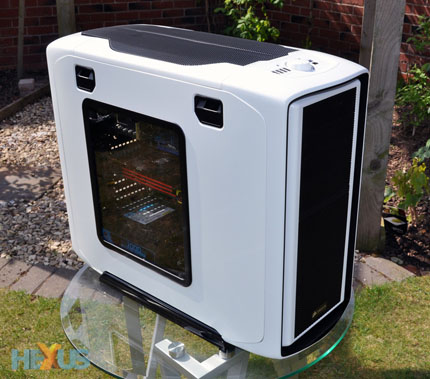 Priced at £130 and introduced as the second addition to Corsair's Graphite Series line, this eye-catching enclosure is essentially a 600T sporting a new coat of paint and a couple of sought-after upgrades.
Before we get to the internal improvements, let's talk about that sumptuous colour scheme. By re-skinning the 600T from graphite grey to brilliant white, Corsair has created a visual treat that stands out among a sea of largely black/grey competitors. It's a risky move, as history suggests that white enclosures come across as cheap and tasteless, but in Corsair's case the end result is anything but.
Matte white is back in fashion, and by blending in contrasting shades of glossy and satin black, Corsair has produced one of the best-looking chassis we've ever seen. We've ventured out into the gardens to photograph this beautiful bit of kit in natural light, but the pictures don't do it justice; the White 600T is simply gorgeous.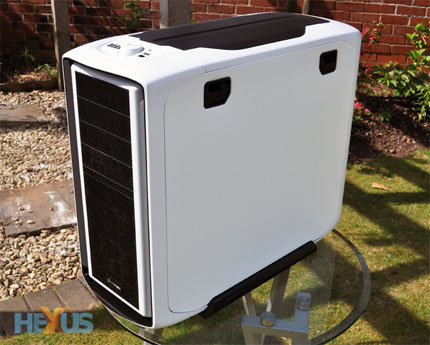 Don't underestimate the effect a fresh new coat of paint can have. Whereas the original Graphite 600T came across as bulbous, minimalist and arguably a little dull, the Special Edition model is able to elevate itself with a sharp white lick of paint that any Storm Trooper would envy.
Corsair claims to have spent a considerable amount of time in developing the paint used to achieve the gleaming white finish, and categorically states that it won't be susceptible to fading or yellowing. Only time will determine how well the white colouring holds up, but Corsair's build quality does give us hope; like its graphite grey predecessor, the Special Edition White 600T feels sturdy, tightly knitted together and well-built throughout.
Feel free to examine each nook and cranny in the following assortment of Corsair-provided product shots, then hit the next page to see what else sets this Special Edition chassis apart.