HP has unveiled the Z Turbo Drive Quad Pro storage solution for workstations. This PCIe Gen3 x16 card can be fitted with up to four HP Z Turbo Drive G2 modules providing up to 2TB of super-fast storage.
"Head spinning speed" is on tap to those using the Z Turbo Quad Pro, says HP. The firm claims that its PCIe Gen3 solution offers data speeds up to 16x faster than a standard SATA SSD – that's up to 9.0GB/s sequential read speeds. Furthermore an "industry leading NVMe controller technology specifically architected for low latency for SSD," provides 3x better random read performance compared to a traditional SATA SSD product.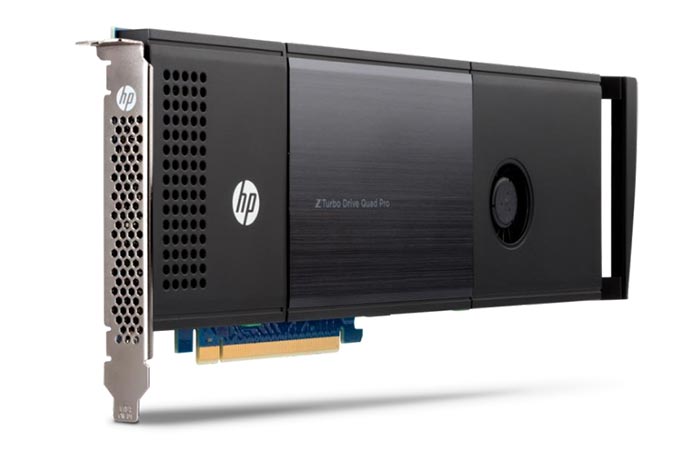 As mentioned in the intro, one Z Turbo Quad Pro card can provide up to 2TB of storage using 4x 512GB modules. HP says you are free to add more Z Turbo Quad Pro cards to your system, as many as you have PCIe x16 slots in your workstation. When you buy a card it comes with two M.2. modules already fitted. Capacity is configured by your choice of 256GB and 512GB modules. HP claims its module pricing is in line with competitor SATA SSDs.
HP has designed the actively cooled Z Turbo Quad Pro with data protection in mind. The product incorporates six onboard 'super caps' to correctly save your work in the event of a power failure. MLC NAND is used for its endurance characteristics. TRIM, End-to-End Data Protection, and Secure Erase are all supported.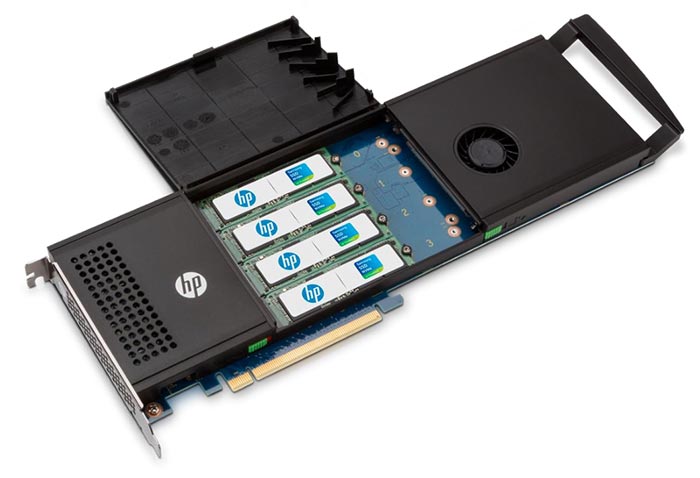 The HP Z Turbo Drive Quad Pro is supported on the HP Z440, Z640, and Z840 Workstations as a boot device and/or data device. OSes supported are Windows 7 Professional 64-bit (using Samsung NVMe driver, version 1.4.7.6), Windows 8.1 64-bit, Windows 10 64-bit, RHEL 6, SLED 11 SP3, Ubuntu 14.04. For full hardware specs please refer to the official product pages. Below I've included a brief rundown of HP Z Turbo Quad Pro benefits:
Supports up to four PCIe M.2 SSD modules (NVMe) in one card, PCIe Gen3 x16 slot required.
The HP Z Turbo Drive Quad Pro is equipped with Power Loss Protection circuitry that employs a bank of super caps to provide the power to fully finish data storage operations in the event of a power loss condition.
The active cooling solution ensures that the M.2 SSD modules will not throttle to low performance levels due to over-heating.
Support for single and double sided PCIe M.2 SSDs, up to 110mm in length.
One of the M.2 SSD modules on the card can be used as a Boot device, and the other devices can be used as Data storage. Alternatively, all of the M.2 SSD modules can be used as Data devices.
Additional storage devices, e.g. HDDs, SATA SSDs, can be used in combination with the HP Z Turbo Drive Quad Pro.
Multiple HP Z Turbo Drive Quad Pro cards can be installed into HP Z Workstations. A card with 3 or 4 M.2 SSD modules requires a PCIe Gen3 x16 slot. A card with only two M.2 SSD modules can be used in a PCIe Gen3 x8 slot.
HP Z Turbo Drive Quad Pro pricing starts at $299 for a 256GB version, and extra 256GB modules can be purchased for $199 each. Cards and modules should become available later this month.