Fixstars Corp. has launched what it claims to be the highest capacity 2.5-inch SATA SSD. The Japanese firm, with offices in Silicon Valley, mainly runs its business around software parallelization/optimization solutions, so it is a little surprising to see this name on an SSD hardware product, out of the blue. However yesterday it announced the start of sales of its 3TB SSD-3000M, and 1TB SSD-1000M, in North America. The drives were apparently launched in Japan last November.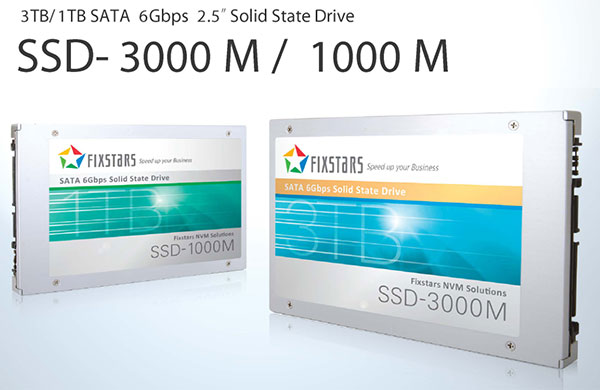 To manufacture the SSD-3000M 3TB SSD Fixstars says it used flash memory designed for use in "small-scale mobile devices," fitting them into a standard 2.5-inch form factor "free of heat and performance issues".
These SATA3 drives boast performance figures of sequential reading at up to 520MB/s and writing at up to 500MB/s. Using its software expertise Fixstars claims to offer "consistently high performance," so write performance doesn't drop, for example, after a few seconds. This makes Fixstars drives eminently suitable for video and broadcasting equipment, medical imaging device and big data analysis. The NAND controller in the drives offers excellent performance with uncompressed data too.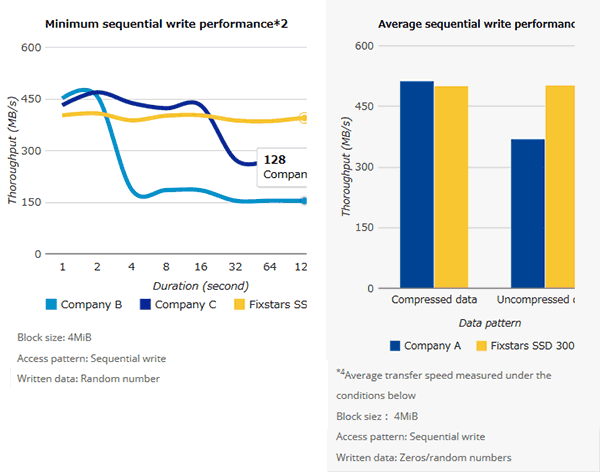 Fixstars compiled the above performance charts.
Looking at the hardware specifications of the drives we are told that the SSDs use 19nm MLC NAND, they connect to your system via the SATA 6Gbps interface, they weigh in at under 115g and measure 100mm x 70mm x 9.5mm. TRIM is supported if your OS supports it, as is Garbage Collection and S.M.A.R.T. The drives consume less than 3W when idle, under 5W when active and under 6.2W working in boost mode.
Currently Fixstars sells the 3TB SSD-3000M, and 1TB SSD-1000M and will be launching a 5TB version called the 5000M before Q1 2015 is over. If you are wondering about pricing, the Fixstars order quote page lists a base price of US$990 + tax for the 1TB SSD-1000M.