OCZ has launched a new PCIe slots SSD storage product called the RevoDrive 350 PCIe SSD. It is said to provide three times the performance of SATA-based SSD solutions. OCZ has built this drive with 'premium' 19nm Toshiba NAND and OCZ's SandForce 2282 controller based VCA 2.0 architecture. Headline performance on offer from the RevoDrive 350 is claimed to be up to 1.8GB/s in sequential speeds and up to 140,000 4K random write IOPS.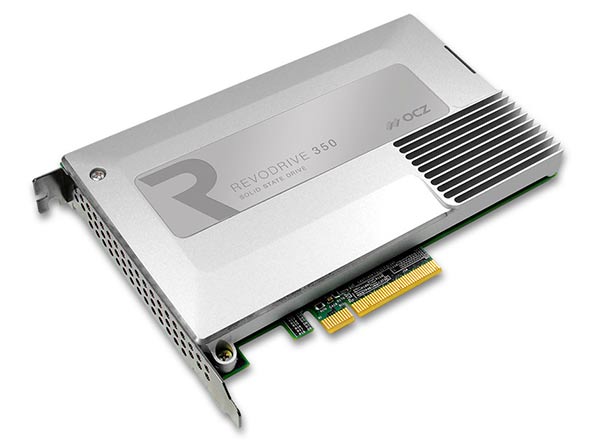 "The new RevoDrive 350 is built using proven technology with the added benefit of utilizing in-house premium Toshiba flash and OCZ's proprietary Virtualized Controller Architecture (VCA) 2.0 to deliver highly efficient performance aggregation while reducing the burden on host resources," said Daryl Lang, Senior Vice President of Product Management for OCZ Storage Solutions. "This next generation PCIe SSD is the ideal solution for performance-minded users looking to maximize both bandwidth and density for the complete gamut of gaming, content creation and workstation applications."
Powering this drive you will find the aforementioned 19nm Toshiba NAND connected to your PCIe x8 slot via SandForce 2282 multi-channel controllers feeding a RAID controller. Depending upon the capacity of the drive the number of controllers addressing the internal SSD clusters varies. On the 240GB RevoDrive 350 there are two controllers which lead to a RAID controller, then to your PCIe slot. On the 480 GB and 960 GB models you have four SSD clusters served by four SandForce 2282 controllers. The VCA 2.0 architecture makes the SSD clusters appear and work like a single drive to the host system. It will happily work as your boot device.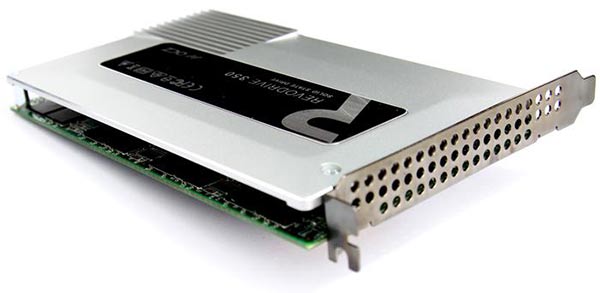 Looking at other specs for the OCZ RevoDrive 350 we see that it features secure erase, SMART, and TRIM. It improves on previous generation RevoDrives with better cooling provision and optimised drivers for both Windows and Linux. Buyers will receive a three year warranty.
The guys over at Guru 3D have had a RevoDrive 350 in their labs and concluded that this latest RevoDrive is a good solution while users wait for M2 interfaces to take off. They were impressed by the performance in testing but worried at the possible price tags that these drives will bear. Though OCZ hasn't given us any pricing indication Guru 3D suggested the following MSRPs: RevoDrive 350 240GB = $529, 480GB = $829, 960GB = $1299.