Western Digital has for the first time shown off its heat-assisted magnetic recording (HAMR) tech. The new tech hopes to bring much greater areal density (AD) and thus storage capacities to spinning disk drives by using laser thermal recording assistance.
Last week we saw another WD innovation in boosting HDD speeds, efficiency and capacity when WD subsidiary HGST announced availability of its hermetically sealed, helium-filled HDDs to enterprise. The less dense Helium lowers friction within the HDD case which encapsulates the spinning platters, meaning that more platters can be fitted in the same area and they require less power to operate and create less wasted energy as heat among various other benefits.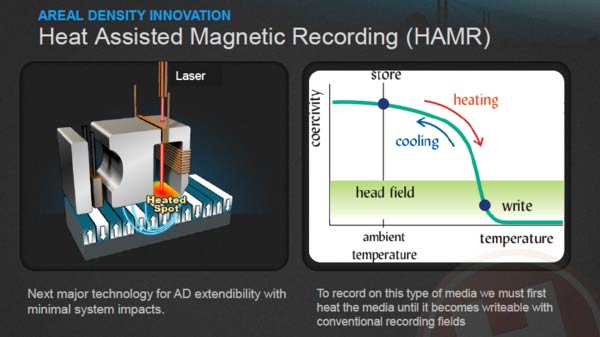 The HAMR technology will boost capacities further by increasing the data density of the HDD platters. At the 2013 China (Ningbo) International Forum on Advanced Materials and Commercialization WD's vice president of technology, Dr. William Cain demonstrated a 2.5-inch WD HAMR hard drive.
We need more storage
"Analysts predict 25 trillion gigabytes of new data will be generated by 2020 and that average household storage needs in the U.S. will require as much as 3.3 TB by 2016," said Dr. Cain. "This tremendous growth in data requires continued increases in storage capacity and performance for the cloud, big data and consumer technologies. WD is focused on hard drive innovations that will enable future storage capabilities, and HAMR technology is a key step in the migration path."
WD says that the brief heating of the recording surface by the thermal laser during magnetic data recording has the potential to increase AD five-fold. Current HDD recording tech maxes out at around 750Gbits per square inch but with HAMR researchers expect to reach 4Terabits per square inch.
The HAMR process does, however, bring with it some additional complexities. For instance the media needs to be specially designed to meet a trio of magnetic, thermal and optical requirements. Also with any new technology in the storage tech business, the reliability and working life of these extra components needs to be thoroughly tested.
Seagate and TDK demonstrated their own HAMR technology HDDs in Tokyo early last month.