The first real wave of NAS solutions aimed at the SOHO and even SMB markets proved a bit on the slow side, but that's all changing now.
Manufacturers are seeing that having a whopping amount of storage amounts to nothing when you get less than 10MiB/s from it. Buffalo's one such manufacturer, this week introducing a Pro version of its Linkstation single-drive NAS solution, aimed at small or home offices and small to medium sized businesses.
The Linkstation Pro range from Buffalo feature a SATA interface and come in sizes up to 750GB. We're guessing that Seagates are inside them then, at the very least at the top-end of the Linkstation Pro range. That's good news, in our eyes.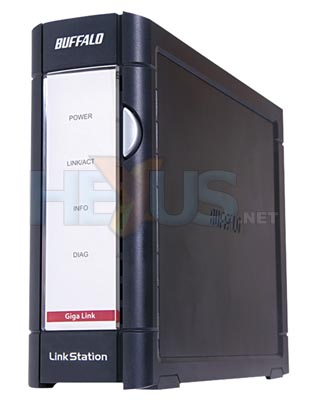 The Linkstation Pros have a 1Gbps network interface, along with two USB ports so you can backup flash and external hard drives onto the Linkstation. Some automatic backup software called Memeo is included, so the general feel for the product seems to be one of 'backup solution'. Indeed, with just one drive in there it's better used as a backup rather than the source of your data. Active directory is supported too, so the discerning SMB network admin can keep everything tightly controlled.
Performance-wise, Buffalo reckon it can push out 250Mbps (31.25MiB/s), which is a lot better than Buffalo say (and we've independently seen) some of the competition can do. The price is alright too, starting at around £165 for the 250GB model.
Head over to Buffalo Technology's website for more info.