The Serial ATA International Organization (SATA-IO) has ratified revision 3.2 of the SATA specification. The latest specification includes the SATA Express standard which enables the coexistence of SATA and PCIe storage devices, improves power management, caters for more new SATA form factors and contains optimisations for hybrid SSHD drives. The SATA Express specification was first introduced in January 2013 and the industry consortium that is SATA-IO ratified it as part of revision 3.2 of the SATA spec yesterday.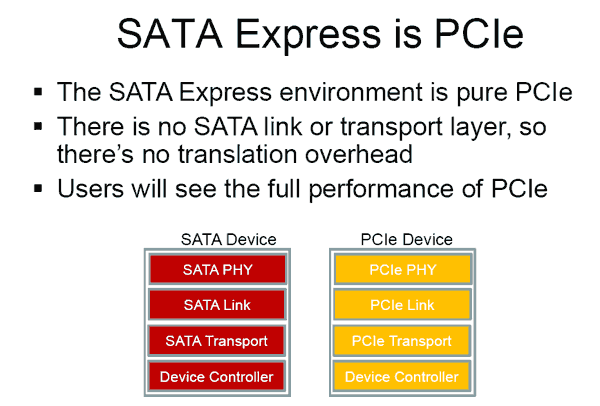 Enabling SATA and PCIe storage solutions to coexist will bring significant benefits to users. The SATA-IO group spells out the benefits thus; "A host implemented to this (3.2) specification will connect to and function with either a SATA or PCIe storage device. PCIe technology enables increased interface speeds of up to 2GB/s (2 lanes of PCIe 3.0), compared with today's SATA technology at 0.6GB/s (6Gb/s). The increased speed of PCIe provides a cost-effective solution for optimizing performance of Solid State Drives (SSDs) and emerging SSHDs." However if some of your storage devices don't require such a speedy interface; "Storage devices not requiring the increased speed of PCIe, such as traditional hard disk drives (HDDs) and optical drives, will continue to be supported by SATA."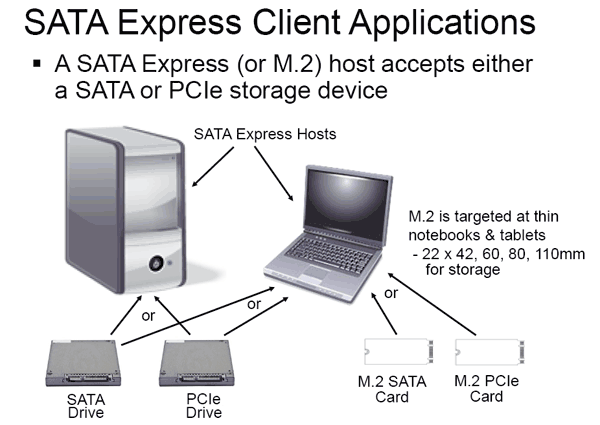 It was also noted that the new spec supports the M.2. form factor SSD drives aimed at ultra-portables. Furthermore SSHD performance is improved by the new 3.2 spec which provides a mechanism by which the host can communicate data caching information to the drive.
Turning to power management, the enhancements brought to users in SATA revision 3.2 include:
DevSleep: this is a very low power use mode where the drive is "almost completely shut down" but still meets the requirements of always on, always connected mobile devices.
Transitional Energy Reporting: this provides the host system with more detailed info about the SATA device to facilitate better power management.
For more info on the newly ratified SATA 3.2 standard you can head over to the SATA-IO official website or read the full press release (PDF) downloadable here.