Buffalo's latest external USB 3.0 HDD drive uses an "extra large" 1GB DRAM cache to speed up everyday storage transfer functions. In tests undertaken by the company the HD-GDU3-EU: DriveStation DDR, which is sold with a choice of 2TB or 3TB HDD installed, achieved write speeds of over 400MB/s and read speeds of up to 300MB/s.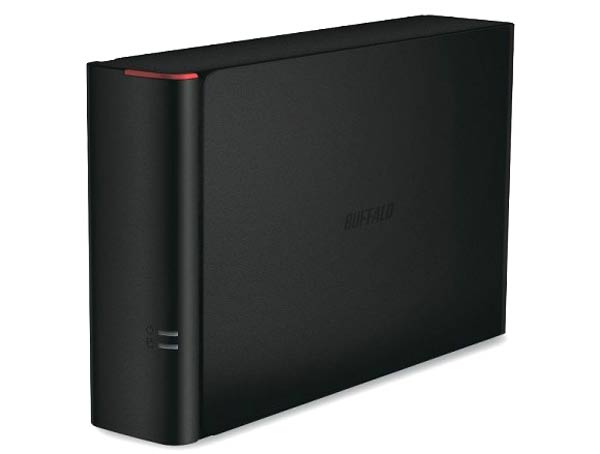 Buffalo informs us that the DriveStation DDR is "the world's first external hard-drive to incorporate 1GB of DDR3 memory as cache to boost data speeds, and is perfectly integrated to manage data transfers. As a result, it offers read and write speeds up to five times faster than its predecessors and more than double those of its nearest competitors in the market place."
As an example of the speeds available in the real-world Buffalo says that 1,000 digital photos (totalling 800MB) took only 3.5 seconds to transfer to the drive "and a similarly impressive 3,000 digital photos in a mere 13.1 seconds". Read speeds are also impressive and the firm says the 1,000 digital photos (totalling 800MB) took just 8 seconds to read.

Buffalo says its new DriveStation solution offers "SSD performance with HDD like prices" so users don't have to compromise between choosing speed and capacity. "The DriveStation DDR gives users unprecedented data transfer speeds at similar costs as most regular USB 3.0 storage devices. The drive offers more than three times faster write speeds and more than double the quickest read speeds currently available on the market, enabling users to transfer files effectively and securely in the blink of an eye," said Paul Hudson, Sales Director Northern Europe at Buffalo Technology.

Standard Buffalo software extras with the drive include; Buffalo Tools, Secure Lock Manager Easy, TurboPC EX, BackupUtility, RAMDISK Utility, Eco Manager. The drive can be used with all major OSes and is USB 2.0 compatible. The warranty is for two years.
The new Buffalo DriveStation should be available in the UK now priced at £129 for the 2TB version and £169 for the 3TB version. (these MSRPs include VAT)