Western Digital (WD) is now shipping what it describes as the world's first ultra-slim 2.5-inch, 5 mm hard drives. There are two such new drives and both are 500GB parts. The first, the WD Blue, is a traditional HDD. The second new drive that has been announced is a hybrid so-called SSHD called the WD Black, which has an integrated 24GB of NAND flash memory.

Slimmer, lighter, quieter, shock resistant
Both of the new WD drives are ultra slim at 5mm thick. WD says that this gives system designers more flexibility as the drives take up with 47 percent less space. Alongside their reduced size the drives are also lighter, around 36 per cent lighter than a "standard" 9.5mm laptop HDD.
The new drives which were designed with "a clean-sheet approach" are also impressively quiet. The noise figures we have for the WD Blue measure a quiet 15 decibels while idle and 17 decibels during seek operations.
The WD Blue and WD Black 5 mm drives have good shock resistance, an especially important factor in portable electronics. The drives offer operation and non-operation shock specifications of 400G and 1000G, respectively. The technology contributing to the quietness and shock resistance is something WD has called StableTrac.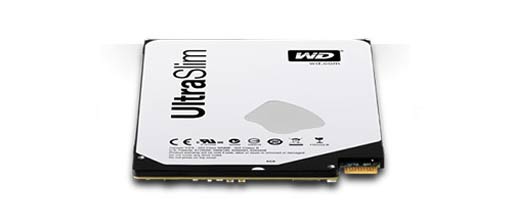 These drives are meant to fit in smaller device slots. The WD Blue 5mm drive is one of the first drives to use an Edge Card Connector interface. This new SFF-8784 connector receives power from and interfaces with the host I/O bus via the SATA interface.
Both the new 5mm drives are shipping today. The 500GB, 5mm thick WD Blue HDD has an RRP of $89. The 500GB, 5mm thick WD Black SSHD is unfortunately only currently available for OEMs and system integrators to buy.