Toshiba has announced two "big" new additions to its Canvio portable storage line-up. The new 2TB Canvio Basics 3.0 portable hard drive and 2TB Canvio Special Edition portable hard drive provide a lot of storage in a small package. The big difference between the Basics 3.0 and Special Edition version is, as far as we can see, the inclusion of NTI® Backup Now EZ™ software with the Special Edition drive.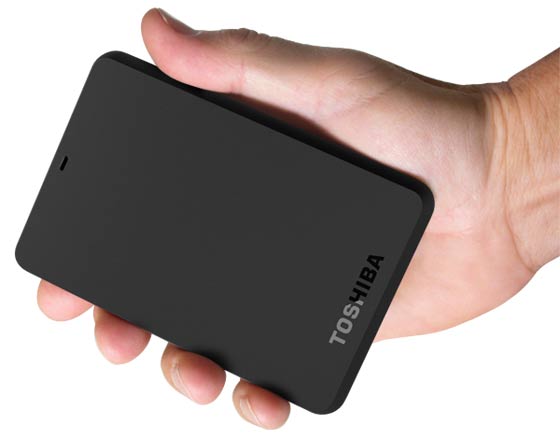 Maciek Brzeski, VP at Toshiba's US Digital Products Division, said of the new Canvio drives; "Our new 2TB solutions now provide our customers that are looking for basic functionality with an increased storage capacity, as the most basic users are continuing to grow an expansive digital library."
As is usual with external hard drive news releases, the company tries to express the 2TB of storage in terms of a digital library consisting of photos (571,000 digital photos), MP3s (526,000 digital music files) or videos (1,640 downloaded digital movies). Is that info useful to anyone?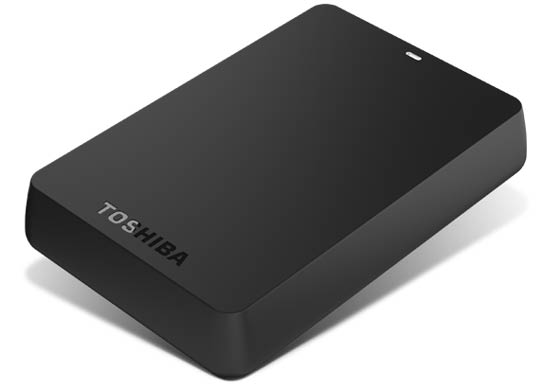 The Canvio drives should work straight out of the box without any software setup required for Windows systems. They support USB 3.0 but are backwards compatible for USB 2.0 transfers. The USB port supplies power to the drive so you won't need a dedicated power brick, making this portable hard disk much more portable. Another useful feature of the Canvio drives is the "special internal shock sensor and ramp loading technology to keep consumers' digital files safe against accidental drops".
Let's look at the 2TB Canvio Basics 3.0 specs:
Colour: Black
Capacity: 2TB
Interface: USB 3.0 with up to 5 Gb/s transfer rate
Rotational Speed: Up to 5,400RPM
Average Seek Time: 12ms
Cache Buffer: 8MB
Dimensions & Weight: 79 x 120 x 21mm, weighs 220g
System Requirements: Microsoft® Windows® 8, 7, XP or Vista, USB 2.0 or 3.0 port
Safety: Internal shock sensor and ramp loading technology protects your drive and data
Cable: USB 3.0 Cable (works with USB 2.0) provided
Guarantee: Three year limited warranty

US residents can buy the new 2TB capacity Canvio portable drives starting from 12th February at Toshiba Direct, or Best Buy. Suggested retail prices are $189.99 for the Canvio Basics and $219.99 for the Special Edition. There is no info as yet on UK/Europe release dates or pricing.