Toshiba has announced the AL13SE series of hard disk drives. These new 2.5-inch 6 Gb/s 10,500 RPM SAS (Serial Attached SCSI) hard disk drives are available in capacities of 300, 450, 600 & 900GB. The 900GB model is the star of the show because Toshiba has never managed to achieve such a capacity 2.5-inch HDD spinning over 10,000 RPM before. The previous AL12 family was only available in capacities up to 600GB.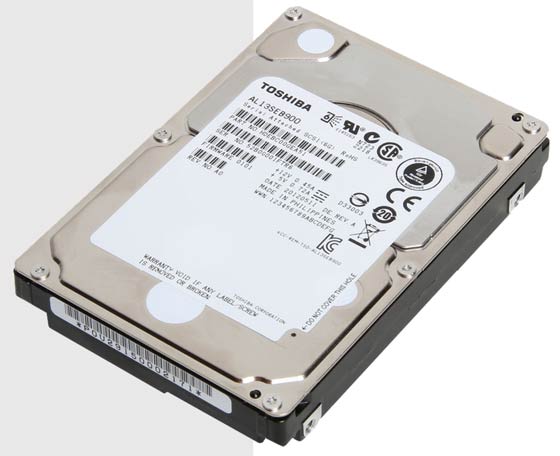 The 900GB AL13SE drive consists of three platters to store the data which is fed through a 6 Gb/s SAS interface. A dual-stage actuator head reads and writes the data enabling very precise head positioning no doubt necessary with such a data density, it also provides greater performance "including a 32 per cent increase in sustained transfer rate" according to Toshiba.
The AL13SE series drives are "enterprise class" and designed for "demanding mission-critical applications". Toshiba says "Specific applications include mid-range volume servers, mainstream storage arrays, blade and rackmount servers, and other mission-critical, power-conscious, data-intensive systems." Toshiba backs this up with a two million hours MTBF figure (25 per cent higher than the previous generation) and a five year warranty.
Also important to enterprise; these drives are power efficient. The press release description says that "the AL13SE Series uses Supported Enhanced Power Condition State technology to lower RPM idle speed". I've reproduced the specification sheet below.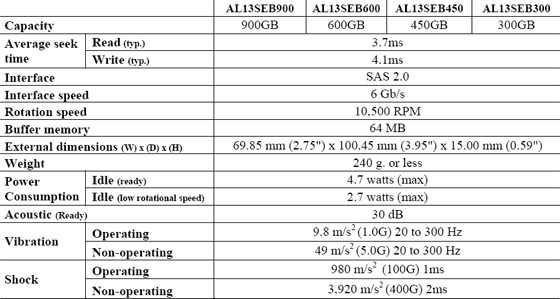 These enterprise 2.5-inch drives are 15mm thick so you won't be able to shoe-horn one into your laptop, the drives are meant for server use, but the supplied 3.5-inch mount could be used to put it in a desktop PC with SAS interface. Historically these Toshiba drives aren't cheap so the AL13s probably will follow this trend and there were no pricing indications in the press release. There are similar competitor drives on the market; the Western Digital Ultrastar C10K900 and Seagate Savvio 10K, both available in capacities up to 900GB and spin at 10,000 RPM, a little bit slower than the new Toshiba AL13SE series.