Ordered a new MacBook Pro in the hope that Intel's Thunderbolt will serve all your high-speed data transfer needs?
The bad news is that there are no Thunderbolt-equipped peripherals currently available. The good news? Supporting devices are on the way from the likes of Western Digital, Promise and LaCie, with the latter already teasing one of its first efforts; the Little Big Disk with Thunderbolt.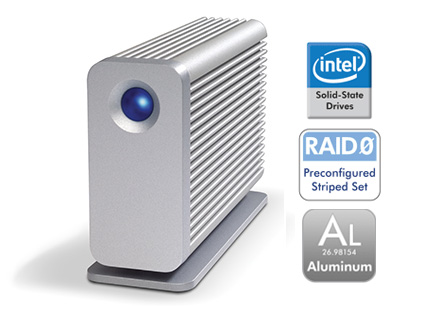 The slim external drive, pictured above, is armed with two yet-to-be-announced Intel 510 Series Solid-State Drives in a RAID 0 configuration, and of course two Thunderbolt connectors at the rear.
LaCie isn't quoting speeds at this point, but earlier prototypes have been known to exceed 700MB/s while daisy-chained between a computer and monitor. And daisy-chaining is exactly why the Little Big Disk features two Thunderbolt ports - they allow additional peripherals to be attached without a loss of performance. Providing a real-world usage scenario as an example, LaCie says "consider a video project that must be delivered to multiple sites". With a couple of Little Big Disks connected to a bi-directional 10Gbps Thunderbolt chain, "original HD camera footage can be quickly copied in the field to multiple drives on the same daisy chain."
Ensuring the 0.7kg Little Big Disk lives up to its "in-the-field" billing, the entire unit is bus powered through a Thunderbolt port, so there's no need to carry a power cable, and it's encased in a solid aluminium chassis.
We can see why the media sorts (digital content creators, video editors etc) would be all over this, but as yet there's no firm indication of pricing or availability. All we know is that the Little Big Disk with Thunderbolt should arrive sometime in the summer.