Now that the market is flooded with hundreds of 'me-too' external storage devices, standing out from the crowd is becoming increasingly difficult. But standing out has never been much of a problem for LaCie, which - working with the creative types at Yanko Designs - has pulled out all the stops for the undeniably unique Float concept.
While it might look like a regular - and actually quite boring - external hard-drive, the Float is quite a bit more. On the inside is a choice of SSDs up to 256GB or a mechanical hard-drive of up to 1TB with a speedy USB 3.0 connection in tow to ensure that they aren't starved for bandwidth.

But the outside is far more interesting, with the drives being wrapped in carbon-fibre with a piece of glass adorning the underside, giving the drive a stealthy appearance. Of course, you're unlikely to miss it, since a series of LEDs provide ambient lighting, making the Float look like it's...well, floating.
And as if that wasn't enough, the designers decided to make the entire top surface a multitouch trackpad capable of picking up all manner swipes and pinches.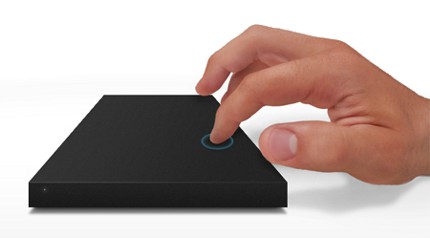 As you may have been able to guess from the liberal use of the word 'concept', the Float isn't expected to make it to market any time soon. Even if it did, the lust-worthy peripheral's price would probably make it about as exotic as the carbon fibre that it's made of. Of course, if you've been very good boys and girls this year, you never know what you might get for Christmas.