Storage specialist LaCie has introduced its second-generation line of network-attached storage (NAS) solutions for small to medium businesses.
The company's trio of upgraded solutions - the LaCie d2 Network 2, LaCie 2big Network 2 and LaCie 5big Network 2 - offer single-disk, two-disk and five-disk storage capacities, respectively.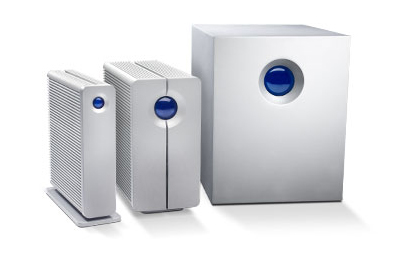 New to the "Network 2" line is an improved 1.2GHz processor that LaCie claims will facilitate data transfer rated of up to 70MB/s, and a simplified widget-based web interface.
Designed for use in a business environment, LaCie's range can be stacked or installed in racks, and with the addition of a USB port, all three can now be directly connected to a PC or Mac. Users of the latter should note that all of LaCie's Network 2 products offer full support for Apple Time Machine. Windows users, meanwhile, will find Genie Backup Manager Pro included in the bundle.
All three new additions offer hot-swappable SATA bays and RAID 1 setup, whilst the larger 5big Network 2 also offers support for RAID 6 and a handful of other useful features - including a Gigabit Ethernet port that facilitates load balancing or line aggregation, an uninterrupted power supply and the ability to act as an iSCSI target.
The LaCie d2 Network 2 is available now priced from £164.99 for a 1TB model, whilst the 2TB LaCie 2big Network 2 will fetch £294.99. The Lacie 5big Network 2 is expected to become available in the coming weeks, pricing is yet to be confirmed.