Vegas jet lag must have caused us to miss this one, but Silicon Power recently rolled out the world's first 400x 128GB CompactFlash memory card.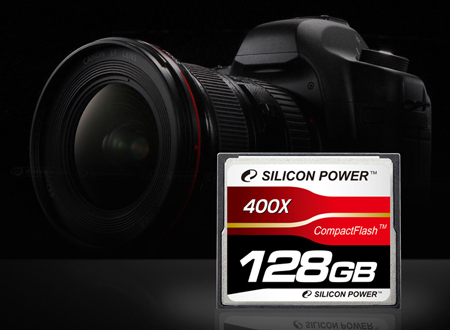 We've yet to see any mention of pricing and availability, but for the professional photographer, write speeds of up to 90MB/s with support for both PIO Mode-6 and Multi-Word DMA 4 transfer modes in quad-channel configuration is likely to be worth the asking fee.
As expected, error-correcting code (ECC) and wear-levelling technology feature as standard, and Silicon Power backs the card with a lifetime warranty.
Sold? Here's the complete specification:
Dimension: 36.4mmx42.8mmx3.3mm
Weight: 10g-12g
In compliance with CF Association specifications
Operating voltage: 3.3V/5V
Operating temperature: 0℃~70℃
Storage temperature: -40℃~85℃
Capacity: 128GB / 64GB / 32GB / 16GB / 8GB
Humidity: 8% to 95%
Durability: At least plug and unplug 10,000 times
Warranty: Lifetime