We've seen a few motherboards surface with built-in support for SATA 6Gb, but if you're hoping to add third-generation SATA performance to an existing board, take a look at HighPoint's Rocket 620 and Rocket 622 PCIe expansion cards.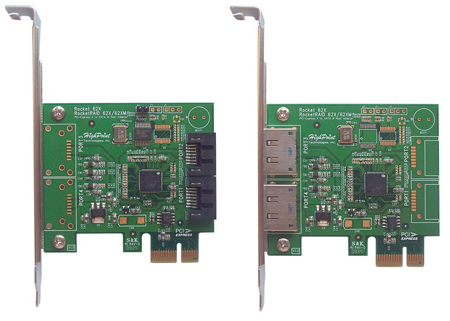 Arriving as part of the Rocket 600 Series, the low-profile cards slow into an existing PCIe 2.0 slot to provide a pair of SATA 6Gb connectors. The difference between the two is that the Rocket 620 (pictured above, left) offers two internal SATA 6Gb ports, whilst the Rocket 622 (pictured above, right) offers two third-gen eSATA ports.
Both cards are AHCI compliant, and support hot-plug capability and Native Command Queueing (NCQ). They're compatible with drives of up to 2TB, and both the Rocket 620 and Rocket 622 are expected to filter through to U.S. retail later this month priced at $69.99 and $79.99, respectively.