LaCie has expanded its range of multimedia hard disks with the launch of its LaCinema Rugged.
The drive, pictured below, features a varnished, scratch-protected aluminium shell and shock-resistant rubber sleeve that'll provide ease of mind to users who've opted to store a collection of movies.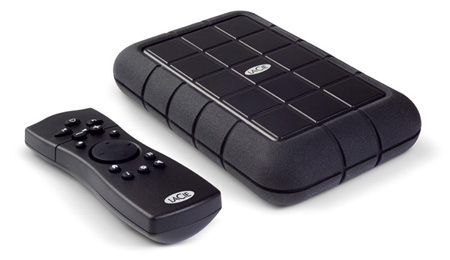 Available in capacities of 250GB, 320GB and 500GB, the drive will output via composite or HDMI and has the option of optical audio. The built-in media player provides an easy way to browse and play all your content with the bundled remote control, so the drive can be hooked up to just about any TV and you'll be off and away.
There's a USB port for connecting to a PC or Mac, and the drive is backed by a two-year limited warranty. The 250GB, 320GB and 500GB drives are priced at £139, £159 and £219, respectively.
LaCie lists the supported media formats as follows:
Video: MPEG-1, MPEG-2 (AVI, VOB, IFO, ISO), MPEG-4 (AVI, XviD)
Audio: MP3, WMA, AC3, Ogg Vorbis, AAC
Photo: JPEG (up to 8 megapixels), GIF, PNG, BMP
Subtitle: SRT, SSA, SUB, SMI
Official product page: LaCie.com