Hot on the heels of Thecus, US storage-specialist LaCie is raising the stakes in the network-attached storage (NAS) market with the launch of its 5big Network.
As you might have guessed, the 5big offers support for five hot-swappable hard-disk drives, and support for RAID 5, RAID 5+Spare, RAID 6, RAID 10 and RAID 0.
Unlike some competitors, LaCie's unit supports 1.5TB drives, allowing the 5big Network at a total capacity of 7.5TB.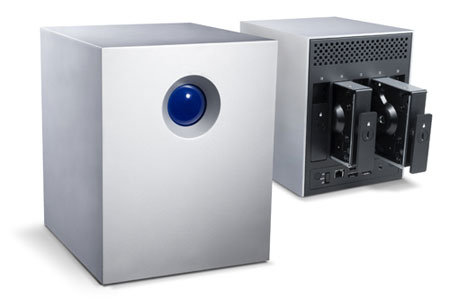 There's plenty more expandability, too. LaCie has squeezed in a USB port and a generous three eSATA ports, so you'll be able to connect multiple external hard drives.
The 5big Network is said to use 25 per cent less energy than LaCie's previous four-bay solution, and it's 37 per cent quieter, too. The design itself is very easy on the eye, and the unit measures 220mm x 196mm x 173mm.
It'll be available this month in three models; 2.5TB, 5TB and 7.5TB, priced at $899.99, $1,399.00 and $1,899.00, respectively.
Official press release: LaCie 5big Network: Share and Back Up Business Data
Official product page: LaCie.com